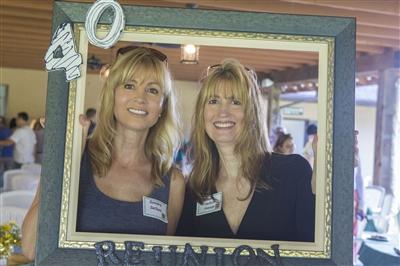 "You need heart surgery." Susan Hosage heard the words, but thought, that can't be right. I'm 57 years old. I'm thin. I'm healthy. I haven't been in the hospital since I had my tonsils out in 1966. There's no history of heart disease—or any serious health problems—in my family. How could this be possible?
Susan had been experiencing some shortness of breath, but chalked it up to her sedentary job. During an annual visit with her primary care physician, she asked about routine testing for her heart. An echocardiogram indicated an abnormality, and a subsequent echocardiography stress test revealed a leak in her mitral valve, known as mitral valve regurgitation. Susan scheduled an appointment with a local cardiologist near her home in Franklin Township, just outside of Wilkes-Barre, Pennsylvania, who confirmed the diagnosis.
Mitral valve regurgitation is a condition in which the heart's mitral valve does not close tightly, allowing blood to flow back—or regurgitate—into the heart. Because of this "leaky valve," less oxygen-rich blood pumps through the heart and to other parts of the body. Symptoms can include shortness of breath, fatigue, lightheadedness, and a rapid, fluttering heartbeat. Left untreated, mitral valve regurgitation may lead to more serious conditions such as heart failure, pulmonary hypertension, or arrhythmia.
"I suddenly found myself researching cardiac surgeons," says Susan, who methodically identified and contacted potential surgeons from Baltimore to Los Angeles, without any regard to what her insurance would cover or the distance she would have to travel. She wanted to find the best care possible.
"I was nothing short of appalled at the lack of urgency exhibited by most of the offices I called," says Susan. "I realize mitral valve regurgitation isn't immediately life threatening. But, when you get the news you need heart surgery, you want a call back quickly. How you're treated during every step of the process makes an impact."
After extensive research from coast to coast, Susan found only two surgeons who impressed her. One of those surgeons was Scott M. Goldman, MD, director of the Structural Heart Program at Lankenau Heart Institute. Dr. Goldman is a highly respected cardiac surgeon and a pioneer in the development and perfection of endoscopic (minimally invasive) mitral valve surgery. It was Clinical Navigator Samantha Roesch, MSN, CRNP, who took Susan's initial call.
"I knew from my first call to Dr. Goldman's office that their approach to patient care was going to be completely different," says Susan. "I was in uncharted territory, and Samantha understood my fear and urgency. I called and emailed her several times, and always received an immediate response. She squeezed me in for a consultation with Dr. Goldman between surgeries and even held a spot on his surgical schedule two weeks later, just in case I decided to move forward."
"I meet all of Dr. Goldman's patients during the consultation phase, and I navigate the entire process for them through surgery and beyond," says Samantha. "Dr. Goldman is in high demand. When I spoke with Susan, I knew it would be expeditious to put her on the surgery schedule before she had committed, so if she chose us, it would only be a matter of weeks before she could have the surgery."
On the day of the consultation, Susan and her husband Stephen made the two-hour drive to the Heart Pavilion at Lankenau Medical Center to meet Dr. Goldman and Samantha.
"We were so impressed with the facility, it's like a well-appointed hotel," says Susan. "When I had the pleasure to meet Samantha and Dr. Goldman, they were every bit as patient-driven as I expected. I had a lengthy list of questions that could only be described as an interrogation. With his calming disposition, Dr. Goldman answered each question with confidence and thoroughness. My husband and I left the office knowing this was the right place for me."
Lankenau Heart Institute is one of the top-performing cardiovascular medicine and surgery programs in the country. Patients from across the U.S. travel to see Dr. Goldman and his colleagues—all experts in their respective specialties—for the treatment of heart disease at every stage. And surgeons from some of the country's leading cardiac centers come here for training—many to learn Dr. Goldman's minimally invasive techniques for mitral valve repair.
Dr. Goldman and his team perform more than 100 mitral valve surgeries annually, while most institutions perform an average of 10. Dr. Goldman is able to repair, rather than replace, 90 percent of the mitral valves he operates on, whereas the national average is 54 percent. Moreover, more than 90 percent of mitral valve surgeries at the Lankenau Heart Institute are performed endoscopically—a minimally invasive approach involving small incisions in the armpit area to obtain access to the heart. On average, other institutions use a minimally invasive approach to mitral valve surgery only 15 percent of the time, opting instead for traditional sternotomy procedures that require a 12-inch incision and a four-month recovery period.
"Most institutions don't have the experience, understanding, or techniques we offer our patients," says Dr. Goldman, who has been performing mitral valve repairs for over 30 years, and utilizing minimally invasive techniques for more than 20. "The average age of patients who need mitral valve repair is late 50s, like Susan. There is a lot of life ahead, and it's important that we achieve excellent outcomes. With our minimally invasive approach, patients typically spend just three days in the hospital and are back to their regular activities within a month. And in most cases, mitral valve repairs will last a lifetime."
"When I contacted Samantha about moving forward, the Lankenau team sprang into action," says Susan. "I received calls from several Main Line Health professionals to coordinate my preoperative testing. All were sensitive to my commute time and even worked around heavy traffic periods. They were able to schedule all of my tests on one day. I was amazed at how seamlessly everyone worked together to put each of the pieces in place in such a short timeframe."
On a Friday morning, accompanied by her husband and twin sister, Susan checked into Lankenau's Heart Pavilion for surgery. "From the moment we arrived, every checkpoint was stress-free," says Susan. "All of the nurses were communicative, kind and patient. Both Dr. Goldman and Dr. Patel—the anesthesiologist—came to see me in pre-op. They eased my mind and answered my last-minute questions."
The procedure went like clockwork. Dr. Goldman utilized robotic camera technology, which allows for a superior view, and robotic arms for even greater precision, to repair Susan's mitral valve.
"I awoke feeling like nothing had happened," recalls Susan. "When the nurses asked me to rate my pain level from one to 10, I responded 'zero.' By day two, I was walking the hospital hallways. Throughout my stay in the Heart Pavilion, I received such exceptional care from the most competent, smart, positive people I could have ever imagined. Every medical professional consistently spoke of their work with more pride and enthusiasm than I have ever observed in any workplace."
Susan was discharged on Monday—three days after her surgery—and resumed working from home the following day. She reports feeling fully recovered in just two weeks.
"Dr. Goldman is nothing short of a miracle worker; yet, there is sincerity and composure about him," says Susan. "He's self-assured and rightfully so. He knows and believes in his level of competence and that of his team. He just exudes it."
Susan says that in addition to Dr. Goldman and the surgical team, Samantha made a significant difference. "Samantha is supremely committed to her profession and to delivering extraordinary patient care," says Susan. "She was consistently responsive and continued to provide lightning-fast replies to my calls and emails, even in the weeks following surgery. While I didn't shed one tear throughout my hospital stay, I cried saying goodbye to Samantha at my one-month follow up appointment. I was completely overcome with emotion and immeasurable gratitude for my dedicated nurse navigator, who walked beside me every step of the way.
"Looking back," says Susan, "I made the right, educated decision to entrust my care to the expertise of Dr. Goldman, Dr. Patel, Samantha, and the entire OR and nursing staff at Lankenau. I have no doubt that Lankenau's Heart Pavilion and professional team have created the highest standard by which other medical facilities can be measured."
Innovative, less invasive surgical techniques for heart disease
At Lankenau Heart Institute, we treat structural heart and valvular disease that other centers have deemed untreatable. We were among the first in the nation to have access to MitraClip, a device that controls blood from flowing backwards into your heart (mitral valve regurgitation) without the use of open-heart surgery, and we've led the way in transcatheter aortic valve replacement (TAVR). Learn more about our Structural Heart and Valvular Disease Program team and treatments.
Main Line Health serves patients at hospitals and health centers throughout the western suburbs of Philadelphia. To schedule an appointment with a specialist at Main Line Health, call 1.866.CALL.MLH (225.5654) or use our secure online appointment request form.