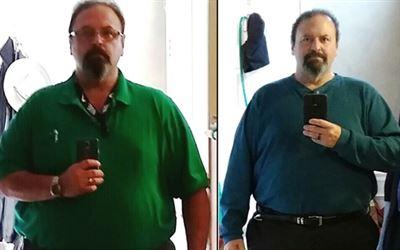 Although Scott Apt admits he had always struggled with his weight, it wasn't until an industrial accident in 2011 left him bedridden for several months that his health took a turn for the worst. A diabetic since 2001, Apt gained nearly 100 pounds during his bed rest. His injury resulted in a lack of mobility, meaning his primary means of transportation was a mobile scooter.
With his health on the decline, a few of Apt's physicians encouraged him to research weight loss surgery.
"I had a couple of friends who had gotten weight loss surgery, and some had success, while others had problems with it, but I always felt like it wouldn't be for me," says Apt.
As an alternative, his family practice physician recommended a new weight loss program at Paoli Hospital, the New Direction Weight Loss System. The program, which Main Line Health began offering patients in 2015, is a nutritional food replacement program designed to help overweight and obese participants lose weight safely and quickly.
"The program seemed to fit more easily into my lifestyle than weight loss surgery, so I decided to give it a try," says Apt.
Entering a New Direction
Apt's first step was a health assessment and interview, where the nutrition and weight management team at Paoli Hospital recorded his health history, weight, body mass index, and other factors like high cholesterol and high blood pressure.
Once he had been medically cleared to participate, Apt began following the program's Low-Calorie Diet (LCD) track. The LCD, a partial meal replacement plan, allows one regular meal per day, supplemented by two New Direction meal replacements. The results were almost immediate.
"I was taking 400 units of insulin per day when I started," says Apt. "Within two months, I was off insulin completely, and I was losing quite a bit of weight."
Eager to continue his success and with the approval of his health care team, Apt transitioned to the program's Very Low-Calorie Diet (VLCD) track. The VLCD, ideal for patients with a high body mass index and with at least 40 pounds to lose, substitutes four high-protein New Direction meal replacements for regular meals to expedite weight loss.
"Throughout the entire time that Scott has been a part of our program, he has done very well and continues to be extremely focused on achieving his original goal of reducing his weight in order to improve his health," says Mary Ann Martin, outpatient nutrition counselor at Paoli Hospital.
Losing Weight, Gaining Insight
Apt continued losing weight steadily, and his progress was monitored by weekly weigh-ins and blood pressure readings with a health counselor. Following his check-in, he met with other program participants for hour-long educational sessions that explored nutrition topics like sugar, different types of fats, and carbohydrates.
"My weight loss was fantastic, but the education I was receiving was invaluable. It changed my whole outlook on how I was eating," says Apt.
He also credits the support of the staff and other program participants for helping him succeed.
"The staff at Paoli offers you any kind of support that you need, and they take a real interest in your success. You feel like you have a team of people who are behind you rooting for you to accomplish this goal," says Apt.
The accolades are mutual.
"Scott has been an inspiration to our other program participants through his determination and hard work, and we're very proud of him," says Martin.
A New Lifestyle
By December 2015, seven months after enrolling in the New Directions program, Apt had lost nearly 130 pounds. Although the number on the scale had decreased, the most noticeable differences were in his lifestyle.
"I'm fitting into clothes that I haven't fit into for 15 years. I can walk now. The things that bothered me before, like aches and pains, don't bother me anymore, and my blood pressure and cholesterol medications have been cut in half," says Apt.
During a trip to Disney World over the holidays with his family, Apt walked an average of eight miles per day. The trip was a reflection of how far he'd come.
"To go from riding on a scooter to walking eight miles a day for days at a time is a big difference in my lifestyle," he says.
In addition to daily walking and keeping up with his five-year-old, an activity that keeps him busy on a daily basis, Apt has joined a gym and begun weight lifting. He hopes to work with his nutrition and weight management team to begin reintroducing more regular meals into his diet soon. With the help and support of his loved ones and the team at Paoli Hospital, and his newfound knowledge, he knows his new lifestyle is one he's committed to.
"I'm glad that I went this way instead of surgery; it's a completely different lifestyle than what I had gotten used to. This is a complete reboot of my habits, and it was the right choice for me." 
Learn more about bariatric surgery options at Main Line Health