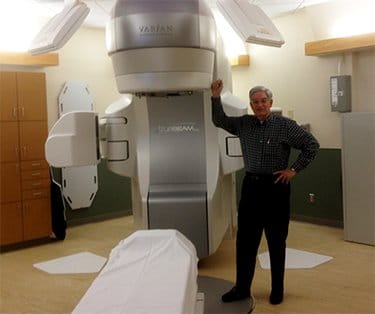 Rudy Lucente was diagnosed by his urologist with an early-stage, minimally aggressive prostate cancer. He underwent radiosurgery with the new TrueBeamTM STx linear accelerator.
I knew clearly from the first 30 seconds with Dr. DeNittis that I was in the right place to treat my prostate cancer, and not just because of the Lankenau name. I have complete confidence in Lankenau but my background in healthcare told me that it was essential that I find the best treatment, wherever that may be.
I extensively researched my treatment options. My diagnosis presented me with a lot of options – a situation that can be confusing and frankly terrifying for most men! Do I have retropubic surgery? Robotic Surgery? Do I undergo radiation treatment? Do I just watch and wait?
When I chose radiation, my primary care physician referred me to Dr. DeNittis to talk it over. Dr. DeNittis and I had an immediate personality match. What I like is that he comes across as much as a research scientist as a clinician. He is young enough to be cutting-edge, yet experienced enough in radiation therapy advances over the years. Dr. DeNittis studied my case and concluded that I was an ideal candidate for the new TrueBeam STx technology Lankenau had recently acquired.
Because of the precision and high-dose capability of the TrueBeam, I only needed five treatments – yet each time I visited the radiation oncology department, everyone on staff knew who I was, and asked how I was doing with genuine interest. And it wasn't just me who was treated with utmost compassion – Dr. DeNittis' interaction with other patients was outstanding. Sometimes I'd be waiting to be taken back for treatment and I'd see him at the entrance greeting people as they arrived or stopping to talk with patients when he passed them in the hallways. He made time to talk, even if they weren't on his schedule. I would be remiss not to also mention the entire staff's team approach to patient care – a formula that I know from experience has the most successful outcomes.
I remember people asking me, "aren't you concerned that there isn't 15 years worth of data on this new technology?" "Are you using it just because it is convenient?" "Does it bother you that Lankenau is the only institution in the tri-state area using it?" I responded with sheer confidence; this technology isn't reinventing the wheel but refining it. You don't pick this treatment for convenience – you pick it for a cure. Fewer treatments was just icing on the cake. On top of all of this, my research showed me that more and more hospitals in the area were looking into or in the process of acquiring this technology – Lankenau is just ahead of its time.
The word "cancer" scares the daylights out of me like anyone else, but you have to look past the immediate emotional response to that word – you have to get your brain in gear to make good decisions. Whether you have a healthcare background like I do or not, do the research. Seek the best treatment for your individual circumstance. And most of all, surround yourself with knowledgeable and supportive people like the Lankenau team.