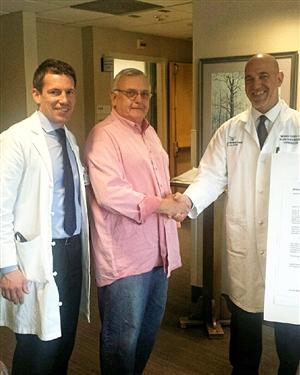 Michael Byrne had not seen a doctor in ten years. He had been living in Vietnam with his wife Mai, helping to take care of her family and raising the three children they adopted from her native country. The couple first met when Michael was just 21 and stationed in Vietnam with the U.S. Air Force. Following the war, Michael and Mai spent 20 years in the U.S. before moving to Vietnam in 1998. When they returned to live in the U.S. ten years later in 2008, the entire family would undergo full physicals. Michael, then 57, was the last to see their new family doctor.
"The first thing the doctor told me was, 'you have high blood pressure, see a heart specialist,'" recalls Michael. "The second thing was, 'get a colonoscopy, you should have had one at age 50.'"
Michael remembers waking up from his colonoscopy with the bed surrounded by medical personnel. "The doctor says to me, 'we found a tumor. We took a biopsy. But everything will be okay. We'll call you.' I took his word for it that everything would be okay."
The call came at 7:30 on a hot August night, as Michael stood on a soccer field watching his son Michael's travel team play. His daughters Angela and Kim were there, too. He recites his doctor's words. "Mr. Byrne, I'm sorry to be calling you with this news. It's cancer. It's really bad. You need to see a colon doctor right away. It's urgent."
The following morning, Michael asked his family physician for guidance. Michael can recite his words, too. "You have to be seen by John Marks at Lankenau, even if you have to sleep outside of his office. I don't care what you have to do to get in."
John H. Marks, MD, FACS, FASCRS, is Chief of Colon and Rectal Surgery at Main Line Health. He is world-renowned for his innovative approaches in the treatment of colorectal cancer, inflammatory diseases of the colon and rectum, and advanced surgical techniques. Michael called Dr. Mark's office. The soonest appointment available was in October.
Michael explained that he didn't have that kind of time. The office requested his films and he sent them over. "The next day, I got a call from Dr. Marks himself," says Michael. "He brought me in right away."
Michael was diagnosed with T3 adenocarcinoma of the rectum – stage III rectal cancer. That week, with Dr. Marks by his side, Michael met the additional members of his multidisciplinary team. They included medical oncologist Erik Zeger, MD; radiation oncologist Albert Denittis, MD; and Michael Crown, CCRP, senior oncology research coordinator of oncology clinical trials at Main Line Health.
"We discussed Michael's options with him, including our standard treatment offerings and the clinical trials we currently had underway," explains Crown. "Michael wanted the most cutting-edge, aggressive treatment available. He opted to participate in a clinical trial."
"We recommend clinical trials for almost every patient diagnosed with cancer," says Crown, who serves as a personal navigator and often as a "big brother" to trial participants. "It's a huge misconception that trials are a last-ditch effort. To the contrary, Phase II and III trials provide the most advanced approaches available. For a community health system to be able to offer the latest options in treatment and prevention, and to avoid recurrence, is extraordinary. Our patients have direct access to the best therapies available, with the extra layer of oversight, connectedness, and follow-up inherent in clinical trials. I tell patients, I hope you like me, because I'm going to be a part of your life forever."
"I felt like I won the lottery," says Michael about the opportunity to participate. "I had a wife and three little kids, and I needed to get better. Why would I say no to something that was a possible cure? I don't understand how people can win the lottery—the opportunity to participate in a promising clinical trial—and not take the prize. I could potentially be healed by something that will soon become the standard treatment for everyone else. I had no hesitation."
Michael was enrolled in the NSABP R-04 clinical trial designed for pre-surgery treatment—commonly referred to as neoadjuvant treatment. The Phase III trial was aimed at shrinking the cancer with chemotherapy and radiation, prior to impending surgery to remove the tumor and any surrounding lymph nodes. Michael was able to receive chemotherapy orally (in pill form) rather than intravenously, which eliminated the need to have a catheter through which chemotherapy would flow five days a week for six weeks.
"The R-04 trial was based on a lot of the research we've been doing here since the 1970s," explains Dr. Marks. "We're often involved in seminal work that begins at least a decade before a potential therapy reaches clinical trial. We were looking to identify the optimal type of therapy to shrink a cancer for it to be curatively operated on, with the least amount of side effects for the patient. Ideally, we wanted to offer life without a colostomy bag. We're always pushing the envelope to get the best results for the patient's survival, as well as the best quality of life for them."
Michael completed his neoadjuvant therapy in November 2008. Dr. Marks then performed a laparoscopic low anterior resection, avoiding a permanent colostomy bag through a handful of half-inch incisions. Dr. Marks has performed more than 3,000 of these procedures, making him one of the most experienced surgeons in the world performing minimally invasive rectal surgery and as such, drawing patients globally.
Following surgery, Michael began adjuvant therapy, which typically requires six to 12 months of chemotherapy beginning eight to 10 weeks post-surgery. The intent is to ensure against any cancer cells that may still be floating around in a patient's system. Again, Michael chose to participate in a clinical trial as opposed to receiving the standard treatment at that time. He began the ECOG 5204 clinical trial in January 2009—a Phase III study involving a combination of four chemotherapy compounds, designed for post-operative patients who received pre-operative chemoradiation. Dr. Zeger, a specialist in gastrointestinal malignancies, oversaw Michael's care during both trials.
"Whenever I look through my patient list for that day, if we're at a crossroads, my first thought is, is there a good and appropriate standard treatment, or should we consider a clinical trial," says Dr. Zeger. "We're able to offer unique and novel treatments that patients might not have access to anywhere else. Our team shares information all the time, and this multidisciplinary approach really helped Michael as we considered the best options for him. Treating cancer is about hope, and we were able to give that to Michael."
"At any given time, there are 60 to 70 oncology clinical trials available to patients at Main Line Health," says Dr. DeNittis, who serves as principal investigator in the oncology clinical trial program. Like Dr. Zeger, he treated Michael directly during both trials. "Our involvement in trials enables our physicians to stay up to date with the latest treatment options. By the time we conduct patient trials, there's usually great promise that a therapy is going to work. The treatment approaches studied in both of the trials Michael participated in have since been approved."
In October 2009, Dr. Marks performed a much smaller second surgery to reverse the temporary ileostomy that was in place to allow the area to heal properly.
"Michael is cancer free, and I don't see his cancer coming back," says Dr. Zeger. "On any given day, I get to come in to work and see follow-up patients who are alive and doing well five or ten years after the treatment they received through a clinical trial. It's very rewarding."
"The national survival rate for rectal cancer is in the high 60th percentile. At Main Line Health, it's 90 percent."
Says Dr. Marks, "The national survival rate for rectal cancer is in the high 60th percentile. At Main Line Health, it's 90 percent. At other institutions, a permanent colostomy bag is needed in 20 to 40 percent of patients. Our rate is seven percent. Other institutions use a minimally invasive approach 20 percent of the time. We use a minimally invasive approach with 90 percent of our patients. We're extremely proud of our capabilities and our outcomes."
"Unfortunately, many people are misinformed about the purpose and safety of clinical trials," says Crown. "It's interesting that 90 percent of children diagnosed with cancer in the U.S. participate in clinical trials, but only four percent of adults. It seems that when it's our children, we want the best, most aggressive, cutting-edge treatment available. But as adults, we're more restricted. We could cure a lot more cancer if more adults would participate in clinical trials. Michael believed in the power of these trials, and it's made a huge difference in his being alive and in the quality of life he has today. Every patient diagnosed with cancer should be asking their doctor if there's a clinical trial they should participate in."
"I don't think I would still be around if not for those clinical trials and the doctors at Lankenau," says Michael. "And I give so much credit to my family. They went through it as much as I did. I know the bus was outside waiting for me several times, but when I went to board, I was told, 'you don't have a ticket.' I fought my way through it. I had faith. I wanted to be here for my wife and kids. So here I am, still standing on the corner. I'm feel very fortunate to be here."
At Main Line Health, we believe that research is essential for advancing health care, leading to medical breakthroughs that improve and save lives. Our goal is to rapidly translate research findings into clinical care that benefits our patients. To learn more about the groundbreaking clinical trials offered at Main Line Health in oncology, cardiology and more, call 484.476.2649 or email [email protected].