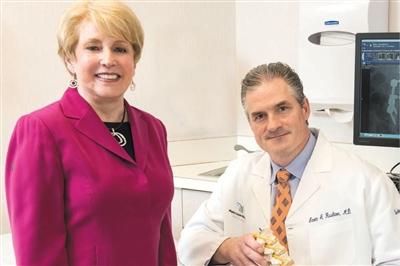 Most of us understand all too well the pain of an aching back. It's the most common reason Americans see a health care provider. And for good reason: Back pain can wreak havoc on everything from your sleep and mood to your everyday activities.
Some back problems respond well to exercise and medicine. But in other cases, surgery may be the best way to get back on your feet.
The female connection
Scott Rushton, MD, spine surgeon at Lankenau Medical Center, part of Main Line Health, explains how some back pain can be unique to women.
"For both men and women, the discs that cushion the spine naturally begin to degenerate, or wear away, around age 20, leading to back pain. But women especially are at risk for feeling the effect," he says. "Pregnancy, childbirth, and gynecological surgeries can all weaken the body's core muscles, which support the spine."
It's impossible to prevent spinal degeneration. But women of all ages can do core-strengthening activities to prevent and manage its effects.
"Practice yoga or Pilates, take a spin or kickboxing class, or simply go for a walk. Anything that helps build your core can ease symptoms of spinal degeneration," advises Dr. Rushton.
Women are also at greater risk for back pain because of the structure of the female lower back. Our anatomy makes us more prone to spondylolisthesis—the slipping of discs in the spine.
When spine surgery can help
Treatment for back problems often includes exercise, pain medication, and injections. But if they don't work, is surgery your next step?
"I don't recommend spine surgery for people whose primary symptom is lower back pain. It offers extremely poor outcomes," Dr. Rushton advises.
Dr. Rushton takes a conservative approach, operating only on patients he believes can achieve significant improvement. In fact, out of the roughly 4,500 patients he sees each year, Dr. Rushton recommends spine surgery to only about 300.
"Consider spine surgery if you have serious neurologic symptoms that impact your quality of life. This may include pain or weakness down the hips or legs, or numbness or a feeling of heaviness in the legs," he says. "For these patients, surgery is the most rewarding procedure I can perform. It is extremely effective."
Life-changing treatment
Jacqueline Baker, a 73-year-old business owner and corporate trainer, suffered from back and hip problems for years. As the pain grew, it took a major toll on her daily life.
"I was in so much pain, simply sitting down to drive was difficult. It was painful to be on my feet at all. And I was afraid I'd never be able to pick up my grandson again," recalls Baker. "I tried therapies like injections, but they didn't work for long. Finally, I decided I was not going to suffer anymore."
Baker's doctor referred her to Dr. Rushton.
"Jacqueline had severe spinal degeneration as well as structural issues, including a curvature of the spine and slipped discs, that were putting pressure on her nerves," explains Dr. Rushton.
He recommended surgery to relieve the pressure on Baker's nerves, clear out the debris caused by degeneration, and stabilize her spine with titanium screws. Dr. Rushton performed the complex procedure, called a laminectomy and spinal stabilization and fusion, at Lankenau Medical Center. Using minimally invasive techniques, Dr. Rushton made a small incision in Baker's back over the affected vertebrae. With tiny instruments, he removed the bone and debris that was put- ting pressure on her spine. He then placed the titanium screws, which her vertebrae would naturally grow around to fuse the spine together.
For Baker, the results of the surgery were immediate.
"I woke up from surgery and the pain was gone," recalls Baker, who was back to work two months after surgery and continued with physical therapy for a year. "I wanted to be totally better, and I am. Now, I'm pain free and doing all the things I thought I'd never do again. I walk two miles a day, play with my grandson, and drive without problems."
Dr. Rushton adds, "If you're considering surgery, make sure you understand the potential outcomes. For the right patient, spine surgery can improve quality of life tremendously."
To reach a Main Line Health spine surgeon, call call 866.225.5654 or schedule an appointment online.