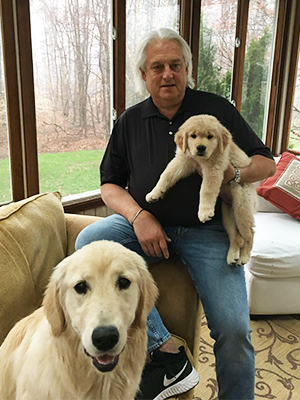 David Lucas and his wife Mary refer to it as "the event." A few days earlier, on a Monday, Lucas visited the Emergency Department (ED) at Paoli Hospital, part of Main Line Health, with chest discomfort. He was quickly diagnosed with atrial fibrillation―an irregular heartbeat―and admitted for treatment and evaluation. Further tests indicated an aortic aneurysm at the aortic root, which is an enlargement of the main artery that carries blood from the heart to the rest of the body.
Lucas had been followed by other cardiologists outside of the Main Line Health system since undergoing aortic valve replacement surgery in Chicago.
Life-saving emergency open-heart surgery
Lucas spent the next three days at Paoli Hospital where he was evaluated by cardiologist Brian Wilner, MD. While the atrial fibrillation was resolved, Dr. Wilner was concerned about the size of the aneurysm. It was more than three times what it should be.
He recommended that Lucas see Basel Ramlawi, MD, chief of cardiac surgery at Main Line Health, co-director of Lankenau Heart Institute, part of Main Line Health, and a renowned expert in complex cardiovascular procedures—specifically those involving the aorta. Dr. Ramlawi's physician assistant visited Lucas during his stay at Paoli Hospital and scheduled an office appointment at Lankenau Medical Center, part of Main Line Health, on Thursday, the day following his discharge.
"This is a patient who raised a lot of alarm bells, and we wanted to see him in the clinic as quickly as possible," says Dr. Ramlawi. "David's aortic valve had been replaced with a mechanical prosthesis decades prior, and given the increasing size of his aneurysm, he was now at immediate risk. Aneurysms, left untreated, can eventually dissect or rupture, which is considered catastrophic."
Lucas was scheduled to undergo aortic surgery with Dr. Ramlawi the following week, as soon as a few additional tests could be performed to prepare for the procedure.
That Friday, Lucas was at home resting when his wife noticed his face was turning purple. He was not in any pain, but felt an "odd sensation" in his chest. Mary drove him back to the Paoli Hospital ED, nearest to their home in Exton, PA. Dr. Ramlawi, who happened to be on call at the time, was notified immediately by the team at Paoli Hospital. It was October 16, 2020―the day of the "event."
"I received a call about a patient whose aortic root had dissected―meaning the inner lining of the aorta tears and blood escapes into the area between the inner and middles layers, causing the two layers to separate," says Dr. Ramlawi. "It's an extremely dangerous condition requiring emergency open-heart surgery to repair the tear before more damage occurs and the aorta ruptures. When I asked the patient's name, they told me it was David Lucas."
Lucas was rushed by ambulance from Paoli Hospital to Lankenau Medical Center, where Dr. Ramlawi and the surgical team were waiting.
"With an aortic dissection, the risk of death increases with each passing hour," explains Dr. Ramlawi. "That's why we always have a special team on call to perform surgery any hour of the day or night. We operated on David on a Friday night into Saturday morning, until about 4:00 or 5:00 am."
The procedure is highly complex. The aorta branches from the heart to every area of the body, supplying blood to the brain, the arms, legs and all of the organs. Lucas was placed on a heart-lung machine to prevent any damage to other organs during surgery. His body temperature was cooled to 22 degrees Celsius to protect his brain. Dr. Ramlawi entered through Lucas' chest to reconstruct his aorta.
"It was a challenging operation," says Dr. Ramlawi, "but David pulled through, and he did very well."
The road to recovery
Lucas would spend the next several days recovering in the Cardiac Intensive Care Unit before graduating to the stepdown unit. He was seen regularly by a multidisciplinary team of cardiologists, nephrologists, attending physicians and more. Dr. Ramlawi visited him daily.
That Sunday, when Dr. Ramlawi visited for the first time following surgery, he found Lucas sitting up in a chair having lunch and yelling at the Eagles game on television. Dr. Ramlawi laughs as he recounts the story. "I told him, I didn't work on you all that time to have your blood pressure skyrocket because the Eagles are losing!"
Within days, Lucas was walking the halls and the stairs at Lankenau Medical Center, and within a few weeks, he was back home. His only restriction was not lifting anything too heavy, as his sternum needed to heal. He completed his cardiac rehabilitation sessions in less than two months, and his visits from the nurses at Main Line HomeCare even sooner. Today, he's back to traveling, playing golf and running his business. And he's profoundly grateful for Main Line Health, Dr. Ramlawi and Dr. Wilner.
"Mary and I agree there was a lot of serendipity surrounding 'the event,'" says Lucas. "We travel a lot. If I had been anywhere else and gone to any other hospital, I don't know that I would have survived. I was able to get to Paoli Hospital immediately, and they got me right to Lankenau Medical Center. I had one of the best cardiac surgeons there is devising a strategy. Very few health systems in the U.S. have such a coordinated level of care and integrated approach for someone facing a catastrophic event. Every touch point was a ten out of ten. And because of that, I'm able to walk my dog, have a pint of beer and enjoy dinner with my wife."
Lucas will visit Dr. Ramlawi annually for follow-ups, and remains under ongoing surveillance by Dr. Wilner, who he chose as his general cardiologist moving forward.
"David has been through a lot," says Dr. Wilner, "and he's made a miraculous recovery. Every time I see him, he's doing better and better. I look forward to staying his cardiologist for the next 30 or 40 years."
Next steps:
Read more about cardiologist Brian Wilner, MD
Read more about Main Line Health chief of cardiac surgery, Basel Ramlawi, MD
Learn more about Lankenau Heart Institute
Aortic aneurysm treatment: Main Line Health surgeons leading the way