It was early morning on February 23, 2021, when Cheryl Everngham and Candy Caporale arrived together at Bryn Mawr Hospital. Everngham's son Scott had picked each of them up at their homes, and they had a great laugh as they realized they were wearing the same outfit. The two cousins—their mothers were sisters—have been close since childhood and continue to share countless memories. But undergoing knee replacement surgery together with the same doctor in back-to-back procedures was more a twist of fate then part of any master plan.
"I already had my right knee replaced back in 2018," explains Everngham. "My husband had recently passed away, and Candy and I scheduled a cruise for October. But that August, my knee started acting up, and an MRI showed I needed a replacement. We had to cancel our cruise."
Everngham sought out orthopedic surgeon Robert P. Good, MD, with Rothman Orthopedics at Main Line Health, to perform her right knee replacement. Dr. Good had previously performed a double knee replacement for Everngham's sister, and more recently, replaced Caporale's husband's knee. It was in 2019 that Everngham's left knee began bothering her.
"When Dr. Good did my right knee replacement, it felt so good running up and down the stairs in my house," Everngham recalls. "Now, with my left knee hurting, it got to the point where I was having a hard time getting up from my desk at work. I had pain just doing daily activities. I thought, I need to get the left knee done now, because the right one feels so good."
"When Dr. Good did my right knee replacement, it felt so good running up and down the stairs in my house. Now, with my left knee hurting, it got to the point where I was having a hard time getting up from my desk at work. I had pain just doing daily activities. I thought, I need to get the left knee done now, because the right one feels so good."
She scheduled her second knee replacement with Dr. Good for January 2021. But her son Scott, who was planning to help with her care after the procedure, had potentially been exposed to COVID-19. She rescheduled for the next available date—February 23. Meanwhile, Caporale was also having issues with her left knee.
"I had torn my meniscus in 2019 and had surgery to repair it at that time," says Caporale. "I was doing really well, but soon after, I slipped in the shower and sprained my MCL in the same leg. I was getting cortisone shots for the arthritis in my knee, but the pain was getting worse and worse. I couldn't live with it any longer."
Caporale went to see Dr. Good. The next available surgery date for a knee replacement was February 23. She knew that was the day of Everngham's surgery and booked it.
"So, there we were entering Bryn Mawr Hospital together," laughs Everngham, "two weird old ladies with the same shirt on."
"Cheryl and Candy were both experiencing severe symptoms of osteoarthritis," explains Dr. Good, who performs 500 to 600 knee and hip replacement surgeries a year. "There's a thick layer of cartilage over the knee that allows it to glide. But over a period of years, in some people, this protective covering wears away. We begin treatment with anti-inflammatory medications, steroid injections, modified activities—such as swimming instead of running, and weight loss, if appropriate. But when the pain and symptoms are not relieved by non-operative methods, that patient becomes a good candidate for knee replacement surgery. It's a quality-of-life decision that the surgeon and patient make together."
The cousins found themselves right next to one another in surgery prep. Dr. Good performed Everngham's procedure first, directly followed by Caporale's. Both surgeries took approximately one hour and were highly successful.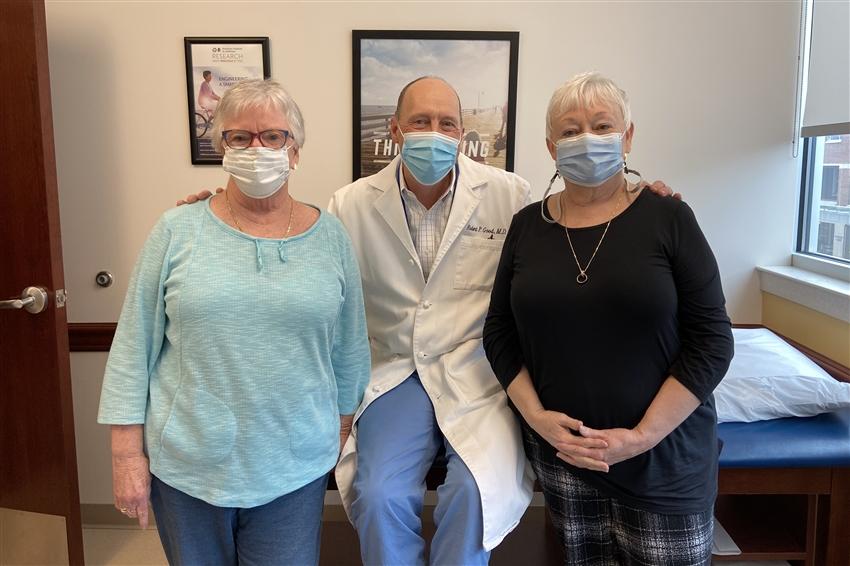 "Coincidentally, Cheryl and Candy's implants were very similar in size, despite the fact that we have a large number of sizes available to fit each patient," says Dr. Good.
The pair began their recovery during an overnight stay in rooms just down the hall from one another. The physical therapist arrived to each of their room's directly following surgery, and both were up and walking the hallway immediately.
"We're tough old birds," says Caporale, age 73 at the time of surgery. Everngham was 72. Knee replacement patients typically range in age from 40 to 85.
Returning home
Scott Everngham came at noon the following day to drive the two back to their respective homes. Both began outpatient therapy in March to support their recovery—two sessions per week—as well as daily exercises at home. They talked every day, sometimes several times a day.
"This was all new to me," says Caporale. "This is Cheryl's second time and she's been such a support. I'd ask her, am I supposed to feel this or that? When I whined, she reminded me it will be okay. If I had a bad day, Cheryl pulled me up. And I could do the same for her. Going through this together absolutely made it easier for both of us."
"The first week is the most challenging," says Dr. Good. "Most patients use a walker at first, and transition to a cane in two to five days. Within two to three weeks, the majority of patients are walking without any support."
Dr. Good explains it is essential to get the knee moving right away to prevent stiffness. Physical therapy is tailored to each individual and needed for up to two months. It can be performed at home or as an outpatient. According to Dr. Good, the soreness and stiffness subside after about one month and the range of motion continues to improve. It usually takes the typical patient three to four months before they feel "really good."
"It was so nice to pick up the phone each day to find out how Candy was doing and compare notes," says Everngham. "She was especially concerned over the appearance of her scar. I told her to massage it."
Within two weeks, the cousins were driving to one another's homes for visits.
The cousins reunite in person
"I was super jealous when I saw Cheryl's scar," says Caporale, laughing. "It looks gorgeous. When I asked Dr. Good about it, he said I was pampering my scar too much. He told me to massage it, just like Cheryl said. I can't say enough about Dr. Good and his practice. He is absolutely phenomenal. And I can't say enough about Bryn Mawr Hospital. Every single person was just fantastic."
"We have an outstanding team of dedicated healthcare professionals at Main Line Health," says Dr. Good. "Joint replacement is an area of excellence for us, and we're committed to providing the best possible experience for our patients."
Everngham was excited to get back to her job as a volunteer director, resume gardening and landscaping in her yard, and be able to get down on the floor to play games with the youngest of her seven grandchildren. Caporale was eager to start traveling again with her husband—both internationally and simply to the Jersey shore. Dr. Good reports that both are model patients.
"Knee replacement is often a very successful operation, enabling people to get back to everything they love to do," he says. "Those of us in this specialty are fortunate. We can see the problem, we can fix it, and it's immediately apparent to patients that they're better. When they tell us they're playing tennis again, or they could dance at their daughter's wedding, or we changed their lives, it warms the soul. It's so rewarding to go through this journey with them. And it was particularly fun to go through it with Cheryl and Candy together."
"I'm just so happy to have two good legs and be able to do anything," says Everngham. "I told Dr. Good, you did wonderful. He said jokingly, I get one right every once in a while. I said, I'm glad it's mine."
If you or a loved one is experiencing joint pain, learn more about treatment options including joint replacement, view educational materials on joint replacement surgery, or call 484.580.1070 to speak with a joint pain navigator.