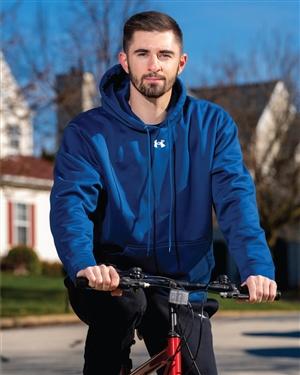 At 22 years old, Blake Emerson's future looked bright. He had recently started his first job as an electrical engineer and was enjoying some much-deserved vacation time with his family on Fish Lake, Michigan. As he walked from his family's lake house down to the dock for a late evening swim, he couldn't predict how much his life would change in just a few short moments.
"My family has vacationed at this lake every year of my life. I knew it like the back of my hand. We all noticed that the water level seemed a bit lower than normal, but I didn't think about that as I dove into the water, just as I'd done hundreds of times before," he recalled.
But this time, something went wrong. Blake didn't anticipate quite how shallow the water was and he immediately hit bottom. "I tried to stand up, but I couldn't move my arms or legs. Then I ran out of air and lost consciousness."
Fortunately for Blake, his cousins were also on the dock and when he didn't come up, they jumped into action, pulling him to the surface and summoning help. An aunt dialed 911 while his mom, a registered nurse, used a wooden table to stabilize him. Paramedics finally arrived and rushed Blake to a hospital with an advanced trauma center nearly an hour away from the lake.
That night Blake went in and out of consciousness. Due to swelling in his neck and spine that impaired his heart and lung function, he had to be resuscitated multiple times. Tests confirmed that Blake fractured his fourth and fifth cervical vertebrae and had contusions on his spinal cord. The inflammation and bruising from his injury caused Blake's paralysis and impaired his breathing.
"Over the next few days the only movement I had below my nipple line was a little flicker in my right big toe, that flicker gave me hope that I could recover."
The location of Blake's injuries and severity of the swelling first meant he would have to undergo surgery to fuse his vertebrae together. About five days after his surgery, Blake was transported nearly 1,000 miles via a 12-hour ambulance ride to Bryn Mawr Rehab Hospital, part of Main Line Health.

"My mom worked for Bryn Mawr Hospital for years and knew about Bryn Mawr Rehab's outstanding reputation," Blake says. "Plus, it was only 20 minutes away from my parents' house." Blake was hopeful that he would have a short recovery and be back to his pre-injury self in no time, but soon learned that his injury would require several months of inpatient and outpatient rehabilitation.

"My care team quickly explained to me that it would be a long, tough road to recovery and it would be a lot of work on my end." Blake said. "But I was ready to put in the work, so I could get back to my old life."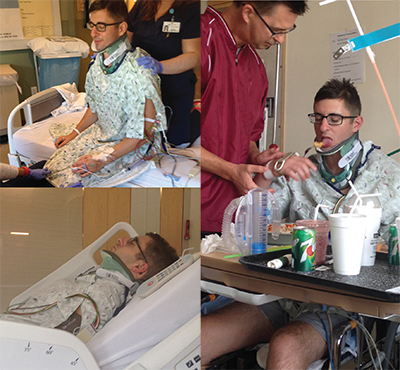 Blake spent 11 weeks in Bryn Mawr Rehab's inpatient facility, working with a comprehensive medical team that included physicians, physical therapists and occupational therapists. His team created an intense therapy program to help him regain movement and strength.
"My physical and occupational therapists were amazing," Blake said. "I remember my PT, Mark White, immediately setting a goal for me to walk out of the hospital."
"Blake was very impaired when he arrived, and his family was very concerned," Mark recalled. "I told them that they were in the right place and that we know how to care for patients like Blake. When dealing with complex rehabilitation patients, you must be positive but realistic."
Mark and his fellow therapists used an array of cutting-edge technology, including aquatic therapy and the Lokomat—a robotic treadmill that helps patients learn to walk again—along with a major dose of sweat equity to get Blake on the road to recovery. "At Bryn Mawr Rehab every care plan is unique and customized to a patient's impairments. We match the many resources, technology and expertise found here with each patient to optimize improvement," Mark said. "We packed a lot of work into a relatively short period of time and Blake always said, 'bring it on.' He was the perfect patient—hardworking, motivated and funny."
Once his time in inpatient therapy was over, he did indeed walk out of the hospital (with assistance from a walker) and was even taking a few steps on his own. But his journey to recovery was far from over. Blake spent an additional six months in outpatient therapy. He spent two hours, three days a week with his team at Bryn Mawr Rehab, working to regain his pre-injury strength and physical abilities. And his commitment extended beyond his outpatient treatments. With encouragement and support from his rehab team, Blake's parents built a gym for him in their basement where he spent many additional hours regaining his strength through various exercises ranging from core workouts to jumping rope to weight lifting.
"There were a lot of people involved in my treatment at Bryn Mawr Rehab.They were always honest with me, cautious with my recovery, and always pushed me to get better and try my best."
"Inpatient therapy got me well enough to go home and get around the house with caregiver support. The outpatient team got me back, as much as possible, to my pre-injury self."
Finally, almost nine months after his injury, in April 2017, Blake was well enough to return to his job in Maryland and pick up his life where he left off on that warm July evening in the summer of 2016.
"They put me on the path to reach my maximum recovery," he said. "I still have a slight limp on my left side, but my right side is fully recovered. I've joined a gym and continue to improve. Whenever I visit my parents, I stop by Bryn Mawr Rehab to visit and they are really impressed with my progress. I'm so thankful for everyone there."