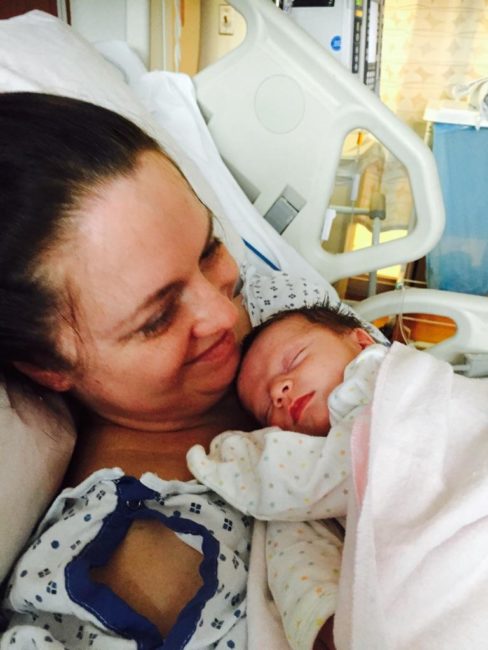 Beth Keeley and her husband had just welcomed their first child, a daughter—Delaney. Keeley's pregnancy had been free of complications, and her delivery had gone smoothly. While many expectant mothers find themselves fighting high blood pressure, Keeley says it wasn't an issue for her.
With a healthy pregnancy and delivery behind her, and a new baby to celebrate and care for, the last thing on 35-year-old Keeley's mind was her own health. But an afternoon of errands a few weeks after Delaney's arrival changed that.
As the family of three pulled into the parking lot of Lowe's, Keeley began to feel a sharp pain in her head.
"I can't even call it a headache," she explains. "It was this stabbing pain that went through my head and to the top of my eye."
Keeley ignored the pain and continued inside. There, her symptoms persisted. As she struggled to steer Delaney's stroller inside the store in a straight line, she knew something was wrong.
"It got so bad that eventually we had to just leave the store. As we were walking back to the car, I kept bumping into things—the cart return, the car door my husband was holding open for me, my daughter's car seat…I wasn't recognizing things before I hit them."
Keeley's husband headed straight to the couple's local emergency room in New Jersey. After a CT scan and blood work, clinicians concluded that her symptoms were due to a migraine. She was sent home.
Only hours after she arrived home from the hospital, she lost control of her leg. Keeley, who knew she wasn't dealing with a migraine, went back to the emergency department with her husband for further testing. There, clinicians ordered an MRI and admitted Keeley, seeing that she had suffered an ischemic stroke. It was one of the last things she remembers of her inpatient care.
"I couldn't stand up by myself, couldn't support myself," says Keeley. "Eventually, I was transferred to a hospital in Philadelphia for my stroke care, where I stayed for two weeks before I moved on to Bryn Mawr Rehab for rehabilitation."
At Rehab, Recovering from the Unthinkable
When it came time for her and her husband to choose a rehabilitation center after her stroke, Keeley says she chose Bryn Mawr Rehab Hospital because of her daughter.
"I have a lot of family in the area, and my husband knew he would be spending so much time with me during my recovery so I wanted to make sure we would have family around to take care of her," says Keeley. "It was nice because she was so close to me, even when I was in the hospital."
Keeley had also heard positive reviews of Bryn Mawr Rehab from family members who had been treated there in the past.
Once she arrived at Bryn Mawr Rehab, Keeley enrolled in the hospital's Young Stroke Program, for stroke patients under the age of 50. She participated in three hours of therapy per day, five days per week, including physical, occupational, and speech therapy.
"I didn't know anything about strokes before this, so when I saw speech therapy I didn't know what that was. I got evaluated and realized I really did need it," says Keeley.
In addition to the hours she spent with the physical, occupational, and speech therapy teams, Keeley was impressed with the variety of therapies and interventions available to patients, many of which are unique to inpatient rehabilitation facilities. She spent time in Bryn Mawr Rehab's Sydney Thayer III Horticultural Center. During her three-week stay, she took two horticultural therapy sessions, potting a plant and making a card.
"As a therapy team, we tailor a treatment plan to each patient based on their deficits, impairments, and other personal factors. Ms. Keeley was young and in good health prior to her stroke, so we were able to be more aggressive and use a wide range of modalities in her therapy," explains Dana Hughes, inpatient physical therapist at Bryn Mawr Rehab and a member of Keeley's care team.
"Although I wasn't in horticultural therapy for too long, there are some pretty cool therapies there. I also tried the electric stimulation bike and the Lokomat," says Keeley. "They were really effective treatments."
Throughout the duration of her stay, Keeley's husband and daughter were able to visit her on a daily basis and spend time with her when she wasn't spending time in the gym or in therapy. Keeley was appreciative of the hospital's willingness to be flexible and allow her family to be such a key part of her recovery.
"Bryn Mawr Rehab was great in letting my husband and my daughter visit with me, knowing how far we were from home. I really wouldn't have seen them too much otherwise," she says.
As Keeley continues outpatient rehab and her stroke recovery, she says she'd recommend the hospital to friends or family, acknowledging that—although a stroke like this can change your life—Bryn Mawr Rehab helped her get back on her feet and back to life as a new mom, something she's still grateful for.
"Ms. Keeley set the bar high from the very beginning, and she lived up to it. We are so proud of her determination and her level of motivation," says Hughes."She's a true success story."
As one of the leading centers for physical medicine and rehabilitation in Pennsylvania, Bryn Mawr Rehab Hospital delivers innovative services for patients who need inpatient or outpatient treatment in the Philadelphia region and western suburbs. Visit our website to learn more about Bryn Mawr Rehab's rehabilitation services.