Virtual Care — the next best thing to an office visit
You can now connect with Main Line HealthCare providers via video or phone to receive preventive care, diagnosis and treatment plans. It's just one more way we're able to provide you with human care.
Although things have changed in the world, it's important to continue being seen for chronic health conditions and any other medical concerns you might have. Virtual health appointments, also known as telemedicine, are provided by Main Line HealthCare physicians during regularly scheduled office hours, in addition to convenient morning and evening times available. Call your Main Line HealthCare physician practice to schedule a telemedicine appointment.
View a full list of our practices
If you need to be seen in person because you are in a vulnerable or high-risk health category,
we are happy to see you in our offices.
Main Line HealthCare Virtual Care offers: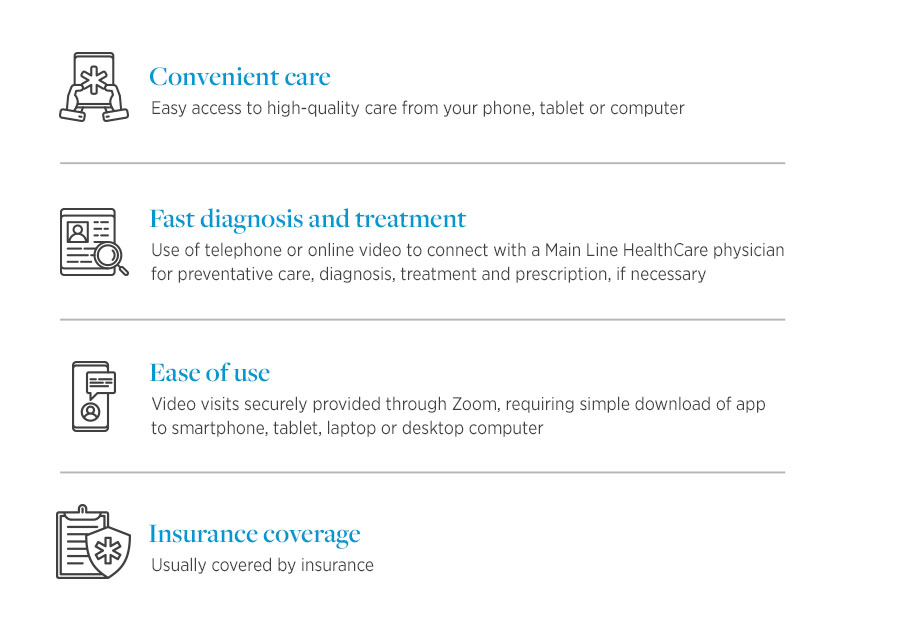 If you have severe symptoms or trouble breathing and suspect you have COVID-19, seek emergency care immediately! If possible, have someone call ahead to prepare the Emergency Department staff for your arrival and to prevent the spread of disease.
Preparing for your virtual health visit
Main Line Health virtual health visits occur through your MyChart portal and are powered through Zoom video conferencing. If you've already scheduled a telemedicine appointment with your Main Line HealthCare provider, learn how to prepare for your appointment and how to join your appointment when it is time.