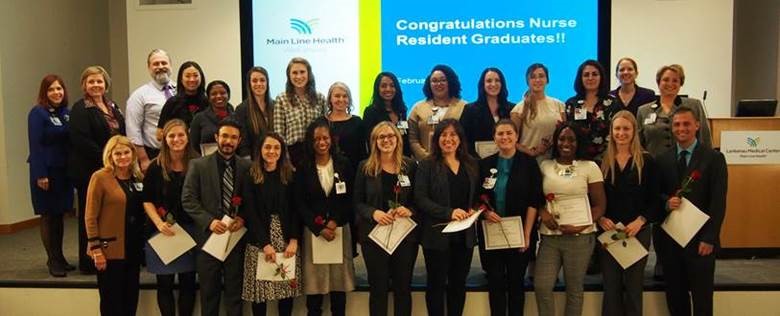 The residency program is a yearlong program designed to ease the transition to practice for the new graduate nurse in their first professional role. Emphasis is given to nursing leadership behaviors, nurse driven outcomes and professional development. The curriculum is designed to enhance the graduates' critical thinking skills and their ability to use outcome data to promote patient safety.
Through the residency program, new graduates can transition to their profession and gain valuable full-time experiences in most clinical specialties. These evening and night-shift positions offer a comprehensive benefits package, competitive pay and shift differential. Main Line Health offers all new graduates a precepted orientation which is based on the clinical specialty and the individual learning needs of the new graduate. On-going supervised training and educational opportunities are provided to the staff during this transition and after orientation.
Why choose Main Line Health for your nurse residency?
Main Line Hospitals offers our communities the latest technology in a compassionate environment, and give the people who provide that care the best opportunities to learn, grow and prosper. It takes a team to care. Opportunities exist at each of our hospitals that are perfect for the Graduate Nurse looking for growth and development in selected clinical areas.
Consider the benefits of working for a Main Line Health:
Choice of suburban locations: Bryn Mawr, Lima, Media, Paoli and Wynnewood
Competitive salary
Paid participation in the formally structured program with peer support
Competency based preceptorship with support from senior staff and clinical educators
Teaching facility with state-of-the-art equipment
Free parking
Flexible scheduling
Comprehensive benefits package with matching 403(b) savings plan
Opportunity for career advancement throughout the organization
Generous paid time off
Employee referral bonus
Division-specific courses provided
Positions available in most clinical areas
Learn about the nurse residency application process
Frequently asked questions
1) What is the nurse residency program?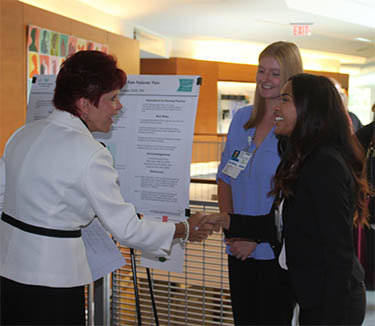 The nurse residency program is designed to assist new or recent graduate nurses in the transition from student nurse to professional nurse. Nurse residents are hired to a specific unit at one of the Main Line Health entities and will complete orientation with preceptors on that unit. The new hire is also enrolled in the nurse residency program which is a year long program focusing on professional development and evidence based research. The nurse residency program continues once orientation on the hired unit is complete and the program meets every other month for eight hours. More information on the nurse residency program can be found at aacn.nche.edu/education/nurseresidency.htm.
2) What are the requirements to be eligible to apply?
Graduation from an accredited Bachelors of Science in Nursing (BSN) program or currently enrolled in a BSN program and graduating within the next few months after applying
Valid and active Nursing License for the state of Pennsylvania (all nurse residents are required to pass their boards prior to starting)
Minimum 2.8 GPA
3) What if I already graduated from a BSN program? Am I still eligible to apply?
Yes. If you have already graduated from a BSN program, you are still eligible to apply if you have less than six months of acute care RN experience. If you have been working in a nursing home or long term care facility, you are also eligible to apply.
4) What happens after I apply?
After your application is received and you meet all the minimum qualifications, your application is thoroughly reviewed. If you are selected for an interview, you will be contacted by a representative from Human Resources and scheduled for a first round panel interview. If you are selected as a candidate by the panel interview, you will then interview will a nurse manager at one of the Main Line Health entities.
5) Does every applicant receive an interview?
No. Due to the high volume of applicants that Main Line Health receives each year, we are unfortunately unable to interview every applicant.
6) Will I be contacted even if I don't receive an interview?
If you are not selected for an interview, you will be contacted via email with communication as to your application status.
7) What Main Line Health hospitals participate in the program?
All seven of the Main Line Health entities participate in the nurse residency program. This includes Lankenau Medical Center, Bryn Mawr Hospital, Paoli Hospital, Riddle Hospital, Bryn Mawr Rehab Hospital, Mirmont Treatment Center and HomeCare & Hospice.
8) What clinical areas are available?
Nurse residents are generally hired into most clinical areas, however, the need does vary by entity and the department.
9) How do you select the clinical area where an applicant interviews?
Each year, we look at the openings that we have in each department and then also take into consideration the experience and interest of each candidate. We cannot guarantee a placement in a certain clinical area based on interest, but we do try to find the right fit for the candidate and the department.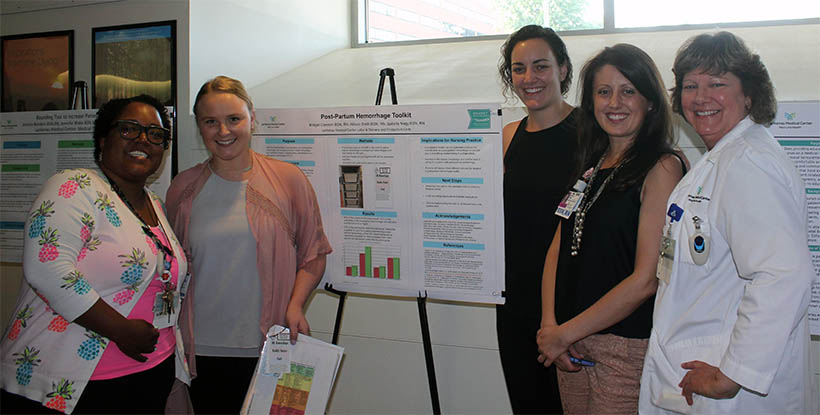 10) How many nurse residents do you hire each year?
The number of positions and hires varies each year.
11) Does every new or recent graduate go through the nurse residency program?
Yes. All new or recent graduates that are hired at Main Line Health participate and complete the Nurse Residency Program. The staff nurse positions that are available on our website are for nurses with at least one year of acute care RN experience.
12) What are the hours/shifts available?
For the most part, there are evening shift (3:00–11:30 pm) and night shift (11:00 pm–7:30 am) positions available for nurse residents. Occasionally, there are 12-hour shifts available, however, most nurse residents orient on eight hour shifts for the first few months. The weekend commitment varies according to the needs of the unit.
13) When can I start working?
If offered a position, nurse residents must pass their boards prior to starting. Offers can be made prior to the new hire passing their boards, though. Nursing orientation is held the beginning of each month, but the start date does depend on the need of the hiring unit.
14) What is the orientation like?
Each nurse resident will complete four days of classroom and computer training, four days of didactic training, and a day and a half of Main Line Health orientation. Nurse residents will then begin orientation on the unit. Each nurse resident will complete an orientation of at least six weeks with a preceptor. nurse residents in emergency department and critical care areas may spend time orienting on a telemetry floor. Nurse residents in labor and delivery may spend time orienting on a med/surgery floor. The orientation is customized to each individual's needs. Nurse residents have regular meetings with their manager, educator and preceptor to determine an appropriate orientation program.
15) Are there part-time or weekend positions available?
Main Line Health offers part-time positions and a weekend program, however, nurse residents are required to work full-time. In order to be eligible for the weekend program, nurses must have at least one year experience in that particular area.
16) What happens after I complete the nurse residency program? Do I have to apply for a position?
During your first year at Main Line Health, you are considered a staff nurse and are working in a full time position. After that year is complete, you will remain on your hired unit.
17) How long do I have to stay on my hired unit?
Main Line Health offers numerous opportunities for our staff nurses to develop and grow their skills. Once you have at least one year of experience on your unit, you are eligible to apply for another position at Main Line Health. However, please keep in mind that certain specialty areas have certain requirements for applying and may require more experience and additional certifications.