Governor Wolf's administration and State Representative Chris Quinn instrumental in securing funds for 'Virtual Buddy' patient-safety system
Media, PA — Riddle Hospital has been awarded a $250,000 state grant toward a "Virtual Buddy" monitoring system that will be installed in patient rooms throughout the facility, enhancing patient safety and care efficiency.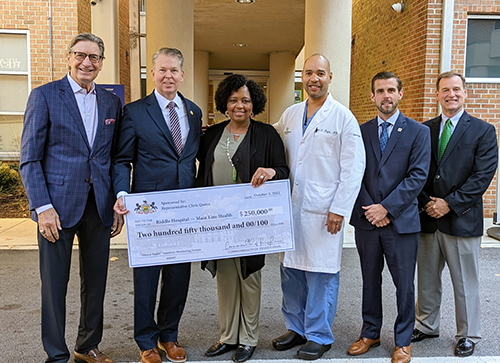 This grant will allow Riddle Hospital to equip 118 patient rooms within the existing hospital, mirroring the state-of-the-art system being installed in the 76 rooms of the new 230,000-square-foot Patient Pavilion, which is scheduled to open in summer 2023. Installation for both parts of the hospital is scheduled for completion by spring of that year.
State Representative Chris Quinn (168th Legislative District, Delaware County) was instrumental in securing the grant from the Pennsylvania Department of Human Services.
"We're incredibly grateful to the Wolf administration and Representative Quinn for their legislative support," said Shelly Buck, president, Riddle Hospital. "Patient safety is always a top priority at Main Line Health and Riddle Hospital. This system will allow staff to monitor multiple patients and then direct immediate hands-on care to those in need."
Said Quinn: "This grant will save lives. I want to thank the Department of Human Services and Governor Tom Wolf for giving me a fair hearing and recognizing that the new Virtual Buddy system will advantage patient care and safety."
The Virtual Buddy system will allow for continuous observation of high-risk patients, particularly those at risk of falling, suffering from dementia, or undergoing or recovering from intense treatment that leaves them vulnerable. The system includes video security cameras and high-quality audio devices so staff can clearly see and verbally communicate with patients in their rooms.
The system will benefit not only patients but allow the hospital to maximize staffing resources. Currently, patient monitoring requires a staff member to sit with an at-risk patient one-on-one for the duration of their hospitalization.