Article among most cited in 2021 in peer-reviewed Journal of Applied Clinical Medical Physics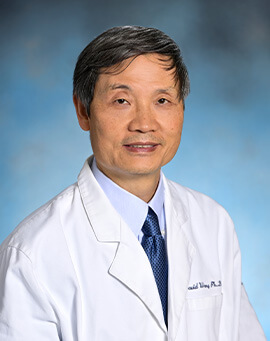 Since Albert DeNittis, MD, joined Lankenau Medical Center, part of Main Line Health, as chief of radiation oncology in 2000, the oncology community's techniques of determining the optimal radiation dose to treat brain tumors have barely changed.
"Then my colleague, senior medical physicist David Wang [PhD], came to me and said he had ideas for a better way," DeNittis said. "The potential is enormous."
The response to an article authored by Wang, DeNittis, and Yibing Hu reflects the interest in the radiation oncology communities. "Strategies to optimize stereotactic radiosurgery plans for brain tumors with volumetric-modulated arc therapy" was among the top-cited articles in 2021 in The Journal of Applied Clinical Medical Physics.
The research focuses on stereotactic radiosurgery (SRS), a technique to deliver precisely focused radiation beams to treat tumors in the brain. It is not surgery in the traditional sense because there is no incision, instead using 3D imaging to minimize impact to surrounding healthy tissue. Wang used data from 50 SRS procedures conducted at Main Line Health from 2014-2017 where volumetric modulated arc therapy (VMAT) was used.
VMAT delivers photons generated by a linear accelerator to conform to a tumor's shape. Tiny beams as small as the size of a pencil tip, with varying intensities, are aimed at the tumor and rotated 360 degrees around the patient. The treatment typically requires only a single two-minute dose.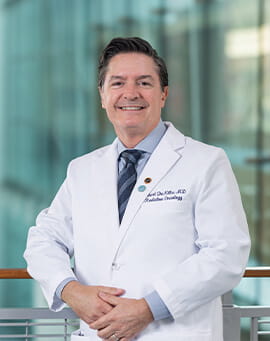 "I had thought about how to deliver radiation more effectively for more than 10 years," Wang said. "But I had not done the research. There are so many factors in the process. But now, I believe I have found a more optimal technique."
Based on Wang's analysis, the new radiation-dosing technique spares 35% more tissue than standard methods of radiation.
"He devised this method purely through theoretical physics rather than in the clinic," said DeNittis, a professor with the Lankenau Institute for Medical Research, part of Main Line Health. "I think that's why it has drawn so much interest. It's more reliable, it's definitely safer due to the reduced radiation dose, and it's potentially more effective since more dose can be delivered to tumors."
The technique would be applicable to treatment planning for multiple types of brain tumors where sparing the tissue peripheral to the target is critical. A human clinical trial is the next step.