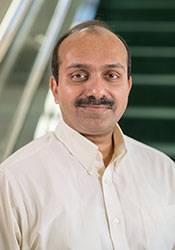 Continuing mutations of the COVID-19 virus have forced the scientific community to assess the need for new vaccines to prevent the disease's spread as well as reexamine preparations for future pandemics.
Sunil Thomas, PhD, research associate professor at Lankenau Institute for Medical Research (LIMR), part of Main Line Health, is releasing a three-volume set this month called Vaccine Design: Methods and Protocols, Second Edition (Springer Nature) that provides a foundation and new pathways for today's vaccine researchers. He is editor of the set as well as sole or coauthor of 11 of its 87 chapters.
"The new Omicron variant, not to mention possible future variants, may require development of novel vaccines because our current ones have decreased effectiveness," Dr. Thomas said. "Vaccine Design is designed to give practical information for researchers, including new techniques for development of vaccines for COVID-19. It also will be relevant as we prepare for future pandemics."
One of the chapters addresses how to use other parts of the structural protein than the spike protein—on which current COVID-19 vaccines are based—to develop diagnostics and vaccines. Knowledge of different segments (epitopes) and binding regions of the SARS-CoV-2 structural proteins is essential in fighting the disease.
Another chapter describes multiepitope and multipatch vaccines, which have the potential to target large numbers of coronavirus proteins. In addition, there is a chapter exploring the use of a virus engineered by CRISPR gene-editing technology to attack SARS-CoV-2, and one on micro-CT scanning to visualize diseased lungs and preclinically assess candidate vaccines.
The second edition fully rewrites and supplements Dr. Thomas' initial release from six years ago. The two volumes in the 2016 set are the most popular published in Springer's Methods in Molecular Biology series in recent years, reaching the milestones of 500,000 downloads and more than 500 citations.
"Sunil Thomas undertook this project right before COVID-19 struck, just as many universities across the world were about to close the doors of their labs and offices, including those devoted to vaccine immunology," said George Prendergast, LIMR's President and CEO. "It's a credit to his hard work and vision that he quickly changed course, producing three volumes that not only add to the knowledge base from his seminal first edition but are even more critical today."
COVID-19 caused hardship to the contributing authors. "Several of the contributing authors and their families came down with the virus," Dr. Thomas said. "One of the writers, a vaccine expert from Iran, had a colleague die from it. Still, he and the others delivered their chapters."
Volume 1: Vaccines for Human Diseases includes an introductory section on future challenges for vaccinologists and the immunological mechanism of vaccines. Chapters focus on design of human vaccines for viral, bacterial, fungal and parasitic diseases as well as tumor vaccines.
Volume 2: Vaccines for Veterinary Diseases guides readers through veterinary vaccines, including for poultry and farm animals, that are crucial for food security.
Volume 3: Resources for Vaccine Development guides readers through various methods to develop and deliver vaccines. The book also covers vaccine regulation and intellectual property.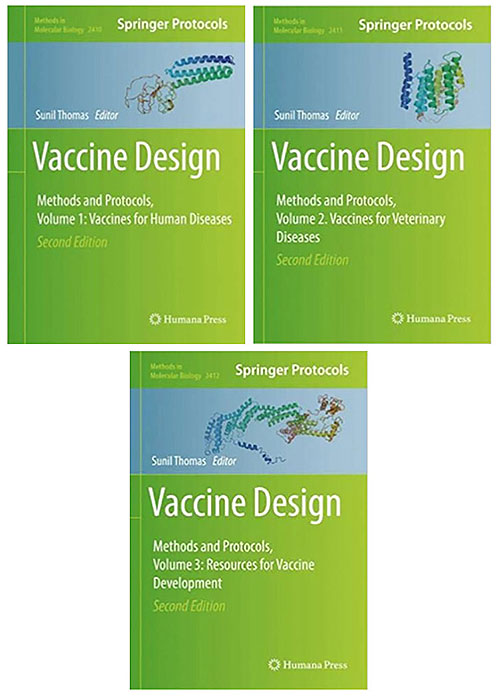 Dr. Thomas specializes in translational research, which applies scientific findings to medical practice. During his career in immunology, he has developed numerous therapeutic and diagnostic techniques and been awarded several patents for his groundbreaking work. He modeled the membrane protein of SARS-CoV-2 and showed that it functions as a sugar transporter, and he modeled the transmembrane non-structural proteins of SARS-CoV-2.