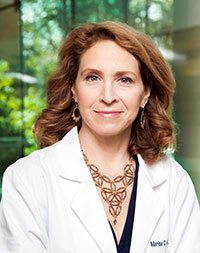 New research from Breastcancer.org by an adjunct investigator of the Lankenau Institute for Medical Research (LIMR) indicates almost half of Americans with breast cancer use cannabis (marijuana), most commonly during cancer treatment to manage symptoms including pain and anxiety. However, most patients rely on the internet and friends for information rather than consulting a physician.
The findings were published today in Cancer, a leading peer-reviewed journal of the American Cancer Society. Marisa Weiss, MD, a leading figure in the breast cancer community as founder and chief medical officer of Breastcancer.org, was lead author and co-principal investigator. In addition to her affiliation with LIMR, Dr. Weiss is also an affiliated radiation oncologist with Lankenau Medical Center, both part of Main Line Health.
The study is based on an anonymous online survey to examine cannabis use among adults diagnosed with breast cancer within five years and were members of the Breastcancer.org and Healthline.com online health communities.
Breast cancer patients often turn to cannabis when other treatments fail to provide relief. But they often go to online sources and friends for information rather than physicians.
Many physicians, furthermore, feel they lack the knowledge to discuss cannabis with their patients, with 7 in 10 reporting in a previous national survey that they felt unprepared to make clinical recommendations.
"Clearly many patients are using cannabis to relieve common and difficult symptoms from breast cancer or its treatments," Weiss said. "To improve their overall holistic care, it's important for doctors to learn more about cannabis and engage their patients in a conversation about its use. Professional guidance is critical for safe use, avoiding potential adverse effects and interactions with other treatments."
Among the major findings:
Of 612 total participants, 42% reported using cannabis for relief of symptoms.
Among them, only 39% discussed cannabis use with their physicians.
Nearly half (49%) of participants who used cannabis believed that medical cannabis can be used to treat cancer itself; however, its effectiveness against cancer is unclear.
More than 70% of survey participants felt cannabis was safe and used a wide range of products, including edibles, liquids and smoked/vaped products, and obtained it from places ranging from state-regulated dispensaries to friends/family.
Among cannabis users, 75% reported it was extremely or very helpful in relieving symptoms.
A number of Main Line Health researchers, mostly from LIMR, joined Weiss as coauthors. They were Julianne Hibbs, DO; Meghan Buckley, MS; Sam Meske, MS, MBA; Katherine Aliano-Ruiz, BA; Theresa McHugh, DO; Sharon Larson, PhD; and Paul Gilman, MD. Larson heads the Main Line Health Center for Population Research at LIMR and Gilman is director of LIMR's Clinical Research Center.
Michael Walker, MD, medical director of Main Line Health Cancer Care, said the new research raised important points about the need for doctors and patients to collaborate on how cannabis can be used for the best care.
"This study reinforces the need to bring cancer patients and their doctors together around the issue of using cannabis," Dr. Walker said. "Our physicians' aim has always been to enable open and transparent dialogue with patients, which is clearly in the patients' best interest."
Dr. Weiss is currently conducting a clinical trial administered through LIMR seeking to determine if cannabidiol (CBD), a naturally occurring compound found in the flower of the hemp cannabis plant, could offer a treatment for patients with chemotherapy-induced peripheral neuropathy (CIPN).
The Coala-T-CBD Study is for patients who have been diagnosed with nonmetastatic cancer of the breast, ovary or colon, have undergone chemotherapy, and are experiencing CIPN – a sensation of tingling, pain, numbness and/or weakness in the hands or feet. CIPN is a common complication of various types of chemotherapies used to treat many cancers. Current therapeutic approaches to relieve CIPN are only minimally effective.