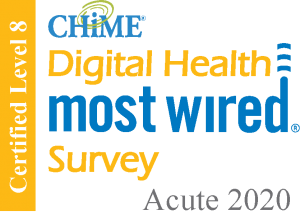 For the tenth consecutive year, Main Line Health was named to CHIME HealthCare's Most Wired list. CHIME's Most Wired list acknowledges healthcare organizations that have adopted and deployed information technology to improve patient safety and health outcomes across the industry. Main Line Health has displayed the highest and most innovative uses of technology and continue to show growth across the System. 
"Being recognized once again as 'Most Wired' health system exemplifies Main Line Health's commitment to staying well ahead in strategic information technology and our commitment to providing a superior patient experience for patients—however they access their care," explained Luke Olenoski, Chief Information Officer, Main Line Health. "While we are proud to receive this designation, we know our work must continue. Main Line Health is committed to evaluating the details, strengths and gaps to strive for continued advancement in the coming years." 
As a Most Wired health system, Main Line Health has integrated technology in every facet of the health care delivery system, including the implementation of MyChart and increased telehealth offerings for patients and employees during the COVID-19 pandemic. Through these initiatives, MLH is working to transform the way care is delivered across the health system.
"Digital technology has been a driver of innovation in healthcare for many years now, but never to the degree that we saw in 2020 with the pandemic," said CHIME President and CEO Russell P. Branzell. "The Digital Health Most Wired program underscores why healthcare organizations keep pushing themselves to be digital leaders and shows what amazing feats they can achieve. This certification recognizes their exemplary performance in 2020."