Community members encouraged to participate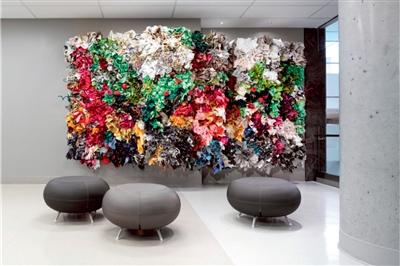 Main Line Health is collecting pieces of fabric from community members to contribute to a "Fabric of the Community" tapestry art project that will be installed at Main Line Health King of Prussia, opening in March 2020. The work of art, which will feature a wall of fabric arranged in a floral display, will enhance the facility's Women's Specialty Center. The center, in collaboration with Axia Women's Health, will offer a wide range of specialty services focusing on the preventive, diagnostic and treatment needs of women. The artwork will be created using pieces of fabric contributed by community members—whether it's a toddler's outgrown T-shirt or a piece of a prom dress—and the personal stories that go with them.
"We are thrilled to showcase this incredible piece of art at our new health center, and even more excited for our community members to have the opportunity to contribute to it," says Donna Phillips, president of Bryn Mawr Rehab Hospital and senior executive of ambulatory and professional services, Main Line Health. "This project truly brings our community together and enhances our mission of improving the health and wellness for all those we serve."
Fabric pieces roughly the size of a scarf will be used to create this work of art. With permission from those who contribute, a portion of each story may be shared via an interactive display featured in front of the tapestry display. To make a contribution to this community art project, and to share the story behind the donation, please visit mainlinehealth.org/kop. Drop-off boxes can be found at all Main Line Health hospitals and Health Centers until Friday, January 31.