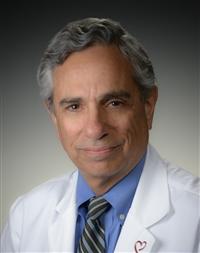 An increasing variety of short-term cardiac monitoring techniques have been introduced in recent years, including skin patches, mobile outpatient devices and smartwatch apps. These track heart rates for short durations. But can such strategies detect atrial fibrillation—dangerous irregular heartbeats—as reliably as a cardiac monitor that is inserted under the skin of the chest and tracks the heart rate continuously?
That was the question a group of researchers, including Peter Kowey, MD, of Main Line Health, set out to answer. And the stakes couldn't be higher.
Atrial fibrillation (AF) markedly increases a patient's risk of having a catastrophic stroke. In the United States, approximately 795,000 people each year suffer a stroke, of which about 130,000 die. Those who survive are often left permanently disabled; in fact, stroke is the leading cause of serious long-term disability, according to the U.S. Centers for Disease Control and Prevention.
While there is no cure for AF, symptoms can be well managed with anticoagulant medications. But first patients have to be diagnosed. Previous studies have shown that nearly 40 percent of patients at risk for AF actually had the disorder but had not been diagnosed. So early and effective detection is crucial.
The researchers used data from the REVEAL AF study, a multicenter clinical trial in which Main Line Health participated. They reviewed clinical information from 385 trial participants who were not previously diagnosed with AF but who had risk factors for the disorder and had cardiac monitors inserted.
"Our analysis one year after cardiac-monitor insertion showed the incidence of AF of six minutes or longer was 27 percent in this patient population, which was significantly greater than the short-term continuous monitoring strategies we studied," said Dr. Kowey,  a world-renowned cardiologist at Lankenau Medical Center and the William Wikoff Smith Chair in Cardiovascular Research at Lankenau Institute for Medical Research, both part of Main Line Health.
"We concluded that most AF episodes that were detected by insertable cardiac monitors would go undetected by conventional short-term monitoring tactics," Dr. Kowey continued. "That is problematic, because we know that diagnosing AF in a timely fashion means a patient can start appropriate treatment that is likely to prevent long-term harm or even death."
Because all data in the comparative analysis was from patients who had cardiac monitors already inserted, the researchers used an ingenious modeling strategy. For example, one-time monitoring (meant to simulate short-term monitoring techniques) was assessed by computing AF incidence in the patient cohort at one, two, seven, 14 and 30 days post-insertion. Similarly, repeated short-term monitoring was simulated by assessing results on randomly selected days within a 30-day cycle over a one-year period.
The results showed the incidence of AF with insertable cardiac monitoring (ICM) at 12 months was more than eight times higher than the incidence of AF with 14-day monitoring(simulating 14-day cardiac monitoring skin patches). And it was more than four times higher than the incidence of AF with 30-day monitoring (simulating 30-day loop devices or mobile outpatient monitoring services).
The authors concluded that a significant portion of high-risk patients with previously unknown AF who have AF detected by ICMs would go undetected using routine or other ambulatory short-term monitoring strategies.This, in turn, would inhibit clinicians' opportunities for prophylactic anticoagulation to prevent strokes and other negative outcomes.
Signs of AF include:
heart palpations, which are sensations of a racing, uncomfortable or irregular heartbeat
Weakness
Reduced ability to exercise or be active
otherwise unexplained fatigue
Lightheadedness and dizziness
Shortness of breath
Chest pain
"It's important to note that in many patients, the symptoms of AF are silent or minor," said Dr. Kowey. "So while we welcome the introduction of numerous new technologies to track heart rates for short periods of time, the results of this study compel us to caution patients that those techniques may not be fail-safe methods to detect AF. In short, these technologies cannot replace your doctor."
The results from this comparative analysis were included in the manuscript "Rhythm monitoring strategies in patients at high risk for atrial fibrillation and stroke: A comparative analysis from the REVEAL AF study" published in American Heart Journal.
This study was funded by the medical device maker Medtronic, Inc.