A distinctive option in private accommodations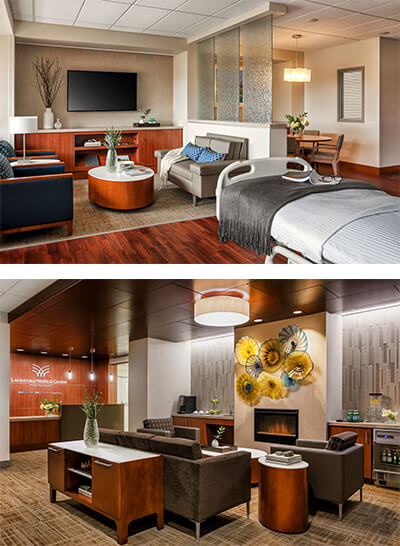 When you're resting in a spacious suite all your own, it's easy to forget you're in a world-class hospital. Our suites feature stylish living and dining areas, elegant bathrooms and personalized concierge services. With plenty of room for visitors and the finest in personal amenities, the Barbara Brodsky Suites provide an inviting space specially designed for your well-being and comfort.
Amenities and features
Concierge services
Daily newspaper delivery
Reception area with electric fireplace, TV and refreshments
Dining area with sink and refrigerator stocked with beverages and snacks
À la carte transportation, salon and notary services
Business center with workspace and computer
Valet parking
Afternoon tea service
Senior and junior suites
Fine linens
Designer living room
Ultra-soft socks, pajamas and robe
60" flat screen TV
Large windows with motorized shades
Comfortable sleeper sofa for visitors
Large wardrobe with lock
Gourmet meals through Distinctive Dining
Towel warmer, fogless makeup mirror and grand vanity
Heated reclining massage chair
En suite bathroom
Deluxe toiletries
Accommodating family for optimal well-being
Having family nearby to lift your spirits and keep you company can greatly improve your sense of well-being. For this reason, we go to great lengths to make every family member feel comfortable and well cared for throughout their loved one's stay. Visiting families can relax by the electric fireplace in our lobby, sleep overnight on the en suite sleeper sofa and eat alongside their loved one through our gourmet Distinctive Dining service.
Reserve your spot today
Junior Suites: $400/night
Senior Suites: $500/night