Turning the tide on this challenging disease starts with knowledge. Main Line Health is committed to providing you with up-to-date information about the COVID-19 vaccines and resources.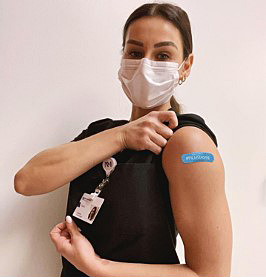 In accordance with Centers for Disease Control and Prevention recommendations about who should be vaccinated first, Main Line Health is distributing vaccines as equitably and efficiently as possible to the members of our community who are at greatest risk.
We are providing this information about COVID vaccines to help you make an informed decision about vaccination. You'll hear vaccination stories from Main Line Health employees about their decision to get vaccinated. You can also listen in on in-depth discussions with several Main Line Health clinicians, separating fact from falsehood. And finally, we provide you with helpful resources to educate and support your own friends and family who may have questions.
Look to frequently asked questions for helpful information on COVID-19 vaccine eligibility, MyChart scheduling, links to additional vaccination locations and more.
Find simple explanations about how vaccination supports our immune systems and common concerns people have about the COVID-19 vaccines. We answer many vaccination concerns and help you better understand why vaccination is so important for yourself, for your family, and your community.
A history of racism, disparity and inequity within the health care delivery system has resulted in entrenched distrust among many within Black and LatinX communities. However, we want to provide information for communities that are disproportionately affected by this virus and encourage vaccination for those who want it.
Register for MyChart
Main Line Health is utilizing MyChart patient portal to schedule vaccinations for eligible patients. If you are a Main Line Health patient and do not have a MyChart account, we invite you to register.