COVID-19 and pregnancy
Our knowledge of COVID-19 and its effect on pregnancy, labor, delivery and breastfeeding continues to evolve. Please be assured that we will continue to communicate with you and keep you updated about any changes related to your care and the safety of you or your baby. At this time, our Main Line Health hospitals and health centers have implemented several precautionary measures to keep our maternity patients safe, including:
Visitor restrictions
Our top priority is the health and safety of our patients, staff and our community. Our current guidelines and procedures noted below were established in consultation with our infection prevention colleagues to ensure the best and safest experience we can provide during this challenging time. Please understand that changes occur frequently as the impact of the virus on our community evolves. We will do our best to keep you as informed as possible of any changes that occur.
All patients and support persons/visitors will be asked screening questions upon entry to the hospital or OB office. Any support person who is symptomatic (fever, cough, etc.), or otherwise does not pass the screening questions, will not be permitted to enter the hospital.
Effective October 19, 2022, the following visitation guidelines are in place for pregnant patients:
QUICK GUIDE
COVID-19 Negative
Antepartum (inpatient)
Visitors as noted below*
Labor & Delivery
2 Support persons allowed*
Postpartum
1 Support person allowed*
2 Additional visitors at a time
* Special considerations listed below
Outpatient OB Offices: Please refer to your OB physician practice for specifics regarding office visits.
Ultrasound/Perinatal Testing: Patients can bring one person with them for their appointment.
Antepartum care*: Antepartum patients will be allowed one support person for 24 hours for their entire stay. Patients may designate 2 additional visitors at a time. Visitors are allowed to swap out throughout the day and should adhere to the hospital visiting hours of 11:00 am-7:00 pm.
Labor and Delivery*: Patients may designate 2 support persons to accompany them during their delivery. This includes a doula. Support persons should remain in the L&D room as much as possible but are permitted to leave and return. COVID positive mom's visitors will be required to stay in the patient room at all times.
Postpartum care*: Support person must be the same person from admission to discharge. They may leave and return, preferably during hospital visiting hours of 11:00 am-7:00 pm. COVID positive mom's support person will be required to always stay in the patient room and if they leave the hospital, they will not be able to return. Two additional visitors are permitted during the hospital visiting hours of 11:00 am-7:00 pm. Visitors are allowed to swap out throughout the day.
NICU: Two primary caregivers may be at the bedside at the same time, 24 hours a day. The NICU also allows for two visitors above the age of 18 per patient with no more than two people per infant at the bedside at any given time. Visitors may swap out throughout the day while maintaining the maximum of two people at the bedside at a time.
If a pregnant mother is COVID positive upon admittance, support person and visitor policies may be subject to change. COVID Patient Safety FAQ page
Patients who refuse testing upon admission will need to follow the COVID positive mom processes.
Mask policy
All OB patients will be required to wear a mask for the duration of their stay. After delivery, masks are required when a healthcare professional is in the room. Support persons and visitors will always be required to wear their mask during their visit. More information is available on our COVID Patient Safety FAQ page.
COVID Negative moms, wearing a mask, may ambulate in the hallway independently, with their nurse or with other unit personnel based on clinical condition. Moms may push the bassinet as they ambulate if desired. Support persons must remain in the room.
Rooming-in policy
We have instituted a 24-hour rooming-in policy for infants (no respite nursery). This means the newborn will stay in the room with the mother until the time of discharge and well-baby care will be done at the bedside for COVID negative moms except for some procedures, such as circumcision.
In COVID-positive patients, rooming-in versus isolation of infant will be individualized following consultation with Neonatology.
We encourage early discharge from the hospital to any mother and baby that is medically stable.
Virtual Learning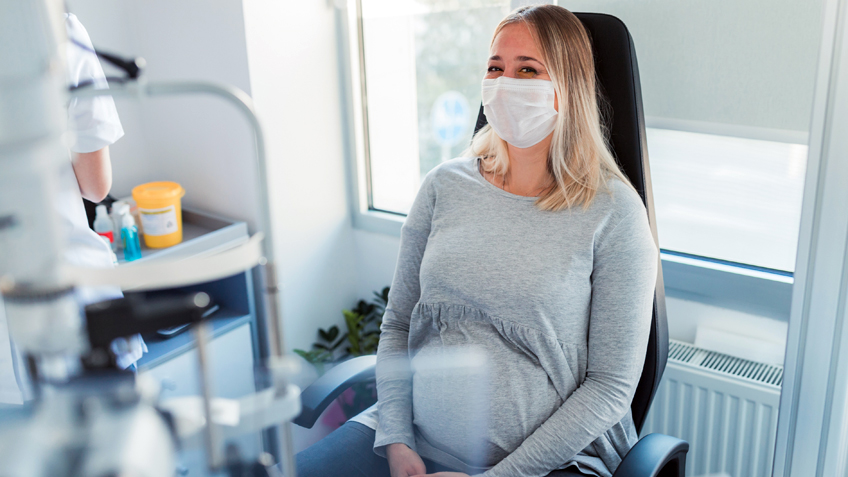 COVID vaccinations for Pregnant Women
The American College of Obstetricians and Gynecologists (ACOG) and the Society for Maternal-Fetal Medicine (SMFM), the two leading organizations representing specialists in obstetric care, recommend that all pregnant individuals be vaccinated against COVID-19. The organizations' recommendations in support of vaccination during pregnancy reflect evidence demonstrating the safe use of the COVID-19 vaccines before, during and after pregnancy.
Data have shown that COVID-19 infection puts pregnant people at increased risk of severe complications and even death. Vaccines are our single most effective tool against preventable viruses or diseases, including COVID-19. ACOG and SMFM encourage pregnant individuals to get vaccinated without delay because widespread uptake of the vaccines is the best chance, we have to save lives and end this pandemic.
If you have specific questions related to your health, Main Line Health is here for you. Please do not hesitate to call your OB/GYN provider with questions or concerns. We understand that this can be a stressful and confusing time for our expectant parents. Our team is committed to answering your questions and offering you the guidance and resources you need to prepare for your new arrival.