Updated on 3/31/2020
Visitor restrictions in place at Main Line Health
On Friday, March 13, 2020, we implemented visitor restrictions in inpatient and outpatient areas of all Main Line Health hospitals and health centers. Visitors will not be permitted in inpatient areas, unless clinically necessary. In outpatient areas and in our maternity units, patients are permitted to have one support person with them. Any approved visitors must pass a risk assessment screening before entry, which includes a series of questions related to travel and respiratory symptoms.
Location Hours
Some of our office may be operating with limited schedules and service availability. Please refer to individual location pages to check if the location has updated operating hours
Online Scheduling
In an effort to ensure that all patients with appointments have been appropriately screened for
Covid
-19 risk, we are not offering online appointment scheduling at this time. To make an appointment, please call your provider's office directly or contact the Main Line Health Contact Center at
1.866.225.5654
. We apologize for any inconvenience, and appreciate your patience as we work to resolve this as quickly as possible.
How is Main Line Health responding to Covid-19?
The coronavirus pandemic is rapidly evolving in the United States and abroad. At Main Line Health, we are closely following the latest information and updates from the Centers for Disease Control and Prevention (CDC) and are committed to providing our patients, staff and community with up-to-date information about the COVID-19 outbreak in our region and how our hospitals are responding.
The safety of our patients, staff and community is paramount. We remain committed to providing safe, superior care to all who visit our facilities. In an effort to protect the safety and health of our patients and staff, Main Line Health has instituted several precautionary measures to reduce the likelihood of infection and community spread including:
Implementing visitor restrictions and screening
Canceling all community events, support groups and classes held within Main Line Health facilities
Placing volunteer duties and activities on hold
Restricting on-site visits from third-party vendors
Restricting deliveries of food, flowers, etc. to patients
Suspended student rotations
We ask for your help in preventing the spread of infection. If you have a fever or symptoms of respiratory illness and are in a Main Line Health facility, please proceed to the front desk immediately to notify a member of staff and obtain a face mask. If you are scheduled to visit a Main Line Health facility for routine appointments or testing and have a fever or flu-like symptoms, please reschedule your appointment or testing.
For maternity patients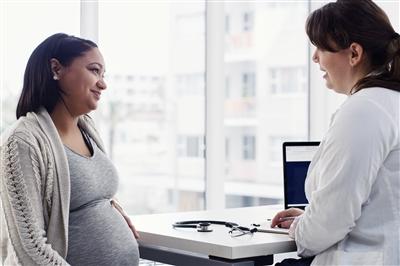 We understand that this can be a stressful and confusing time for our expectant parents. Our team is committed to answering your questions and offering you the guidance and resources you need to prepare for your new arrival. Read more about our visitor restrictions, virtual learning sessions and maternity care.
Testing for COVID-19 at Main Line Health
The CDC has developed criteria for identifying a "person under investigation (PUI)" for the coronavirus based on what is known about the previous coronavirus cases. Currently, the test is not available in U.S. hospitals or other primary care settings.
Testing criteria is changing daily. Currently, the CDC only recommends diagnostic testing of patients who have a fever or are symptomatic and have been in contact with a person who has tested positive for Covid-19. Please be advised: Testing for Covid-19 is not available at all sites across Main Line Health. If you feel you are at risk for coronavirus, please call your primary care provider to determine if you are a candidate for testing. If you require testing, your primary care provider will tell you where to go for testing.
Any travelers who have recently returned from China, Iran, Europe and South Korea should self-monitor for respiratory symptoms. If you become sick, please call the Pennsylvania Department of Health at 1.877.PA.HEALTH (724.3258) and your doctor's office or emergency room before going.
Keeping yourself and others safe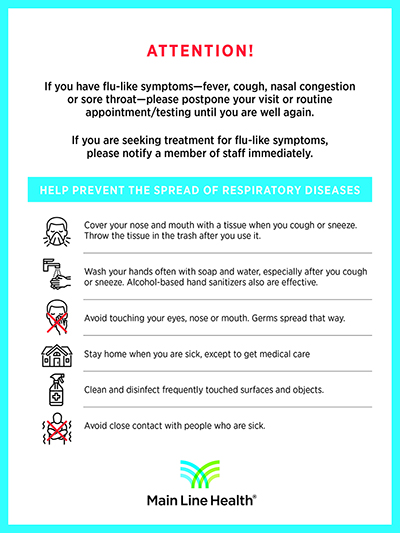 At this time, most people in the United States have little immediate risk of exposure to this virus. The CDC recommends individuals and families take preventive measures to prevent the spread of the virus, including:
Covering coughs and sneezes with a tissue, and discarding the tissue after use
Washing hands often with soap and water, especially after coughing or sneezing. Alcohol-based hand sanitizers are also effective if soap and water are not available.
Cleaning and disinfecting frequently used items and surfaces at work or at home
Avoiding touching your eyes, nose or mouth
Avoiding close contact with people who are sick
Staying home when you're sick
The CDC does not recommend that people who do not have symptoms wear a face mask to protect themselves from respiratory illnesses, including Covid-19. You should only wear a mask if your health care provider recommends it or if you have upper respiratory symptoms.
Who can I call with questions?
If you have concerns or questions about Covid-19 or are exhibiting respiratory symptoms, please contact your primary care provider.
Additional resources
Pennsylvania Department of Health
New Jersey Department of Health