From Army life to saving lives at Main Line Health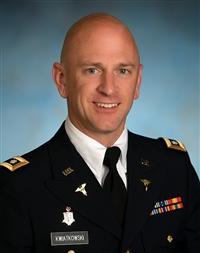 When he first got out of the Army where he had been a perioperative nurse, Noel K., RNFA (registered nurse first assistant) at Bryn Mawr Hospital, found that his skills developed in the military were highly desirable in the marketplace. There were many recruiters inviting him to look at opportunities as an OR nurse. But there was something about Main Line Health—and Bryn Mawr Hospital in particular—that resonated with him. He could see that people worked together well and there was good management, which appealed greatly to Noel who understood the headaches of turnover in upper management in the military and how this could affect unit morale.
Thirteen years later Noel knows he made the right decision. Not only does he appreciate the cohesive work environment at Bryn Mawr Hospital, but he also gets to excel at what he's good at—working with his hands. "First assisting is kind of an outlet," he says. "I can go in and work, doing what I like to do, but also working with the surgeons one-on-one, I can learn so much. I get a lot out of it."
From ROTC to nursing school to military service
Noel's nursing career began in high school when he applied for an ROTC nursing scholarship his junior year. ROTC, which stands for Reserve Officers' Training Corps, is programming in high schools and colleges that teaches students the importance of citizenship and service while also instilling in them a sense of personal responsibility and accomplishment. Noel earned the four-year ROTC scholarship and attended nursing school at Widener University, the former Pennsylvania Military College (PMC). He continued to participate in the ROTC program throughout his college nursing experience.
The day before he was graduated with a Bachelor of Science in Nursing, he was commissioned as a 2nd Lieutenant in Army active duty and went off to Fort Sam Houston in Texas where all Army medical training is done. During Noel's six-and-a-half years of active duty, he was stationed in Fort Belvoir in Virginia (DeWitt Army Community Hospital) where he started off as a medical surgical nurse. He chose to begin specializing as a perioperative nurse and his duty soon took him to Madigan Army Medical Center in Seattle, Washington, where he stayed for a four-year tour. In 2003, three years into that tour, Noel was deployed to 47th Combat Support Hospital (CSH) at Camp Wolf on the Kuwait/Iraq border. This was a tent hospital next to an air field so patients could be brought in or transported out quickly. Noel's combat trauma experience and years of Army medical training led him to service at Main Line Health.
Why veteran employment at Main Line Health?
After being on active duty, Noel was IRR or inactive ready reserve up until last year when he decided to go back into active reserve. This requires him to attend training one weekend a month and two weeks out of the year. He appreciates how flexible Bryn Mawr Hospital has been with him regarding his training schedule, saying, "They accommodate my last-minute changes and have been very honorable with my schedule, satisfying both my civilian and military needs."
Noel also sees Main Line Health employment for veterans as a good fit for the organization as well as former military. "There are a lot of soldiers, especially Army soldiers, who live by Army values, which makes them desirable in the workforce. Discipline and selflessness are ingrained in them. I know a lot of my soldiers, I'd hire them in a second."