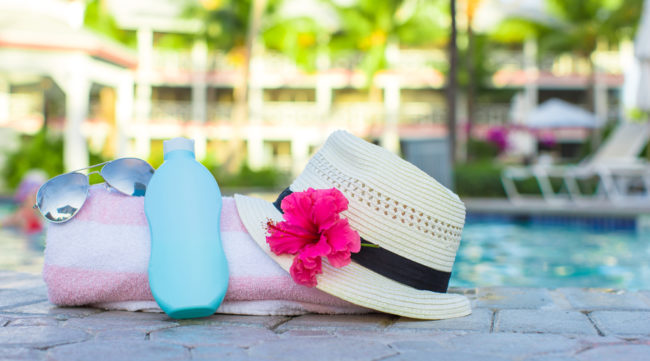 When summer officially arrives, chances are you're eager to get outside and enjoy some time in the sun. But before you grab your beach bag, make sure it's stocked with everything you need to keep your skin safe this season.
"When people think of protecting their skin in the summer, they usually think of just using sunscreen to prevent sun damage," says Erum Ilyas, MD, dermatologist at Paoli Hospital. "But that's not the only issue there is to worry about."
Although lathering up with sunscreen should be one of your biggest priorities before heading outside this summer—or any time of year— you can take additional precautions to protect yourself and your body from long-term damage.
Below, Dr. Ilyas outlines what you should be wearing anytime you're out in the sun this summer to keep your skin healthy and safe.
Sunscreen
You already know you need sunscreen to keep your skin healthy but, with so many options, how can you pick which one to choose? It's a matter of personal preference. You can choose a spray or a lotion, but just make sure you're applying it everywhere—including your back, face, shoulders, and ears, some often-neglected areas. Look for products with an SPF of at least 30 for adequate protection, and re-apply every two hours.
Chapstick
If you've ever had sun burnt lips, you know how painful they can be and how frustrating it can be to reapply a soothing chapstick every few moments to keep discomfort at bay. To help alleviate the problem altogether, look for a chapstick that contains SPF and re-apply it as often as you would regular sunscreen, about every two hours.
Hats
Whether you have a penchant for the floppy and oversized or a simple baseball cap, keeping a hat with you at all times can help shade you from the sun, as well as protect your scalp from getting sunburnt. Wide-brimmed hats are preferable to baseball hats, as many studies have shown increases in skin cancers on the tips of ears and back of the neck from baseball hats.
Moisturizer
On hot days spent outside, dry air can soak up the moisture in your skin. To help combat the drying effects of the weather, throw a lotion that contains SPF in your beach bag and use whenever your skin feels scaly or flaky. On days like this, it's especially important to stay hydrated, too, so make sure you're drinking plenty of water.
Facial wipes
After applying and re-applying so many layers—moisturizer, sunscreen, chapstick—your skin is probably full of dirt, sweat, and residue from the day. Use facial wipes or oil-blotting sheets to prevent your pores from clogging and your skin from breaking out. These are especially easy for summer, as you can throw some in your bag for grab-and-go.
Sunglasses
Healthy skin isn't all you should worry about in the sun—you'll want to protect your eyes, too. Allowing your eyes to get too much UV exposure can lead to discomfort and damage the retina. So, instead of reaching for the most fashionable pair of sunglasses you can find, look for a pair that advertises 100 percent protection from UVA and UVB rays. This will ensure your eyes are safe, even on days when you're not wearing a hat or under cover.
Your skin is the largest organ of your body. Make sure you're protecting it. If you have questions about your skin health, or it's been awhile since you've had your skin checked for skin cancer or skin allergies, make an appointment with a dermatologist. Visit our website to find a list of Main Line Health dermatologists in your area.