The surgical team at Main Line Health includes the expertise and experience of many women surgeons. These physicians all provide exceptional surgical skill to improve and save patient lives—but each has a unique path, passion and approach to care.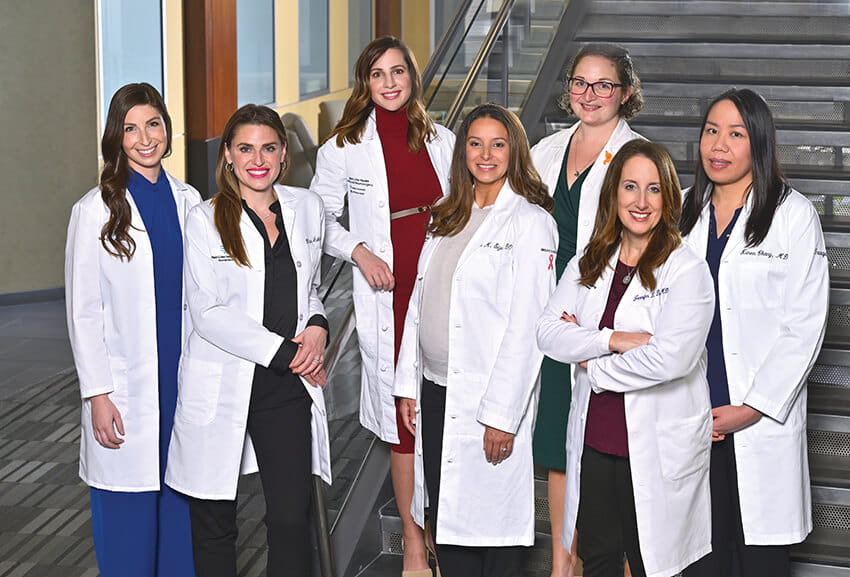 Meet our fabulous female surgeons, pictured from left to right:
Katherine Rose, MD, Plastic and Reconstructive Surgeon; Blair Ashley, MD, Orthopaedic Surgeon; Thana Theofanis, MD, Neurosurgeon; Lina Sizer, DO, Breast Surgeon; Samantha Witte, MD, Bariatric Surgeon; Jennifer Denne, MD, Chief of Surgery; Bryn Mawr Hospital; Karen Chang, MD, General Surgeon; (not pictured Jessica Hirsch, MD, OB/GYN)
What does it mean to be a female surgeon in today's world?
Karen Chang, MD, General Surgeon
It's an exciting time to be in the surgical field. Compared to just 10 years ago, there is tremendous female representation in general surgery. I graduated from medical school with more women than men and had many female role models in leadership.
As a surgeon, I enjoy making an immediate, positive change in patients' lives. And although I love connecting with patients, I also enjoy the technical side of surgery. There are so many new, state-of-the-art treatment options to treat disease. Since beginning my practice, I went back for fellowship training in robotic hernia repair because it is the future of treatment and provides greater benefits to my patients.
How does being a woman help you relate to your patients?
Samantha Witte, MD, Bariatric Surgeon
As one of only a few female bariatric surgeons in the Philadelphia area, I see a far majority of female patients. I believe women seek me out because they are looking for understanding as well as weight loss surgery. Weight issues still carry a social stigma. Many of my patients are told they are lazy or a failure when it simply isn't true. As a woman and a mother, I understand their motivation to live a healthy life. Balancing the needs of my own young family with a medical practice is challenging. But it's absolutely worth it. With surgical intervention, I am able to help my patients cure their diabetes, boost self-esteem and enjoy greater health.
How has being a mother influenced you as a surgeon?
Lina Sizer, DO, Breast Surgeon
Surgical treatment of breast cancer is emotional as well as physical. It involves far more than just removing disease. Breast surgery affects body image, kids, families, relationships, fertility and so much more. While patients may find me relatable by being a female, being a mother has enabled me to truly connect with patients in a whole new way. I am now able to approach breast cancer care in the context of family issues because I understand their importance. As a woman, it's easy for me to open the conversation about difficult issues like sexual side effects or the importance of considering harvesting eggs before treatment.
What are the challenges of being pregnant and working as a surgeon?
Thana Theofanis, MD, Neurosurgeon
Being a woman in neurosurgery is a unique opportunity. My pregnancy has magnified the difference in challenges that male and female surgeons face. Having a family has always been important to me, and I have worked hard to integrate it with the work I love. My pregnancy has forced me to take better care of myself.
Yet as a new attending, I am excelling and building a busy practice that includes vascular, tumor and general neurosurgery patients. I use my position to engage with students and trainees and attract the best and brightest women into the field of neurosurgery. I think it's important for them to know it is possible to fulfill both personal and professional goals regardless of what specialty you choose.
What is it like being a female orthopaedic surgeon?
Blair Ashley, MD, Orthopaedic Surgeon
As a specialist in joint replacement, I am currently the only female fellowship-trained joint replacement surgeon in Philadelphia. Only about three percent of joint surgeons are women. I'm not deterred by gender stereotypes but they do exist in orthopaedic surgery.
As strange as it sounds, I use power tools like saws, drills and mallets in my everyday work. And despite what some people believe, a physician doesn't have to be a big person to be an excellent orthopaedic surgeon. Thankfully, more and more female medical students are now moving into the specialty. My job enables me to help patients optimize their health and to get back to the things that give their life meaning, and I can't think of anything more rewarding.
As director of the Comprehensive Gender Care Program, does your gender impact your work?
Katherine Rose, MD, Plastic and Reconstructive Surgeon
While I perform all types of plastic and reconstructive surgery for many different people, my specialty niche is gender-affirming surgery—helping people's external anatomy align with their internal sense of self. This can be lifesaving surgery to people with gender dysphoria, whose sex assigned at birth does not match their gender identity. While I do identify as a female and am proud to be a female surgeon, what is important is having an openness and passion to care for this underserved population.
Through the Main Line Health Comprehensive Gender Care Program, people experiencing gender dysphoria are able to access greatly needed services in gender-affirming care, ranging from primary care, mental health and hormone therapy to surgical procedures, social work services and more. Being able to access competent, comprehensive care makes a profound difference in patients' lives.
What is it like to be the chief of surgery at Bryn Mawr Hospital?
Jennifer Denne, MD, Chief of Surgery, Bryn Mawr Hospital
When I was named chief of surgery, so many people reached out to offer their congratulations. And it's been nice that so many of the people who congratulated me were other women. I think the announcement made an impression on younger females working in health care because the position is not typically associated with women in our society today.
There are still some inherent biases in the surgical field. For example, when conducting rounds with male medical students, I'm often mistaken for the nurse. But there is definitely progress. Women make exceptional surgeons, and as chief of surgery as well as a wife and mother of three children, I'm proud to help pave the way for other female surgeons.
Why is working in the OB/GYN field so important to you?
Jessica Hirsch, MD, OB/GYN
Women are like superheroes and I feel like problems related to the reproductive system can be incredibly disruptive. When left untreated, gynecologic issues can get in the way of a woman having full power. It's my job to listen to my patients and help them regain that power. I believe in taking the time to educate patients on the potential risks, expected recovery time, and return to fertility anytime surgery is considered. My own experiences as a woman and now, as a mom, have deepened my understanding of reproductive health and I hope, improved the care I am able to provide my patients.
Get great care from our great women surgeons.
Main Line Health serves patients at hospitals and health centers throughout the western suburbs of Philadelphia. To schedule a consultation with one of the women surgeons listed here, or another member of our expert team, call 1.866.CALL.MLH (225.5654).