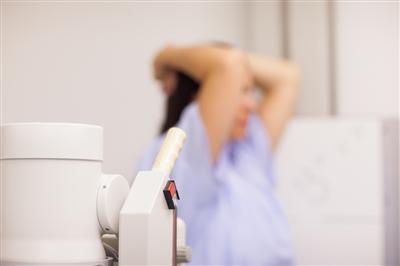 The majority of women waiting for results from their annual mammogram will receive a clean bill of health. But for the small percentage of women—around 10 percent—who are called back for additional testing, the days following the delivery of their results can be nerve-wracking.
"The number one thing to remember when you are called back for additional testing after a mammogram is that it does not necessarily mean that you have cancer," says Tina Stein, MD, diagnostic radiologist at Riddle Hospital, part of Main Line Health. "It's easy to jump to conclusions, but there are a number of other reasons for abnormalities on your mammogram besides breast cancer. Ninety percent of callbacks turn out to not be cancer."
The first step in determining the source of these abnormalities is additional testing. Your doctor will schedule you for an MRI, ultrasound, or diagnostic mammogram to take better images and determine if abnormalities are calcifications, masses, or distortion. The results of these tests are almost immediate, meaning you will have answers at the time of the study or, in the case of an MRI, within days.
If your physician is still concerned with the results of these tests, the next step will be scheduling a breast biopsy within the week. There are different approaches to breast biopsies, and your physician can help determine the best for you.
"The best biopsy option varies by patient. It depends on factors like the size and location of the tumor, the number of tumors, and your health history. It's your choice, but certainly a decision you can discuss with your doctor," says Dr. Stein.
All three options—a fine needle aspiration biopsy, core needle biopsy, and surgical biopsy—will require your physician to extract a small amount of the abnormal breast tissue or fluid for testing. The sample will be sent to a pathologist, who will determine whether or not cancer cells are present. Once your physician has the results, they can refer you to a cancer treatment specialist, if needed, and help you develop a treatment plan. Although the best biopsy option will vary by patient, almost all lesions can be biopsied by a needle without surgery. Now, thanks to technology, almost all biopsies are not surgical.
If you need a biopsy, Dr. Stein cautions women not to jump to conclusions.
"Of the small percentage of those abnormalities that require a biopsy, 80 percent are negative," she says.
Regardless of your results, Dr. Stein says women shouldn't let fear keep them from making an annual appointment.
"Don't let fear of the unknown stop you from scheduling a mammogram every year, or as often as recommended by your doctor," she says. "Early detection is key for prevention. If an abnormality is never detected, it can never be treated."
And, if you are required to report for additional testing, don't be afraid to ask for help. Bring a friend or family member to your appointment for support or to ask questions, says Dr. Stein.
The American Cancer Society's current breast screening guidelines include annual mammograms starting at age 40, but you may need to be screened earlier if you have a family history of cancer in your family. Talk to your physician about when you should begin screenings.
Main Line Health provides a full range of mammography services at each of our Comprehensive Breast Centers at Lankenau Medical Center, Bryn Mawr Hospital, Paoli Hospital, and Riddle Hospital. 3D mammography, which offers better detection of breast abnormalities, is now available as well. Visit our website to schedule your mammogram or learn more about our breast health services.