If you recently became eligible for your COVID-19 booster shot, but still need to schedule your flu vaccine, you may be wondering which is more important to get first. The good news is: You don't have to decide. You can and should get both as soon as you're able!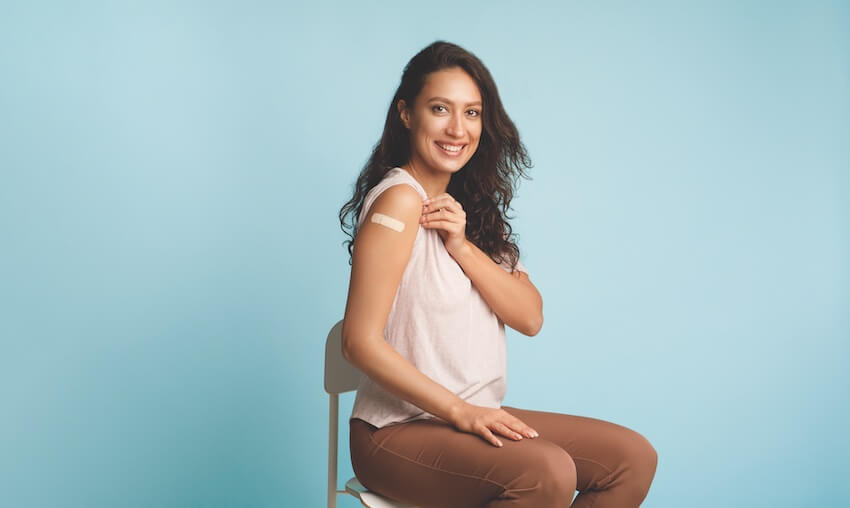 Related: Get the latest on COVID-19 symptoms, diagnosis, care and treatment at Main Line Health
Two reasons to roll up your sleeves
The fact is, you can be sick with both the flu and COVID-19 at the same time. While the health effects of that are not fully known, it is certainly something you want to avoid.
Greater risk of infection. You may remember that last year's flu season was more mild than usual, and you may be hoping that's true this year as well. However, during the last flu season there were more people wearing masks, social distancing, and staying home due to COVID-19 restrictions.

"This year, people are out more, and rules have been loosened," explains Jennifer Flom, DO, primary care physician in Narberth. "That may mean the flu will again have more opportunities to spread."


Variants of virus. At the same time, the risk of getting COVID-19 is also higher due in part to the highly contagious Delta and Omicron variants. COVID-19 vaccines are very effective even against these variants, but breakthrough infections have occurred, which brings us back to the value of those shots.
Learn more about how to prepare for this year's cold and flu season.
The power of vaccinations
Getting your yearly flu shot has long been recommended as one of the best ways to lower your risk for flu-related illness and potentially serious complications. Likewise, if you are in one of the groups eligible for a COVID-19 booster shot, getting it may help give you even greater protection against severe COVID-19 illness and death. In other words, both may play a very important role in your health and well-being this year.
Timing your flu and COVID shots
If you have not gotten your flu shot yet, the time is now. Even though flu season is already underway, the typical flu season lasts until May. Getting vaccinated now means you'll be more protected for months to come.
If you are also eligible for a COVID-19 booster shot, you can get it at the same time you get your flu shot. There's no need to space them out. Just don't delay your flu shot if a COVID-19 booster isn't recommended for you at this time.
Protect yourself
Main Line Health serves patients at hospitals and health centers throughout the western suburbs of Philadelphia. To learn more about your eligibility for a COVID-19 booster shot or schedule an appointment with your Main Line Health provider to get your flu shot, call 1.866.CALL.MLH (225.5654).