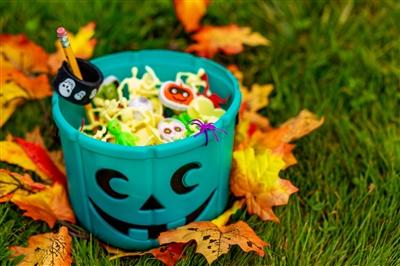 As you move through your neighborhood during trick-or-treat night this year, you may notice some teal pumpkins decorating doorways and front porches. This isn't your eyes fooling you or a trick courtesy of holiday-loving neighbors. Rather, it's part of the Teal Pumpkin Project, an international effort to promote inclusion of all trick-or-treaters and raise awareness of food allergies.
"Food allergies affect approximately one in 13 children, and these children can have more than one allergy," says Alyson Simpson, MD, pediatric allergist and immunologist at Lankenau Medical Center, part of Main Line Health. Some of the most common food allergies include:
Milk
Peanuts
Tree nuts (walnuts, almonds, pecans)
Soy
Wheat
Eggs
Fish
Shellfish
Of course, many of these allergens are common ingredients in Halloween treats and—for kids with food allergies—these can present a serious risk.
"Children who have food allergies are accustomed to avoiding foods that contain allergens. In many cases, that means eating or refraining from eating the same snack or meal that's served to their friends and classmates. But, during Halloween, it's easy to feel singled out because of your allergy when you aren't collecting treats with your friends," says Dr. Simpson.
This is the role of the Teal Pumpkin Project. Houses who display a teal pumpkin or who have a Teal Pumpkin Project Participant sign hanging in the doorway are a signal to kids or families with food allergies that non-food treats are available, too.
Non-food treats can include stickers, markers, pens or pencils, stamps, bookmarks and so much more. These non-food items can be even more rewarding than a piece of candy or chocolate, because they last beyond Halloween.
While the Teal Pumpkin Project is intended to give trick-or-treaters with food allergies the same experience as their friends, other groups have benefited from non-food treats too, including kids with insulin-dependent diabetes, food intolerance, celiac disease and other dietary conditions.
Want to participate in the Teal Pumpkin Project? Download a sign for your home (PDF).
Dealing with a food allergy outbreak
Even though many homes have started to participate in the Teal Pumpkin Project, there's still the opportunity that your son or daughter may accidentally eat something that they are allergic to. Familiarize yourself with the signs of a food allergy outbreak, including:
Hives and/or a rash
Skin redness
Itchy mouth or ear canal
Nausea, vomiting, stomach pain or diarrhea
Nasal congestion
Sneezing
Dry cough
In severe cases, being exposed to allergens can also result in symptoms like:
Trouble swallowing
Shortness of breath
Loss of consciousness
Chest pain
Drop in blood pressure
A change in face color (turning blue)
These are all signs of anaphylaxis, an allergic reaction. If your child appears to show signs of an allergic reaction, the single best way to prevent the progression of symptoms is with early administration of epinephrine (forms include Epipen, AuviQ, epinephrine autoinjector, Adrenaclick). Epinephrine is safe and you should always administer early when you suspect a reaction. Call 911 or go to the emergency department for further observation as symptoms can get worse 30 minutes to hours after a reaction also known as a biphasic (two-phase) reaction.
Epinephrine is the only way to help reduce the risk for this biphasic reaction. If your child does not respond to the first dose of epinephrine after five minutes, you can give a second dose while awaiting emergency support.
Don't let allergies scare you away from a good time
Allergies—including food allergies—are among the most common chronic conditions in the world. If certain foods or something in the air causes you to cough, sneeze, itch or break out, make an appointment to see if allergies might be to blame. Make an appointment with a Main Line Health allergy specialist to schedule an allergy test or determine what's behind these reactions.
Main Line Health serves patients at hospitals and health centers throughout the western suburbs of Philadelphia. To schedule an appointment with a specialist at Main Line Health, call 1.866.CALL.MLH (225.5654) or use our secure online appointment request form.