A revolutionary tool is now in the hands of colorectal surgeons at Lankenau Medical Center, part of Main Line Health. It's a new type of laparoscope (a tool used in minimally invasive surgery) that has three cameras at the end instead of one. The cameras also don't fog up inside the body and are designed to see through smoke. These features offer breakthrough capabilities during minimally invasive surgery, including visibility that closely mimics open surgery.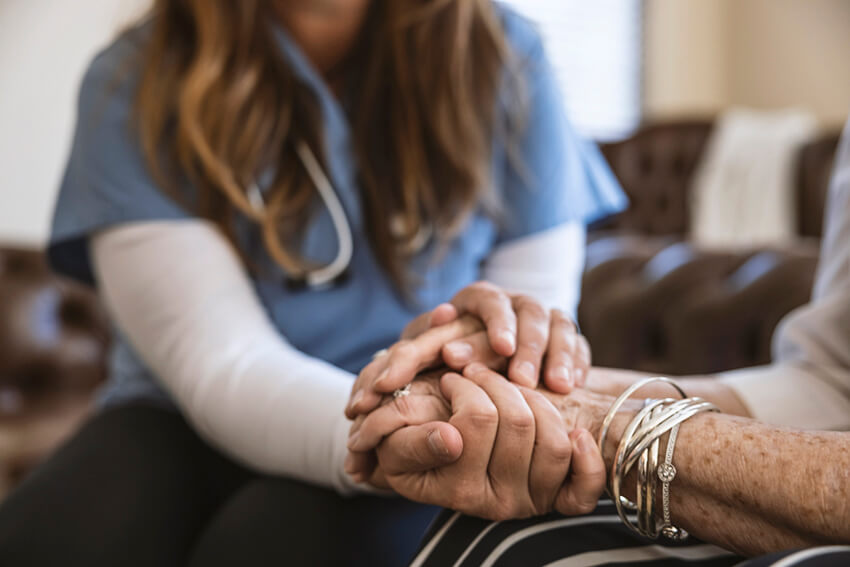 The new technology, called the SurroundScope™ (270Surgical Ltd.), is considered a next-generation laparoscope—meaning it does everything a standard laparoscope does and addresses limitations of those devices. It's not a type of surgery but a tool designed to enhance current laparoscopic and robotic surgical procedures. And it's the first next-generation laparoscope to earn approval of the U.S. Food and Drug Administration (FDA).
The SurroundScope was approved for commercial use in the United States in 2021 and is being distributed to select hospitals and surgeons around the world. Lankenau Medical Center and colorectal surgeon John Marks, MD, were chosen as the first hospital and surgeon in the country to use the device. Both Lankenau Medical Center and Dr. Marks are recognized worldwide for expertise and innovation in minimally invasive surgery.
Benefits of SurroundScope technology
Standard laparoscopes have a single lighted camera at the tip, whereas the SurroundScope has a camera on the left and right sides as well as the tip. With the added side cameras, the area inside the body visible to a surgeon performing laparoscopic or robotic surgery expands from about 70 degrees to 270 degrees.
"A 270-degree view is incredible and so much more than we see in laparoscopic and robotic surgery," says Dr. Marks. "It's even more than we can see in open surgery."
The side-viewing cameras allow a surgeon who performs abdominal surgeries to see what's going on in all parts of the abdomen during an operation. Regardless of where the camera is placed, surgical instruments can be placed safely within the abdomen without risk of injuring tissue that otherwise wouldn't be visible, and without needing to move the camera.
"With a much better view of what's all around the area where we're operating—meaning no blind spots—we can avoid possible injury to tissues that are off screen," says Dr. Marks. "It's just so much safer as well as more efficient, since we don't need to move the laparoscope to see better."
The expanded field of view with the SurroundScope allows surgeons to see much more of the area in which they're operating. This helps orient surgeons when placing a surgical instrument and when cutting through tissue to remove disease and then reconnecting healthy tissues.
Other benefits during minimally invasive surgery
The SurroundScope also addresses two common problems surgeons encounter when using standard laparoscopes: fogging of the camera lens and inability to see through smoke caused by tissue cauterization.
"Standard laparoscopes have lenses that fog when inside the body," says Dr. Marks. "When this happens, we need to pull the laparoscope out of the body, clear the lens and then put it back inside to continue. This might happen four or more times during an operation. Because this new device is designed to prevent fogging, we can keep the camera in the body without having to clear it, for a shorter operating time. It's a huge benefit."
According to the manufacturer, the new laparoscope also has military grade "see through smoke" capabilities. Smoke is created when surgeons use heat to destroy abnormal tissue, such as a tumor, or to control bleeding during surgery.
Experience at Main Line Health
Dr. Marks and his colorectal colleagues and surgical team at the Colorectal Center at Lankenau Medical Center perform more than 90% of colorectal surgeries using a minimally invasive approach. In 2022, the team began using the SurroundScope in laparoscopic and robotic surgical diagnosis and treatment of a full range of gastrointestinal disorders ranging from colorectal cancer and diverticulitis to Crohn's disease.
"The 270 SurroundScope has been an exciting and important addition to the operating team in the OR. When we can see better, we can do better for the patients. And, after all, that's what it's all about."
Next steps:
Learn more about colorectal surgeon John Marks, MD
Learn more about minimally invasive surgery and robotic surgery at Main Line Health
How to recognize the silent symptoms of colorectal cancer