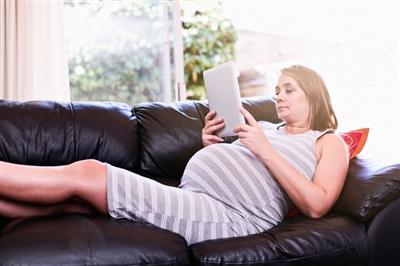 Summer's heat and humidity can be unpleasant for anyone, but they can be especially unpleasant if you're pregnant.
Below, Beverly A. Eisenhuth, DO at Main Line Health, offers some advice for moms who are toughing it out through the summer months.
Keep cool
Keeping cool can be easier said than done, but there are ways to beat the heat. Dr. Eisenhuth recommends the following options.
Invest in a pool membership for the summer, or use a kiddie pool to soak your feet in or sit in. It offers cheap relief—and you'll have it ready when baby arrives
Use a cool washcloth on your forehead or the back of your neck
Stay refreshed with ice water, popsicles and fruity 'mocktails'
Carry a spray water bottle or miniature fan with you, if necessary
Be sun smart
Everyone should pay special attention to their skin health during the summer but pregnant women, especially, need to be mindful of any changes to their skin.
"Pregnancy makes skin dry and delicate, so any changes to the skin—like dark spots or patches, heat rash or dry patches—should be treated and reported to your doctor," says Dr. Eisenhuth.
While these are often not cause for concern, and can be easily treated by changing the type of clothing you're wearing or moisturizing the affected area, it's important to alert your doctor to any changes. Dr. Eisenhuth also encourages women to wear SPF daily, and apply extra amounts if they'll be outside for an extended period of time.
Slow swelling
Swelling isn't exclusive to the summer heat. Whether you're at the peak of pregnancy in the summer or winter, swelling is a common pregnancy symptom. However, summer heat can make it even worse. Dr. Eisenhuth offers these tips for reducing the effects of swelling.
Keep your legs elevated at all times using hammocks, rolled up towels, foot rests or other items
Wear open-toed shoes or sandals and order shoes a half size or one size up, if needed
Wear loose-fitting clothing and remove any jewelry that is too constricting
Reduce your salt intake, but don't eliminate it
Drink fluids!
Try going for a walk, but limit your exercise to times of the day when the temperature is coolest
Exercise
Warmer temperatures aren't an excuse to let your exercise routine go by the wayside.
"An active pregnancy can prevent complications like high blood pressure and blood sugar, postpartum depression, and even help ease pregnancy symptoms like back pain, difficulty sleeping, decreased energy and mood swings," says Dr. Eisenhuth.
Instead of breaking a sweat midday, opt to move your exercise routine indoors or to the beginning or end of day when it is cooler and the sun has gone down. Make sure you're staying hydrated with water and sports drinks to replace fluid and salt lost during your workout.