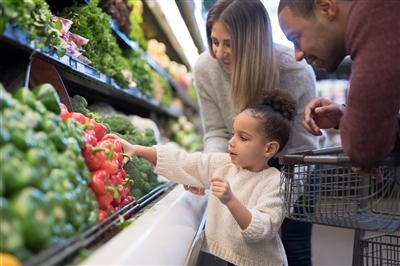 During the summer, strawberries, watermelon and tomatoes taste especially juicy and refreshing. When the weather gets cooler, we turn to warm, filling foods like sweet potatoes, yams and squash. While this change in our palate can be a result of cravings, it has more to do with the seasonality and flavor of the foods we eat.
Seasonal eating refers to the habit of eating fruits and vegetables that are "in season" or at the peak of their freshness and flavor during a specific time of the year. Over the past several years, you may have even noticed restaurants and grocery stores beginning to feature seasonal produce and flavors on their menus or in the aisles.
Why eat seasonally?
Eating according to the seasons doesn't just mean better-tasting food; there are health benefits to choosing in-season produce, too.
When growers harvest produce at its peak freshness (peaches in the summertime, pumpkins in the fall, etc.) it means that this produce will have more nutritional value than it would had it been picked out of season. It contains more nutrients and can have the biggest benefit for your health. It also means less preservatives.
And the less preservatives, the better.
"Research has shown that produce or other foods that contain preservatives can increase the risk of health issues like headaches, allergies or asthma. It's difficult to avoid eating preservatives or food additives altogether, but you can limit your exposure to them by eating produce that's grown nearby and in season," explains Cynthia LaCapra, MD, a primary care doctor at Main Line Health.
Another benefit of seasonal eating is that you'll enjoy a variety of different foods, too. "Eating a variety of produce ensures that you're getting a variety of nutrients," says Dr. LaCapra.
How to eat seasonally
A great thing about eating in season is that produce is easy to find and affordable. Visit your local farmer's market or grocery store and take your pick! Buying seasonal produce from local farmer's markets is good for the economy and the environment, too. You'll be supporting growers in your community, and reducing the amount of travel and fuel that it takes for your produce to get from the farm to your kitchen.
While you can enjoy seasonal produce raw, don't be afraid to get creative. Instead of raw watermelon, try it grilled and seasoned. For a fresh summer dessert, try a fruit platter sprinkled with shredded coconut or honey. You can find a little bit of extra inspiration in our recipe library.
Main Line Health serves patients at hospitals and health centers throughout the western suburbs of Philadelphia. To schedule an appointment with a specialist at Main Line Health, call 1.866.CALL.MLH (225.5654) or use our secure online appointment request form.