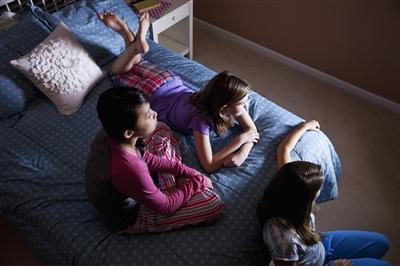 After a long day, it may be difficult to muster up the energy to battle with your child over bedtime and screens. Turning on the TV or tablet seems like an easier choice than reading books together, but studies show that choosing screen time too often can lead to serious medical and behavior problems for kids.
An October 2016 policy statement from the American Academy of Pediatrics (AAP) outlines the potential health effects of too much screen time for children. Even in children as young as infants, screen time before bed can make it more difficult to fall asleep and stay asleep. Eventually, this can lead to other health issues, too, like obesity, poor performance in school and behavioral problems.
"Television, cell phones and other digital media have taken on a greater role in child development and in everyday life. As parents, these media are difficult to avoid but it's important understand the short-term and long-term effects of using these devices at a young age," says Joannie Yeh, MD, Nemours pediatrician at Riddle Hospital, part of Main Line Health.
Screen time: How much is healthy?
You might be looking for some guidance on exactly how much screen time is healthy: 25 minutes? One hour? Several hours? There is no 'magic number' that dictates just how often your child should use media or screens each week. However, the AAP does provide general guidelines based on age range:
Children younger than 18 months old should not be exposed to digital media. One exception offered by the AAP is video chat, as this requires children to interact and engage with another live person.
Beginning at 18 months, parents can begin to expose children to digital media. However, this media should be used with a parent or guardian. This can mean playing an interactive game on a tablet or watching television and singing along, all while a parent is present.
For children ages two-five years old, limit digital media usage to one hour per day, and do not allow it to be used during mealtimes or before bed.
"These guidelines can be difficult to follow, especially for busy parents. As a busy parent, I struggle with these, too. However, the rules are intended to help children develop a healthy relationship with digital media at an early age and allow their brains and bodies to grow in the healthiest way possible," explains Dr. Yeh.
As your child ages, you can work to define what the standards are in your home for digital media use. But as a general rule, it can help to keep televisions, cell phones and other screens out of bedrooms and make sure you're familiar with the content and games your children are engaging with on digital media. The AAP offers a Family Media Plan that can help you get started building a screen time policy for your family.
Following these guidelines—or a screen time policy for your family—can be easier said than done.
When you need some kid-free time to send a few emails, take a phone call or do a quick project around the house, Dr. Yeh recommends keeping digital media exposure to a few minutes at a time and choosing child-focused programming like Sesame Street, PBS Kids or Universal Kids. Also consider a few screen-free alternatives, like laying down a beach towel, filling mixing bowls with water, offering measuring cups and spoons to your child, or putting your child in the bathtub with finger paint. These activities will help entertain children for 10–15 minutes, and don't require screen time.
When reading with your child, try not to rely on electronic books, says Dr. Yeh. "Many children's books can now be downloaded and read on tablets or iPads, so it can be tempting to set your son or daughter up with a book and encourage them to read independently. But, this is still considered screen time. If you're going to read on a screen, make sure you're joining them for that experience just as you would for any other screen time."
Finding a healthy balance between screens and sleep
As children age, it's especially important to make sure that screens aren't taking up time that should be spent resting—a practice that's common among many adolescents. A 2014 study found that 80 percent of teenagers admitted to using their cell phones when they were supposed to be sleeping at night. This can be for activities like social media use, texting, phone calls, video chats or watching digital media. While you may have instituted rules that restrict the use of cell phones or other digital devices after bedtime, it can be difficult to enforce if devices are still allowed in the room, says Dr. Yeh.
"One of the best ways to ensure your child isn't being distracted by electronics is by instituting a 'no screens' rule that does not permit any cell phones, tablets or devices inside the bedroom. To make it effective, it can be helpful for you—as a parent—to follow it, too," she says.
Instead of taking phones or other devices to bed, keep all the devices in a basket or in a room separate from the bedroom. Not only will this prevent you from being tempted to use these devices, it will also limit sleep interruptions as a result of dings, beeps and other notifications.
Better sleep, better health
Making changes like these will do more than just lead to deeper, more restorative sleep. It can also improve eating habits and reduce the likelihood for weight gain, strengthen the immune system, and improve your mood, memory, concentration, energy and stress levels.
If you have a sleep disorder, you don't have to resign yourself to a life of mental and physical exhaustion. Make sure you're getting the best rest possible with the sleep medicine team at Main Line Health. Main Line Health serves patients at hospitals and health centers throughout the western suburbs of Philadelphia. To schedule an appointment with a specialist at Main Line Health, call 1.866.CALL.MLH (225.5654) or use our secure online appointment request form. You can also learn more tips on media use and healthy sleep routines for children and teens at kidshealth.org, offered by Nemours.