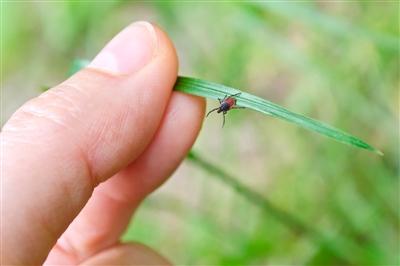 Before you head out the door this summer, make sure you grab the bug spray. According to the most recent survey from the Centers for Disease Control and Prevention (CDC), Pennsylvania leads the nation in confirmed Lyme disease cases. Of the more than 28,000 confirmed cases of Lyme disease diagnosed in 2018, 33 percent were in Pennsylvania.
"Dehydration and heat-related illness are what comes to mind when most people think of summer illness," says Andrew B. Ulichney, MD, primary care doctor at Main Line Health."But Lyme disease is a very serious concern and it's important to be on the lookout for ticks whenever you're spending time outdoors."
So, before the next time you're ready to head out the door to garden, hike or spend some time in the backyard, follow these tips to protect yourself and your family.
Use insect repellent
You might be diligent about sunscreen, but when was the last time you used insect repellent on yourself or your family before heading outside? Spray insect repellent on exposed skin, but be sure to keep it away from your hands, eyes and mouth as some of these repellents may be toxic. In choosing an insect repellent, look for a brand with 10 to 30 percent DEET, and reapply every two to three hours.
Wear long pants and sleeves
If you're going to be camping, hiking, or walking through grassy or wooded areas, it's best to cover as much skin as possible. Wear long sleeves and long pants, and tuck your pants into a pair of long socks, as well, to protect your knees, legs and waist, as these are all popular spots to find ticks.
Perform tick checks
When you're back inside at the end of the day or an activity, perform a tick check on everyone, even pets. Ticks can easily move from pets to people. Although ticks can be anywhere on the body, some of the most common areas to find them are in and around your hair or ears, under your arms, behind your knees, or between your legs. Be sure to check clothing and bags or backpacks, too.
Keep your yard tidy
Ticks can live anywhere, but tend to thrive in hot, humid climates and wooded or grassy areas. Try to keep your backyard as tidy as possible and free of tall grass, overgrown shrubs, or leaf piles, or clear an area that is designated for gardening or play.
Know the signs of Lyme disease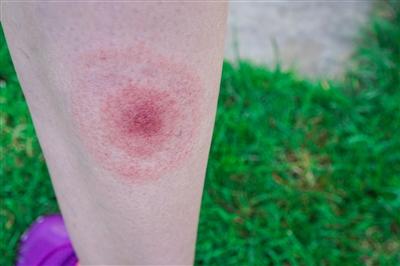 Even if you're careful, ticks can still go unnoticed. Familiarize yourself with the early warning signs of Lyme disease and notify your family physician immediately if you notice something out of the ordinary. Common early symptoms of Lyme disease include a fever, rash, fatigue, and achy muscles and joints.
"Two-thirds of people diagnosed with Lyme disease either give a history of a tick bite or the classic bull's-eye rash. This means one in three cases aren't showing the obvious symptoms and patients should see there provider if there is concern of infection," says Dr. Ulichney.
Main Line Health serves patients at hospitals and health centers throughout the western suburbs of Philadelphia. To schedule an appointment with a specialist at Main Line Health, call 1.866.CALL.MLH (225.5654) or use our secure online appointment request form.