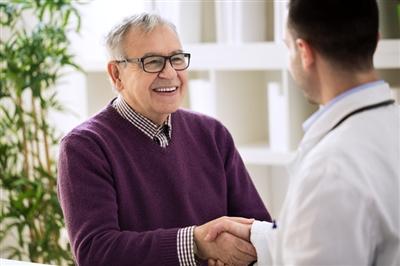 A visit to the doctor's office used to mean you'd see just that: a doctor. But, as health care continues to evolve, so do the roles of its caregivers. Now, instead of seeing a doctor during a routine physical or sick visit, you may be cared by a nurse practitioner or physician assistant, instead.
But what does this mean for your health? Will you still be getting the same quality of care? What are the differences between doctors and other medical professionals? These are all common questions, says Christina Worst, CRNP at the Main Line Health Concordville.
"Many people are worried that they're not going to get the attention or the quality of care that they're accustomed to," explains Worst. "But by expanding and diversifying the staff at physician offices, hospitals and other care facilities, we're actually able to devote more time to each of our patients and making sure their needs are met."
While the quality of care might be consistent, there are a few differences between nurse practitioners, physician assistants and physicians. Below, Worst explains.
Nurse practitioner
Nurse practitioners are registered nurses who have undergone advanced education and clinical training. Most nurse practitioners have practiced for years before obtaining their masters or doctorate degree in nursing. As part of these programs, nurse practitioners have completed 500 hours of classroom hours and at least 500 hours of clinical learning.
All of this clinical and educational background qualifies them to write prescriptions, order referrals, conduct physical exams and order other medical tests and imaging. Nurse practitioners are authorized to practice independently without physician oversight in 21 states and Washington D.C. and—in the remaining states—they are able to practice with varying degrees of physician involvement or collaboration. 
The philosophy that most nurse practitioners follow is the medical/nursing model, which focuses on a patient-centered approach to care. In addition to conducting health assessments, and overseeing patient diagnosis and treatment, nurse practitioners typically focus on health promotion, disease prevention, health education and counseling of patients.
One reason that many patients may choose a nurse practitioner as their caregiver is because of their commitment to wellness and disease management.
"The goal of every health care provider is to be a partner in providing care to their patient," says Worst. "Because of nurse practitioners' roots in nursing, we typically have a very holistic and whole-body approach to the care of our patients."
Physician assistants
Physician assistants begin in their fields with either an associates or bachelor's degree that can be from any area of study, but typically must complete prerequisites that include biology, chemistry and anatomy. With a bachelor's degree, most physician assistant programs are 26 months long.
During the first year, students focus on classroom instruction and clinical preparation. In the second year, the curriculum shifts to focus primarily on clinical rotations. 
Physician assistants are licensed to practice medicine with physician supervision. While nurse practitioners typically practice the medical/nursing model, physician assistants typically practice the medical/physician model, which is disease-centered and focuses on the biologic aspects of health, assessment, diagnosis and treatment. 
Physician assistants can conduct physical exams, write prescriptions, order referrals, assist with surgery and make rounds at patients' homes and nursing homes. 
MD versus DO: Physician credentials
You may have seen 'MD' or 'DO' following the names of your physician and wondered, 'What's the difference?'
"The difference between these credentials, at this point, is more historical than anything else," explains Bernard King, DO, family practice physician at the Main Line Health Center in Concordville.
Historically, a doctor of medicine—MD—treated patients using a conventional Western medicine approach, addressing a patient's symptoms using medications and surgery.
A doctor of osteopathic medicine—DO—traditionally took a more holistic approach to treatment by addressing a mind-body connection that could be causing symptoms or illness.
Physicians today take a comprehensive approach to treating their patients.
"The 'DO' credentials are more of a tribute to the beginnings of osteopathic medicine when holistic ideals and manipulative techniques were the backbone of training. Now, there are essentially no differences in the medical training or licensure requirements" says Dr. King.
Choosing the care provider for you
There are now many choices for primary care providers available. When you're looking for one to fit you or a member of your family, it's best to do your research and ask questions.
"Every person is different and has individualized needs. The most important thing when choosing a primary care provider is making sure that you are comfortable addressing your health questions and concerns with the person and confident in their skills," says Worst. "Remember, the relationship you have with your health care provider is an important one, and you should feel comfortable with and trust them." 
And—above all—Worst reminds her patients that when it comes to choosing a care provider, there's one person who has the final say: you!