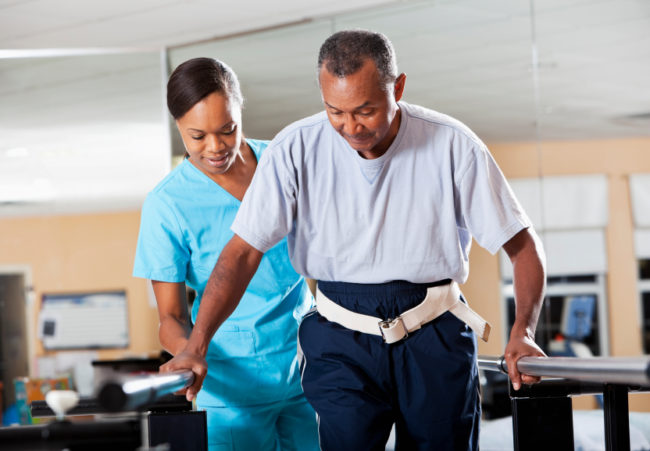 When you're faced with making decisions about the care of a loved one following a stroke, it can be difficult to know where to turn.
New guidelines from the medical journal Stroke could help narrow down your search. In the May 2016 issue, the American Heart Association's Stroke Council recommended that individuals who suffered a stroke be treated at an inpatient rehabilitation facility, not a nursing home or skilled nursing facility.
"Previous guidelines primarily addressed medical management of stroke, but these new guidelines reviewed stroke rehabilitation options to optimize quality of life after stroke," Karen Zipfel, physical therapist at Bryn Mawr Rehab Hospital. "Unless an individual is medically unable to participate in a rehabilitation program, an inpatient facility is a better choice for regaining function and independence than a skilled nursing facility."
Benefits of inpatient rehabilitation
So, what does an inpatient rehabilitation program offer that a skilled nursing facility does not? Most notably, time and a team approach.
"Inpatient rehabilitation facilities, like Bryn Mawr Rehab, offer a minimum of three hours of therapy per day, five days per week, which is more than a sub-acute or skilled nursing facility provides to get stroke survivors back on their feet," says Zipfel.
Patients also benefit from an interdisciplinary team approach to care. In addition to physical, occupational, and speech therapy, patients enrolled in an inpatient rehabilitation program for stroke may also work with a recreation therapist, nutritionist, psychologist, or horticultural therapist to impact the many aspects of stroke recovery.
At a skilled nursing facility, you may not find the same range of therapies. Although these therapies may not seem necessary for stroke recovery, each form of therapy aims to better prepare patients for life after stroke.
"Horticulture therapy allows for mobility and coordination skills to be addressed in a real-life environment for patients who enjoy crafts or gardening. Recreation therapy uses outings to prepare patients for returning to their preferred community activities like food shopping and bowling. Psychology helps patients cope with their diagnosis and the road ahead of them. Groups allow for socialization while working to address individual impairments for all of these therapies," explains Zipfel. "All of these play a very important role in recovery of all abilities—not just basic walking and talking—after a stroke."
Inpatient rehabilitation facilities typically also offer more choices for intervention techniques, including aquatic therapy, robotic-assisted therapy for gait and reach, and equestrian therapy for trunk control.
In addition to working with a team of skilled therapists, inpatient rehabilitation facilities also offer physician supervision of your loved one's care.
A final, but important, factor of considering inpatient rehab for your loved one? Communication.
"Communication—both between the staff and with the families of our patients— is one of the most important things we can do to advance the health of our patients during their stay," says Kate Turner, speech therapist at Bryn Mawr Rehab. "Patients' therapy teams meet to discuss their goals on a regular basis, and we are in constant communication with patients' families to share their progress."
Communication is important during any hospitalization or rehabilitation process, but it becomes especially important as your loved one prepares to return home following their stroke.
What to know before you go
Although the duration of each patient's stay will vary based on their rehab needs, the average length of stay at an inpatient facility following a stroke is three weeks. At the end of that time, there are a few things you should review with your loved one's therapy team before you return home, including:
How to use any necessary medical equipment (wheelchairs, canes, walkers, etc.)
How and when to begin a safe exercise regimen
Details regarding an outpatient rehabilitation program
If you have questions regarding your loved one's care before or at the time of discharge, contact their case manager or a member of their therapy team.
The Main Line Health Stroke Program provides a comprehensive continuum of high-quality stroke care that includes community education, assessment and stroke-prevention efforts, early identification and acute-treatment strategies, rehabilitation, and secondary-stroke prevention efforts. Learn more about our stroke services on our website.