Scheduling an annual visit with a gynecologist is routine for most women, but when should you seek care for a more complex gynecological concern? Reproductive health issues may be more common than you realize, with millions of women requiring treatment for issues like pelvic pain and heavy bleeding each year.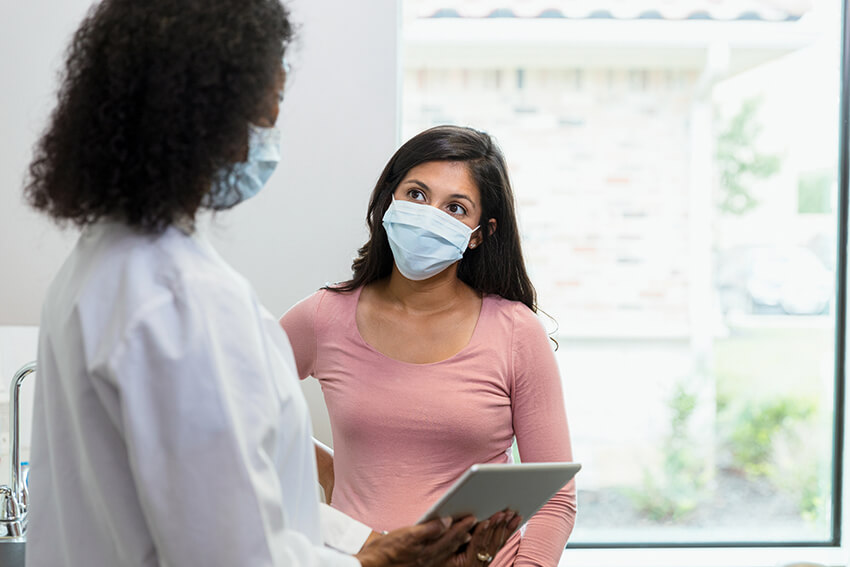 When you need a higher level of gynecological care, Main Line Health gynecologists are trained in advanced surgical techniques to address common to complex gynecologic conditions.
How common are gynecologic issues?
Many women will experience a reproductive health concern at some point in their life. Common conditions include:
Issues with the female reproductive system can happen at any point in a woman's life. Gynecologic conditions can have a severe impact on your daily life, causing pain, abnormal bleeding or interfering with sexual function.
Diagnosing and treating gynecologic issues
"I treat complex reproductive issues every day," says Main Line Health gynecologist Jessica Hirsch, MD, FACOG. "I listen closely when a woman is telling me her story. It's not unusual to have a patient that has already been turned away by the time they reach me. I start with basics to fully understand the issue and their goals and concerns, tailoring a care plan to help them achieve that goal."
Every patient is unique with their own personal health issues and goals, and surgery is not recommended for everyone. Your doctor will carefully weigh the potential benefits of surgery, considering your age, medical history and goals for treatment. For some patients, the care plan may ultimately require surgery, but non-surgical approaches are typically the first line of treatment.
"Minimally invasive gynecologic surgery techniques have come a long way," says Hirsch. "In the past, surgery meant large incisions and longer recovery. Today, minimally invasive laparoscopic gynecologic surgery promotes faster recovery, less blood loss, less need for pain medications and better cosmetic outcomes."
Main Line Health gynecologic surgeons use minimally invasive laparoscopic techniques to treat issues like endometriosis and ovarian cysts.
Gynecologic surgery and fertility
"Advances in minimally invasive gynecologic surgery include the use of robotics for removal of cysts to aid in fertility preservation," says Hirsch. "For some of my patients, fertility is a big concern when considering gynecologic surgery. The robot can help preserve healthy ovarian tissue."
Robotic-assisted gynecologic surgery is done laparoscopically through small incisions with a 3D-magnified view of the surgical area. A robotic arm and instruments help the surgeon perform a procedure with extreme precision.
Dr. Hirsch believes in taking the time to educate patients on the potential risks, expected recovery time, and return to fertility anytime surgery is considered. "Women wear so many hats – my own experiences as a woman and now, as a mom, have deepened my understanding of reproductive health and I hope, improved the care I am able to provide my patients," says Hirsch.
Caring for superheroes
"Women are superheroes and I feel that problems related to the reproductive system can be incredibly disruptive," says Hirsch. "When left untreated, gynecologic issues can get in the way of a woman having full power. It's my job to listen to my patients and help them achieve their full potential."
Dr. Hirsch's advanced training includes a residency at Lankenau Medical Center where she was recognized for excellence in minimally invasive gynecologic surgery and robotic surgery.
Main Line Health serves patients at hospitals and health centers throughout the western suburbs of Philadelphia. To schedule an appointment with a specialist at Main Line Health, call 1.866.CALL.MLH (225.5654) or use our secure online appointment request form.