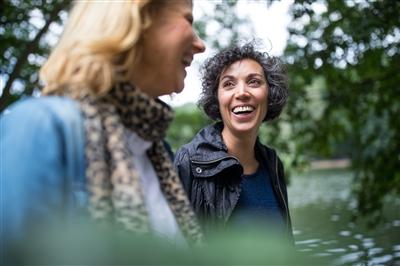 Menopause is often referred to as the "change of life" because it's the stage in which a woman permanently stops having menstrual periods and is no longer able to bear children. But it's not just the body that's undergoing tremendous changes during this time. Midlife hormonal changes clash with life transitions and many women experience upheaval during this time.
Changes during menopause include social and psychological changes
Not only do a woman's biological functions change, but so do the roles she has experienced in the first half of her life. A common phenomenon for many women during menopause is the "empty nest syndrome." With children leaving home, many women, including working mothers, lose their sense of mom-ness—having been responsible for their kids' doings and goings-on for so long, they're suddenly left with "Now what?"
Some women who've been longing for an empty nest may find themselves becoming caretakers of sick or elderly parents sooner than expected. They may also find themselves becoming caretakers for their grandchildren who have working mothers. These women may feel robbed of the freedom and free time they thought they'd have once their children left home.
"'The sandwich generation' is a phrase we've all heard," says Beverly M. Vaughn, MD, a gynecologist at Lankenau Medical Center, part of Main Line Health. "Our midlife years present many challenges and opportunities and learning to balance these sometimes competing responsibilities can be difficult."
Changes with menopause can bring a renewed sense of self
Women who were homemakers for the first half of their lives may now have the time and the opportunity to further their education and discover new career opportunities. Women who have been working mothers may find renewed interest and time to dedicate to their careers. Other women find themselves able to put more time and effort into hobbies they never had time for in the past.
Adds Dr. Vaughn, "The emergence of a new and independent woman free to use her time and energy as she chooses can be a wonderful experience."
Relationships, marriage and menopause
During middle age a woman's relationship role may also change dramatically. Sexually, she may feel freer and less concerned about the possibility of pregnancy, or she may experience loss of desire, due in part to physical changes that may cause painful intercourse. Her partner may be experiencing health changes, impotence or similar loss of sexual drive. LGBTQ women and couples may go through menopausal challenges around the same time or at different times, depending on age differences.
As women age, sexuality remains extremely important and plays a significant role in self-esteem, self-image and overall quality of life. Those with positive attitudes about aging and their changing roles report an increase in sexual feelings, heightened sexuality and higher self-esteem. Communicating openly with your partner and talking about the physical, sexual and emotional changes you're experiencing can help you stay connected in the relationship.
Unfortunately, many women in mid-life are experiencing divorce and separation, which poses additional psychological and emotional challenges to an already complicated time. Women who prioritize self-care may be better able to weather such menopausal "storms."
A growth mindset can help women cope with menopause
Although menopause is a universal experience for women, each will experience it in a different way. Some women seem to waltz through this time of life with grace and ease while others struggle with weight gain, fatigue, changes in mood and attitude, and brain fog. In spite of the potentially negative aspects of menopause, it's important to take note of your own perceptions about this transition. For example, if you perceive aging and your changing life roles in a negative light, you may experience greater resistance and upset with each change, making it more difficult for you emotionally and psychologically.
On the other hand, talking it out with other women is often helpful in improving your outlook. Knowing that others are going through what you're going through might make you feel slightly less "crazy." While it might be tempting to curl up under the covers until this all goes away, you'll experience exponential benefits from getting some exercise—even a 20-minute walk every day—along with modifying your diet and getting a good night's sleep every night. Women who are in good health tend to feel better about themselves and experience an improved quality of life, which makes it easier to cope with the uncertainties of menopause.
What to expect post-menopause
Sometimes women are left wondering what their own interests are after decades of taking care of others. If this applies to you, consider registering for a lifestyle course or seeking the help of a professional life coach. You can also seek advice and ideas from trusted friends, supportive family members, or a therapist.
Menopause is a time of transition. Some women find it daunting while others find it freeing and exhilarating. "One thing's for sure," says Dr. Vaughn, "it will happen one way or another, and many women do go on to enjoy some of the best years of their lives after menopause."
Navigating menopause isn't easy. If you have questions about menopause, its symptoms or how to deal with them, talk to a Main Line Health gynecologist.
Main Line Health serves patients at hospitals and health centers throughout the western suburbs of Philadelphia. To schedule an appointment with a specialist at Main Line Health, call 1.866.CALL.MLH (225.5654) or use our secure online appointment request form.
Editor's note: This post was originally published in September 2008 and has been completely revamped and updated for accuracy and comprehensiveness.