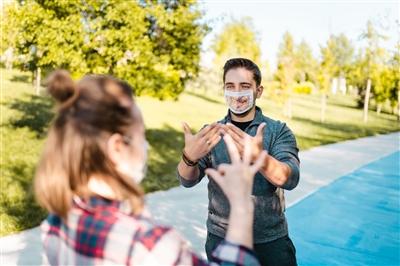 The COVID-19 pandemic has required us to change many of the ways we interact and communicate with others and while this has been a challenge for everyone, it can be especially difficult for people with hearing loss.

Measures like wearing a mask and keeping six feet of distance between each other can reduce acoustic transmission and eliminate many of the visual cues that people often use to fill in the blanks if the conversation is difficult to hear. This can cause people with hearing loss—even mild hearing loss—to have a harder time understanding conversations.

If you are frequently communicating with a person who has hearing loss, here are a few tips that can allow for easier communication:
Use short, simple sentences. Instead of: "I have to go to the store to buy milk and bread," try: "I have to go to the store. I need bread and milk."
If the person is not understanding you, don't continue to repeat the same statement. Rephrase your statement, instead.
Don't over-exaggerate your sounds or rate of speech. This won't make your words easier to understand and may actually distort your message.
Reduce or eliminate background noise, if possible.
If you can maintain six feet of distance, consider temporarily lowering your mask to allow the person to utilize lip reading and other visual cues.
Even if you aren't communicating with someone who has hearing loss, trying to have a conversation with a mask on isn't easy. Here are some other steps you can take to communicate more clearly:
Face the person you are talking to. 
Try to anticipate and reduce background noise.
Rather than focusing on every word, listen for key words to follow along with the concept of the story. Use context cues to help fill in words you may miss.
Do not interrupt the speaker before they finish a sentence.
Ask your communication partner to repeat themselves if you aren't sure what they said. Summarize what you did hear so they know what to fill in.
People with hearing loss aren't the only ones for whom masking may present new challenges. The Speech Therapy team at Bryn Mawr Rehab also has tips for people who may be communicating with someone whose speech has been affected by brain injury, stroke or another neurological impairment.
Masking can present an all new communication challenge, and it takes some time to get used to. Above all, remember to be patient as a talker and listener. If conversations continue to be challenging for you or you're having trouble hearing even when you are not wearing a mask, check out our Hearing Loss Q&A to determine if an appointment with an audiologist may be right for you.