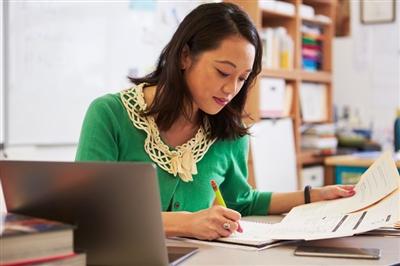 During the school year, you'll typically read headlines that offer advice on how to keep students healthy during the ebbs and flows of coughs, colds and stomach bug seasons.
But what about teachers?
"There are several unique stressors that teachers face during the school year that can leave them susceptible to illness," explains Elyse Rosenthal, DO, internal medicine physician at Lankenau Medical Center, part of Main Line Health.
And while the school year certainly isn't without its fair share of stress, it doesn't need sickness, too. Below, Dr. Rosenthal offers tips for how to stay healthy in the midst of a stressful year.
First, determine your stressors
Before you can determine how to better handle stress, it's important to ask yourself: What issues at work, or outside of work, are causing me the most stress?
According to the American Psychological Association, some of the most common work-related stressors include:
Low salary
Excessive workload
Limited opportunities for growth or advancement
Work that is not engaging or challenging
A lack of social support
Not having enough control over career decisions
Conflicting demands or unclear performance expectations
While these can be true of almost any workplace, teachers often face additional stressors related to the physical demands of their job, like:
Increased susceptibility to illness as a result of constant exposure to germs
Limited time to prepare or eat nutritious meals as a result of the workload at home
Foot or back pain as a result of prolonged standing
Eye strain from staring at papers and computers
Determine how to manage these stressors
After a stressful day, it's easy to turn to unhealthy habits for comfort and relief.
"When we've had a bad day or a stressful day, we turn to the activities we know will provide comfort or quick relief," explains Dr. Rosenthal. "For some of us, this might mean going to the drive-thru for dinner or indulging in more than one drink or glass of wine, and for others it might mean binge-watching TV for hours. These activities might feel good in the moment, but they aren't helpful in relieving stress long-term and they can actually add to further stress by deteriorating our health."
Instead, take a breath and look for healthy opportunities to unwind and de-stress. While this will vary for every person, Dr. Rosenthal offers suggestions like fitting in a quick workout, taking time to see friends, relaxing in a bubble bath, cleaning or organizing your home, reading a book or indulging in a hobby—like painting, scrapbooking, cooking or knitting.
Address your physical health
It's not uncommon to take a pain reliever and hope that issues like foot or back pain will just go away. But the reality is, many of these issues require more complex treatment. Instead of letting physical health issues persist or worsen--which then add to your stress--address them head on. Dr. Rosenthal offers her tips for teachers to keep their health on track:
Limit back and foot pain by walking around the classroom instead of standing in one spot or try teaching from a seated position. Talk to a podiatrist about options for shoe inserts or orthotic shoes.
Use artificial tears throughout the work day to help lubricate your eyes. Limit screen exposure during your free time to prevent eye strain.
Make sure you're up to date on your vaccinations including a yearly flu shot, and wash your hands regularly to prevent the spread of infection in your classroom. Visit a primary care doctor at least once a year. Talk to your doctor about whether you are eligible for a pneumonia vaccine.
Research meals you can make ahead of time during the weekend to prepare for the upcoming week.
Try to take at least 15–20 minutes per day for an uninterrupted lunch—no working allowed.
Don't forget to take vacation
Carving out time each week for stress relief is great, but don't overlook the importance of taking vacation, too. Sometimes, taking a full day off to recuperate mentally and physically can be just what the doctor ordered.
"A mental health day is just as important as taking a sick day for your physical health," says Dr. Rosenthal.
That means not just spending your vacation away from the classroom, but truly unplugging from work. Refrain from checking email or thinking about tasks that need done. Allow yourself to partake in activities you enjoy.
And remember: even if you're spending a vacation at home—a staycation—don't just sit around the house. Instead, explore the area where you live, visit with old friends, or take day or overnight trips with your family. It is important not to use vacation days to "catch up on life," such as getting your car oil changed or taking your pet to vet.
Use this time to truly unwind and enjoy life! Sometimes, stepping away from your stress will remind you why you became a teacher in first place.