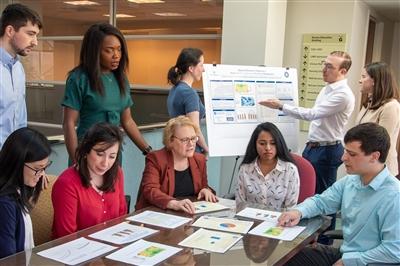 When the COVID-19 pandemic began, and while governors around the nation began to issue urgent stay-at-home orders and U.S. health care providers were rushing to ramp up triage and treatment protocols, investigators at the Main Line Health Center for Population Health Research at LIMR held an emergency conference call. During the call, Sharon Larson, PhD, professor and executive director of CPHR, wondered aloud about the overall impact of COVID on the lives of people in the community, not just on their physical health, but also on their finances, careers and stress levels. 

"We know that many factors contribute to health status," says Dr. Larson, a trained psychiatric epidemiologist. "We wanted to get a good idea of how people were handling the situation, because that could better inform Main Line Health clinicians when treating patients both today and tomorrow." 

Founded in 2016, CPHR is a collaboration between Main Line Health and Thomas Jefferson University's College of Population Health. The research centers seek to advance the understanding of population health by being a research and educational partner to Main Line Health, informing and assessing initiatives to improve the health status and quality of life in the myriad communities it serves. 
Among its many ongoing research projects, Main Line Health's population health research team spearheaded consumer and clinician surveys about COVID-19 that are illuminating patient-care strategies. (This photo was taken before social-distancing guidelines were put in place.)


On that March conference call, the CPHR team set out to survey community members on how they were being impacted by the COVID-19 crisis. Through an online, anonymous questionnaire that took about 10 minutes to complete, the questions pertained to health and employment status before and after the lockdown, how people were getting information about the disease spread, and similar queries. Within a month, and by the close of the survey (April 24), about 5,600 people from around the country had answered all or most of the questions. While processing the results, the researchers discovered that the respondents reported stress levels that were alarmingly high.  
An anxious nation during COVID
The CPHR team added to the survey several questions that draw from a screening tool for generalized anxiety disorder, called GAD-2. A GAD-2 score of 3 or higher is considered to be positive and often warrants either a referral for consultation with a behavioral health provider or additional conversation and counseling with a primary care provider.

"We found that nearly 46 percent of all survey respondents met the criteria for anxiety," explains Dr. Larson. "And those in the 25-to-40 age group had the highest percentage of generalized anxiety, 54 percent. We suspect this is due to financial- and employment-related worries among those in this age group." The real concern from these results, adds Dr. Larson, is the long-term health of the population. "Generalized anxiety disorder often co-occurs with depressive disorders, chronic pain, substance use disorders, social phobia and panic disorders. And it is more likely to be reported in lower socioeconomic groups. We're worried about the ripple effect this pandemic will have on people's health in the future." 

The impact of COVID-19 on communities remains to be seen for years to come. 

While the survey also found that most respondents, understandably, were concerned about getting COVID-19, it also discovered that about a quarter of them said they did not have enough food in their homes to last two weeks. This survey results suggests that clinicians may begin seeing some patients with conditions that are complicated by dietary challenges. 

The CPHR team is compiling these and other results of the survey and submitting papers to peer-reviewed journals. In this way, CPHR investigators are helping to alert the larger health care community of the possible downstream implications of the pandemic.  
Equitable care for all
While the COVID-related research has taken center stage at CPHR, many of the studies the investigators were pursuing before the crisis continue. At any given time, the CPHR team is working with partners in Main Line Health, the region, and the nation, on research projects studying barriers to care. and whose results can be used to propose potential solutions.

For example, in its work with Lankenau Heart Institute's Women's Heart Initiative, CPHR researchers want to answer the question: What is the long-term care pathway offered to women diagnosed with pre-eclampsia, a high-risk disorder of pregnancy characterized by high blood pressure? 

"African American women are particularly prone to this condition, and we know their pre-eclampsia makes them more likely to have cardiovascular problems later in life," says Kyle McGregor, PhD, assistant professor and associate director of CPHR. "We want to find out if they're being referred to a cardiologist, and if not, why not?"  

As part of its research, the CPHR team seeks to start a registry of these women so it can check in with them over a long period of time, as much as 10 to 15 years, to gauge their heart health. "Our goal is to set up a protocol that will help these women get the care they need in both the short and long term," adds Dr. McGregor. 
Physician burnout studied
Another current project centers on bioethics, one of Dr. McGregor's core research interests. Working with the Main Line Health Clinical Ethics Committee, he seeks to better understand issues affecting clinicians, such as physician burnout and moral injury, a hot topic in health care today. A pre-COVID national survey found 42 percent of physicians feel burned out from their workloads. While that number is down from 46 percent five years ago, it's still too high by most health system standards. 

During the pandemic, Main Line Health administrators are concerned about burnout among the clinical staff, and they asked the CPHR team to survey System physicians. 
In all, 395 providers completed the survey, of which:
70 percent had cared for at least one COVID-19 patient
Five providers had tested positive for the virus
57 had self-quarantined due to exposure
Nearly 40 percent reported moderate to severe symptoms of burnout
More than 50 percent reported feeling a great deal of stress because of work
"Health systems around the world are grappling with how to keep their workforce healthy during this outbreak," notes Dr. Larson. "Main Line Health is keenly and actively focused on assisting its clinical staff through these difficult times."