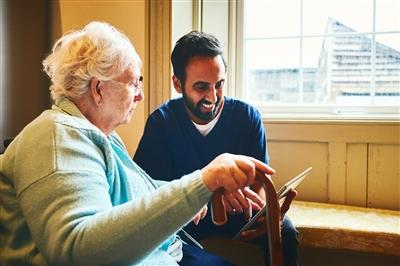 Most seniors want to "age in place," remaining in their homes for as long as possible to avoid the expense and sometimes isolation of going into an assisted living or senior care facility. More than ever, technology is making that possible. Beyond assistive technology devices such as phone amplification and screen magnifiers, a whole range of "smart" technologies, including Bluetooth, sensors, voice activation and smartphone monitoring apps are making "connected independence" a reality for many.
"Falling and medication adherence are two of the primary concerns for seniors living alone at home," says Manjit Singh, MD, a geriatric medicine practitioner at Main Line Health. "With so many smart home health technologies available, it makes sense for families and caregivers to take advantage of these devices and monitoring systems, which can provide tremendous peace of mind for loved ones while also helping seniors stay engaged with the outside world."
Here are some examples of voice-activated and smart home devices that are helping seniors stay safe and connected with families and the people who care for them:
MedMinder – One of the challenges seniors face is remembering to take their medications at the right time in the right dosage. MedMinder is an automated wireless pill dispenser that reminds users to take their medications through a series of alerts, which may be visual or auditory. The alerts occur at 30-minute intervals. First a pill compartment will flash, then it will beep, then the user will receive a phone reminder. If the pill is not taken, all caregivers are notified via phone, email and/or text message. The system also helps prevent users from over-medicating.
LifePod virtual caregiver – Built upon Alexa/Amazon Echo technology, LifePod features voice-activated check-ins, reminders, alerts, and voice services that allow users to ask about news or the weather, request information, or simply engage socially. LifePod can tell jokes and trivia, play games, and read audiobooks aloud. Routines and reminders can be set locally or remotely by caregivers, doctors and family members. In conjunction with Alexa smart home devices, LifePod users and caregivers can turn lights on and off, adjust the thermostat, lock doors, control appliances, order food for delivery, and more. LifePod will launch at the end of 2018.
MyNotifi – Some seniors find medical alert "necklaces" and wristbands to be embarrassing and refuse to wear them. MyNotifi is a medical alert wristband that looks much like a Fitbit and offers an optional belt clip-on that has a sophisticated algorithm and sensor technology that detects falls and sends alerts to friends or family members. The user can also tap the device (no buttons to push) to further request emergency assistance, and designated caregivers and family members will receive alerts via the MyNotifi Fall Detection app. The wristband has a built-in GPS that helps caregivers and emergency personnel identify the exact location where the person fell.
Amazon Echo Show – This is a touchscreen voice-activated device that allows video calls to others who have their own Echo Show device, or who have the free Amazon Alexa app installed on their smartphone or tablet. Voice activation allows seniors to accept or decline calls, or chat with friends, family members and caregivers. With permission, certain contacts may also "drop in" via video at any time, to check up on the person or just pay a visit. The Echo Show also offers voice-activated access to news, weather, movies, music and more.
Assured Living – Now available in 21 metro areas, including Philadelphia, this is a Best Buy service that helps older customers stay healthy, stay connected, and stay safe via mobile device monitoring through the Assured Living smartphone app. Sensors can be placed around the user's home and as a wearable device. The user receives medication and appointment reminders. The sensors send alerts and notifications to loved ones and caregivers when there's anything out of the ordinary. Remote monitoring also allows for control of door locks and lights.
Alarm.com Wellness – This service includes video monitoring and sensor options to allow families and caregivers to see a person's activities throughout the day and observe any changes in their condition or behavior. The system can be installed bedside in a nursing home or assisted living facility, or in the user's own home. The sensors "learn" the usual patterns of behavior and are able to send alerts to family members and caregivers if any unusual activity (or lack of) occurs. Families can observe sleeping and eating patterns, for example, as well as bathroom behavior and medication adherence. In an emergent situation, the Wellness system responds with alerts to caregivers and does not require the user to push any buttons or remember to take the button with them.
Bluetooth-assisted hearing devices – Several hearing aid companies offer Bluetooth hearing instruments that pair with smartphone apps and allow for a personalized listening experience, whether the user is having a conversation, taking a phone call, or listening to music or an audiobook. With Bluetooth-assisted hearing devices, users can discreetly adjust for different sound environments. Widex EVOKE, Signia Px BT, and ReSound LiNX 3D each have a specialized app that allows users to have control over volume, programs, microphones and hearing aid sound quality without having to fiddle with the hearing aid device itself.
Adds Jessica Bell, AuD, an audiologist at Riddle Hospital Audiology and Hearing Aid Center, a part of Main Line Health, "Bluetooth technology is one of the best enhancements to hearing aids because it allows patients to receive clear speech, even in the most difficult listening situations, and also enables them to use their phone to make adjustments to their hearing aids instead of having to reach up to their ears and draw attention to the devices."
Patients who are unable to afford customized hearing aids, which can cost anywhere from $2,500 to $10,000, may benefit from amplifiers such as a SuperEar sound amplifier or the Otofonix mini sound amplifier—both of which Dr. Singh keeps in his office so he can better communicate with his patients. While the amplifiers are not as elegant as customized hearing aids and don't have the same clarity and range, they can be quite helpful to a patient who cannot afford higher-end hearing devices.
As home health technology for seniors becomes ever more sophisticated and gains wider adoption, and voice-activation becomes a way of life, seniors may be able to stay in their homes longer and be safer and more connected than ever—which is better for them, better for providers and better for families and caregivers.
As with any new treatment or regimen, it's important to talk with your doctor first. Home health technologies mentioned here are for informational purposes only and are not intended to diagnose, cure or treat existing conditions, nor are they necessarily endorsed by Main Line Health.
Main Line Health serves patients at hospitals and health centers throughout the western suburbs of Philadelphia. As part of our home health care services we offer telehealth monitoring, which involves easy-to-use technology to help you track your blood pressure, heart rate, weight and blood oxygen with the help of special equipment at home. Your readings are then sent automatically to nurses in our office. The nurses watch for warning signs and take action early to keep you healthier and out of the hospital.
To schedule an appointment with a specialist at Main Line Health, call 1.866.CALL.MLH (225.5654) or use our secure online appointment request form.