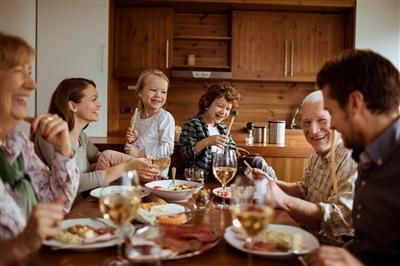 The holidays are a time to celebrate and enjoy the company of family and friends, but they're also a time when a commitment to health and wellness goes by the wayside.
"When you're in the company of others, particularly people you feel comfortable around, it's easy to sink right back in to unhealthy habits. But it's important to remember that the effects of indulging too much or not giving our body the care that it needs last long after the holidays," says Robert Kuhn, MD, Lankenau Heart Institute cardiologist at Paoli Hospital, part of Main Line Health.
While it's okay to enjoy yourself during the holidays, there are a few things you can do this season to make your health a priority.
Take a walk between courses
If exercising over the holiday seems like too big of a commitment, promise yourself that you'll just take baby steps—literally. Instead of a sweat session every morning, take a walk in between meals. Even if it's just a few laps around the neighborhood, a walk can help ease digestion and melt a few calories.
If you're feeling especially motivated, sign up for a local holiday 5K run or walk. Most offer the opportunity to wear costumes and offer themed t-shirts or medals as a prize. Invite family members to join you and conquer the course before your meal.
Keep it colorful
Reds, blues, greens and golds—they shouldn't just be part of the décor, they should be part of your meal, too! Make nutrient-rich fruits and vegetables the star of your meal to reduce the number of heavy side dishes on your holiday table.
Produce picks like sweet potato, pomegranate, butternut squash, pears and brussels sprouts are all in season during the winter, so you won't need to sacrifice taste by opting for a healthy side dish.
Need some suggestions to get started? Try garlic brussels sprouts with diced bacon or pancetta, or substitute cauliflower mash for mashed potatoes.
Pull yourself away from the party
Even for a social butterfly, endless holiday parties can be overwhelming. Don't forget to take time for yourself this season, even if it means retreating to a quiet room for a few minutes.
"When you're stressed your body releases adrenaline, which can cause your heart rate and blood pressure to skyrocket. Chronic stress—a pattern of stressful incidences—can affect your heart disease risk," explains Dr. Kuhn.
Carve out time each day for an activity that will help keep stress in check, like yoga, reading, listening to music or practicing mindfulness. And, if you're feeling overwhelmed in a crowd of family, friends or co-workers, don't think twice before taking a few minutes to relax before rejoining the party.
Supplement cocktails with mocktails
It's not wrong to enjoy a glass of wine or a seasonal cocktail at a holiday party, but for your heart health—and safety—it's best to limit your alcohol intake.
Excess alcohol intake has been linked to serious health problems, like stroke, high blood pressure and even heart failure. Women shouldn't exceed more than one drink per day, and men shouldn't exceed more than two.
Remember: a drink isn't a full glass. One drink is equal to 12 ounces of beer, five ounces of wine, or 1.5 fluid ounces of spirits like whiskey, rum or vodka. If you're finding it hard to pass up a second or third glass, ask the bartender to help you craft a mocktail that will taste just as good.
Don't sacrifice sleep
Sleep is crucial for a healthy heart. Regardless of other risk factors—like age and weight—sleep can still impact your risk for heart disease.
"When our to-do list is long, there's temptation to go to bed later or set our alarm just one hour earlier. Every now and then, that's okay, but when it becomes a pattern is when it becomes a risk," says Dr. Kuhn.
Be consistent with your sleep-wake cycle, aiming to keep your holiday season bedtime as close to normal as possible. If you find yourself still struggling to balance tasks, re-evaluate your to-do list or ask a friend or family member for help. One thing you can't afford to ignore is your health.
Tools for a healthy year
The best way to maintain your health at any time of year is regular appointments with your primary care physician and, if necessary, a team of specialists to monitor other health conditions. If you haven't visited your physician in awhile, make 2017 the year you make an appointment.
Main Line Health serves patients at hospitals and health centers throughout the western suburbs of Philadelphia. To schedule an appointment with a specialist at Main Line Health, call 1.866.CALL.MLH (225.5654) or use our secure online appointment request form.