I've heard about genetic testing, but I'm nervous about pursuing it. What do I need to know?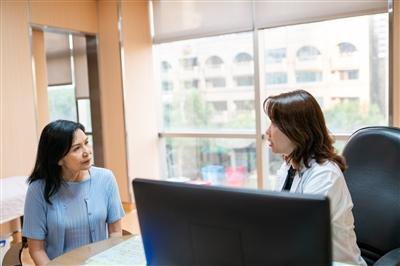 If you had the opportunity to take a peek into the future of your health, would you?
That's the idea behind cancer risk assessment, one type of service provided at hospitals and academic medical centers across the country. Through a series of genetic tests and screenings, individuals may determine their risk for health problems and a potential options for appropriate prevention or treatment.
Still, despite the availability of genetic counseling and testing programs across the country, some people are hesitant to enroll. There are many reasons why, says Terri W. McHugh, DO, medical director of the Main Line Health Genetics and Risk Assessment Program.
"Despite an increase in popularity, there are still many myths surrounding genetic counseling and genetic testing," says Dr. McHugh. "Some people aren't sure of what to expect or are afraid of what they might find out. They don't realize that finding this critical information about their health may actually help to provide more options for how to take better care of themselves now and in the future."
Below, Dr. McHugh helps shed light on some long-held myths regarding genetic testing.
I don't need genetic counseling
Genetic testing—the act of testing for specific genetic mutations based on your personal and family health history—is an important way to determine specific health risks. But first comes an important step: genetic counseling. A genetic counselor will meet with you to discuss your and your family's health history and your counselor will take the time to get to know you and your unique risks. This information will help inform what, if any, genetic testing you'll need.
If your counselor does offer the option of genetic testing, they will review the pros, cons and limitations of the test, and also can provide post-test counseling to help you better understand your risks and options, as well as whether or not follow-up testing is necessary.
You only get your genes from your mother's side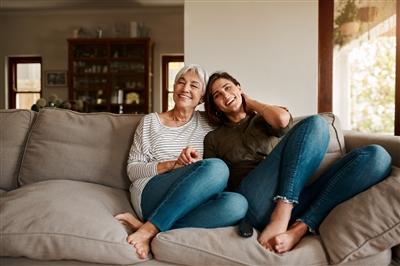 "My mom didn't have breast cancer, so I won't either."
Dr. McHugh has heard this reasoning several times before.
"One very common myth is that your risk for female cancers, like breast and ovarian cancer, is determined only by your mother's genes. Your risk for female cancers—and other cancers—is determined by your genes from both parents," she explains. This is because genes associated with hereditary cancers and also those associated with other health conditions can be passed down from either of your parents.
If you test negative for a specific cancer gene, you won't get cancer
This can be a difficult concept to grasp, and rightfully so. If you are tested for a specific cancer gene and the results are negative, you may consider yourself 'off the hook' for cancer now and in the future. But these negative results don't mean you're not at risk—they simply mean you are considered at a lower risk.
"Testing negative for a gene can mean one of two things," explains Dr. McHugh. "It could be a true negative, which means that the gene runs in your family but you don't have it. Or it could be an indeterminate negative result for which the explanation is unclear. "
In either of these cases, however, there is still cancer risk. For patients whose results are indeterminate, there is still the chance that the gene may present in the future. And, for all patients, a cancer diagnosis is still a possibility as a result of other factors. Conversely, testing positive for a cancer-related gene does not automatically mean you will develop cancer, it simply means your chances to develop cancer are higher.
This leads to another common myth…
You should only undergo genetic testing once
As with all health care technologies and screenings, genetic testing is continually improving. In recent years, genetic testing has become advanced enough to test for gene mutations for a variety of cancers, including colorectal, breast, uterine, ovarian, pancreatic, prostate and gastric.
Even if you've been tested before, talk to a genetic counselor about follow-up testing. This is especially important for people whose test results are indeterminate, and who may still be at risk for a specific genetic mutation.
If I test positive, I have to take an aggressive treatment approach
An increasing number of people who test positive for a genetic mutation believe that the only way to protect themselves from a cancer diagnosis in the future is aggressive prevention. A confirmation of the BRCA gene, for example, might prompt a middle-aged woman to pursue a mastectomy, but that is not the only option.
This assumption was brought about—in part—due to Angelina Jolie's 2013 New York Times editorial on her decision to undergo preventive surgery after discovering she had tested positive for BRCA1. "It was beneficial because it spread the word about genetic testing on a national and global scale and helped to raise awareness about its importance. But, in a way, it also created this misconception that if you do test positive for a genetic mutation, it needs to be treated aggressively. That is not always the choice people wish to pursue," says Dr. McHugh.
Instead, genetic counselors work with you to review screening or prevention options and decide what, if any, options you may consider in the future.
I probably can't afford genetic testing
You might be surprised to learn that most insurance providers, including Medicare and Medicaid, will cover the cost of genetic testing, as long as you meet a specific set of criteria. Often, this criteria will include a blood relative with a history of cancer, or a personal history of cancer. Provided you meet this and other criteria, you could pay less than $20 for a genetic screening; in many cases there is no cost.
If cancer history is not in your family or you do not meet the criteria outlined for coverage by your insurance provider, there's still good news. The out-of-pocket cost of genetic testing has gone down significantly in recent years, says Dr. McHugh.
Main Line Health serves patients at hospitals and health centers throughout the western suburbs of Philadelphia. To schedule an appointment with a specialist at Main Line Health, call 1.866.CALL.MLH (225.5654) or use our secure online appointment request form. The Genetics and Risk Assessment Program is offered at Main Line Health locations throughout the Philadelphia suburbs and is available to anyone concerned about cancer risk due to a personal or family history of cancer, as well as anyone concerned about cardiovascular risks or risks that may impact pregnancy or family planning. Our team of licensed and certified genetic counselors works closely with physicians who have a special interest in genetics to determine the genetic testing options that are right for you.
For more information or to schedule an appointment, call 484.565.GENE (484.565.4363) Monday–Friday, 8:00 am–4:00 pm.