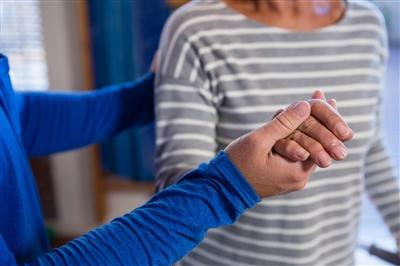 Thanks to new equipment available at Bryn Mawr Rehabilitation Hospital, patients are one step closer to recovery from a brain injury.
The Vector and LiteGait are just two of the pieces of technology available to patients as part of the Brain Injury Program at Bryn Mawr Rehab, part of Main Line Health. But these gait training systems, which arrived in 2017, are offering more patients a rapid recovery.
The Vector is a body weight support gait training system with a track secured to the ceiling, and an attached harness that, when in use, helps to alleviate up to 60 percent of a patient's body weight dynamically. Unlike the Vector, the LiteGait does not function on a track and is a freestanding system that can be used in hallways and be taken in and out of rooms.
Despite this difference, both systems offer a similar purpose.
"The goal of both of these systems is not to eliminate gravity, but to support the body weight of a patient. By using the Vector and LiteGait, we want patients to bear some weight on their legs so that they are strengthening them every day and, eventually, able to regain functionality," explains Laura Clouser, physical therapist at Bryn Mawr Rehab.
Using gait therapy for brain injury patients
Gait training can be beneficial for anyone who is recovering at Bryn Mawr Rehab, including those with stroke, spinal cord injuries and Parkinson's disease. But it can be especially beneficial for patients with brain injury.
"Some of our patients can be very impaired following a brain injury, and it can take three to four therapists to initiate ambulation and help the patient move over ground during therapy," says Clouser. "With the Vector, we can begin this process earlier and in a very safe way for both the patient and the therapist."
Clouser adds that it often improves the therapy experience for patients, too. With patients free from a fear of falling and secure in a gait training system with body weight support, the therapy team is not limited by fatigue when moving the patient, and patients are more likely to move farther with a more consistent gait. This also makes the therapist free to provide assistance and cues when necessary.
"It allows me to focus on things like helping the patient's gait biomechanics and giving them manual cues at their leg instead of holding them up," she says.
Patients at Bryn Mawr Rehab continue their gait training as part of their therapy program and, as they progress, the amount of support they get from the gait training system gradually decreases.
Eventually, patients return to moving over ground functionally.
A new option for patients
While gait training is something that has been an option for patients at Bryn Mawr Rehab for several years, the Vector and LiteGait make it available for a wider population.
"The Lokomat, another gait training system, is also effective but has some limitations, like a height and weight capacity. These new systems accommodate patients who may not have been able to use the Lokomat," says Clouser.
In fact, there are few limitations for using the Vector or LiteGait. Brain injury patients who have sustained a fracture or are too low level to participate may not be candidates but, otherwise—pending approval from your physician or therapy team—it can help you get back on your feet quickly and safely, and regain confidence following an injury.
Brain injury treatment: Bryn Mawr Rehab's approach
Bryn Mawr Rehab Hospital was one of the first facilities in the country to offer traumatic and non-traumatic brain injury rehabilitation, and has remained a leader in the field for more than 30 years. Our brain injury program is the most comprehensive in the region and is a center of excellence. The program is fully accredited by The Joint Commission (TJC) and the Commission on Accreditation of Rehabilitation Facilities (CARF). Over 400 brain injury patients each year travel to Bryn Mawr Rehab for our industry-leading technology, creative therapeutic approach and compassionate care.
For admission to Bryn Mawr Rehab Hospital for acute inpatient rehabilitation, call 484.596.6000. To schedule an outpatient appointment for physical, occupational and speech therapy, call 484.596.5000.