There are a number of different health issues that are out of our control, and heart disease can seem like one of them. And while there are heart disease risk factors—like age, gender, and family history—that can't be changed, there are others we can take control of starting now.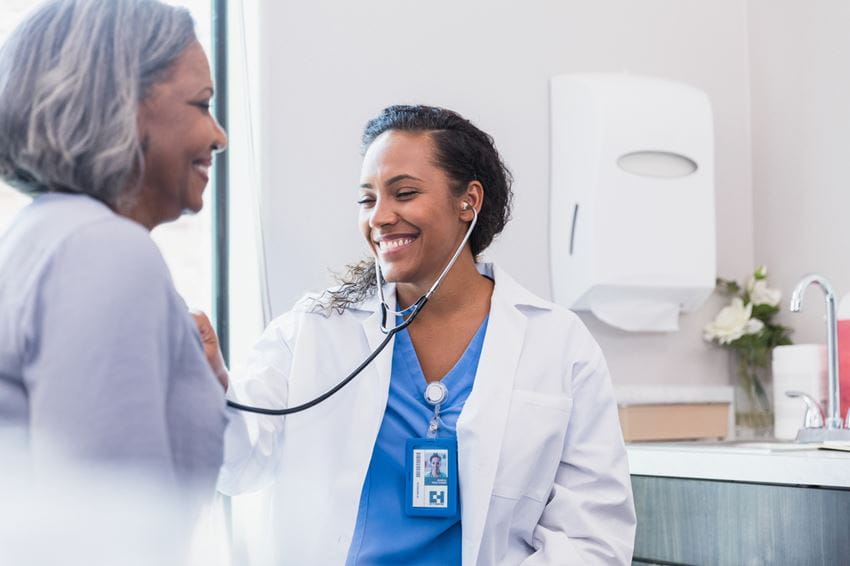 "The best way to prevent heart disease—to protect yourself from heart disease—is to know your numbers: cholesterol, blood pressure, weight, and blood sugar. These provide an indication of your heart health, and are all factors that can be managed with the help of your physician," Sandra Abramson, MD, Lankenau Heart Institute cardiologist at Lankenau Medical Center, part of Main Line Health. "You may not be able to change factors like your family history or your age, but you can control your health."
Below, Dr. Abramson explores the four healthy heart numbers women need to know, and why they're important.
Blood pressure numbers for a healthy heart
Your doctor has probably used a blood pressure cuff during office visits for as long as you can remember, and that's a good thing. Although it often presents with no symptoms, high blood pressure is a health risk that has been linked to heart disease, stroke, and heart attack, so regular check-ups are important. Blood pressure readings should begin at age 20, and continue at every doctor's appointment.
Blood pressure
Normal
systolic below 120 and diastolic below 80
Prehypertension
systolic 120–129 or diastolic below 80
Hypertension stage 1
systolic 130–139 or diastolic 80–89
Hypertension stage 2
systolic 140+ or diastolic 90+
Cholesterol numbers for a healthy heart
Cholesterol is an important consideration for a healthy diet, but it's also an important consideration for a healthy heart. Like blood pressure screenings, cholesterol screenings typically also begin at age 20 during doctor's office visits. However, unlike blood pressure screenings, they only need to be performed every five years.
"Typically, cholesterol screenings are not necessary every year, but if an individual has a personal or family history of high cholesterol or other heart disease risk factors, we may decide to conduct screenings more frequently," explains Dr. Abramson.
During your cholesterol test, your doctor may also test for high triglycerides, which are an important measure of heart health. This is an especially important test for women, as triglyceride levels are traditionally higher among women as they age.
Your ideal numbers will generally be:
Total cholesterol

Desirable
less than 200 mg/dl
Borderline high
200-239 mg/dl
High
240 mg/dl or more
Keep in mind that numbers don't reflect your entire heart story so it's important to keep regular doctor appointments to discuss other aspects of your health and family history.
Weight numbers for a healthy heart
There may be some days where you're more excited about this number than others, but no matter what, it's an important number to know for your health. Sudden weight gain or weight loss can be indicative of a number of different health issues that range from heart disease to cancer to stroke.
Although being overweight or obese can increase your risk for heart disease, what can be especially detrimental to your health is carrying too much weight around your waistline. Weight that's carried here has been specifically linked to diabetes, high blood pressure and cholesterol, and breathing problems. If you're overweight, talk to your doctor about a nutrition and fitness plan to help you keep you get your weight into a healthy range.
Generally, a healthy BMI for women is less than 25 kg/m2.
Body mass index (BMI) and waist circumference
Healthy BMI
less than 25 kg/m2
Healthy waist circumference
under 35 inches
Blood sugar (blood glucose) numbers for a healthy heart
While other health screenings begin at age 20, your doctor likely won't begin testing blood sugar until age 45, as long as you are at a healthy weight and have no additional heart disease risk factors. And, if your blood sugar levels are considered healthy, they'll only need to be re-tested every three years. However, if your levels are high, you may need them tested more frequently, and be placed on a treatment plan.
"High blood sugar levels put you at a greater risk for developing pre-diabetes or diabetes, which is a dangerous condition by itself, and also a risk factor for heart disease," says Dr. Abramson. "By taking steps to control blood sugar before it develops into something more serious and potentially life-threatening, we can take control of heart disease risk."
Healthy heart numbers for women are blood glucose levels of 100 mg/dl.
Blood glucose level
Healthy blood glucose level
100 mg/dl
Your doctor will help you understand your blood sugar numbers and adjust diet and lifestyle behaviors or discuss medication, if recommended.
Although these screenings are something every woman should have, you may also have unique screening needs based on your personal or family health history. Talk to your doctor about whether or not you need additional screenings, and how often you should receive these and other screenings.
At the Lankenau Heart Institute, we know that not all hearts are created equal. Our cardiac experts understand the unique heart health needs of women, and are committed to educating you about unique risk factors and developing prevention strategies to manage heart disease.
Main Line Health serves patients at hospitals and health centers throughout the western suburbs of Philadelphia. To schedule an appointment with a Lankenau Heart Institute specialist, call 1.866.CALL.MLH (225.5654) or use our secure online appointment request form.