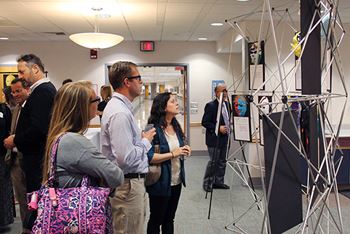 On April 28, 2016, Bryn Mawr Rehab Hospital hosted a reception to view the gallery display of more than 30 masks created by survivors of brain injury. Approximately 65 former patients, members of the community and clinicians attended the event to view the masks and to hear their stories.
Speech language pathologist Jessica Petrongolo spearheaded this project at Bryn Mawr Rehab and introduced the concept to her patients as a method of expressing their feelings associated with their brain injury. It quickly caught on and the project expanded into other areas of treatment including survivor support groups.
Bryn Mawr Rehab Hospital is a recognized leader in the field of brain injury rehabilitation whose goal is to help individuals achieve their maximum recovery and best quality of life possible after tragedy strikes. The mission of the Unmasking Brain Injury project is:
To promote awareness of the prevalence of brain injury;
To give survivors a voice and the means to educate others of what it's like to live with a brain injury;
To show others that persons living with a disability due to their brain injury are like anyone else, deserving of dignity, respect, compassion and the opportunity to prove their value as citizens in their respective communities.
The event included opening remarks from David Long, MD, medical director of Bryn Mawr Rehab's Brain Injury Program, an introduction to the project by Petrongolo, and the presentation of two masks by the brain injury survivors who created them.
As one of the leading centers for physical medicine and rehabilitation in Pennsylvania, Bryn Mawr Rehab Hospital delivers innovative services for patients need inpatient or outpatient treatment in the Philadelphia region and western suburbs. Visit our website to learn more about Bryn Mawr Rehab's rehabilitation services.