Every time I wash or brush my hair, I feel like I'm losing so much hair! How much hair loss is normal?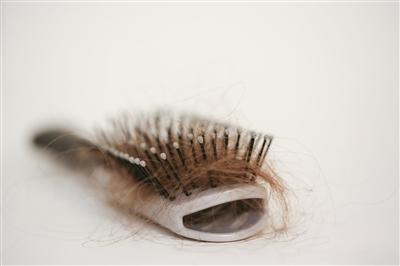 You might be surprised to learn just how much hair you lose each day. The average person will lose about 100 individual hairs each day. That's less than one percent of the overall hairs on your head—which can total 100,000.
While hair loss can be a result of medical conditions or illnesses—like autoimmune disease or cancer—it is most often a result of factors that can be easily managed through lifestyle changes. Thinning hair or hair loss can be a result of:
Hormonal changes like pregnancy, menopause and taking an oral contraceptive
Nutritional deficiencies or a poor diet
Significant weight gain
Stress after a particularly traumatic event, like job loss or the death of a loved one
Other factors, like genetics, can also have an impact. Just like you might inherit your hair color or thickness from your family, you might also be more at risk of losing hair or thinning hair if your family has a history of early or significant hair loss.
Making lifestyle changes and managing these factors should help lessen hair loss, but you should also play close attention to hair treatments and cosmetic routines. Men and women alike are often unknowingly contributing to hair loss as a result of their grooming routine.
Bleaching or dying your hair, using heat to style your hair and braiding or tying your hair too tightly can all contribute to hair breakage and loss. While you don't have to give up your beauty routine entirely, there are a few things you can do to reduce the risk of hair loss or thinning hair, including:
Not brushing wet hair
Wearing your natural hair color
Massaging your scalp during a shampoo
Limiting heat exposure and opting for heat-free styling techniques
Using a wide-toothed comb to brush your hair
Not tying back your hair
Cleaning out a hairbrush or shower drain every week might be frustrating, but it shouldn't be cause for concern. If you begin to notice frequent itching or pain on your scalp or you are beginning to lose significantly more hair than you have in the past, make an appointment to discuss this change with your doctor. If necessary, they can refer you to a dermatologist to help you determine the cause and an appropriate treatment approach.
Main Line Health serves patients at hospitals and health centers throughout the western suburbs of Philadelphia. To schedule an appointment with a specialist at Main Line Health, call 1.866.CALL.MLH (225.5654) or use our secure online appointment request form.