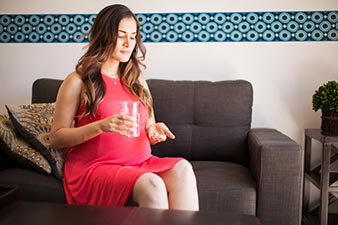 Unlike the non-pregnant population, generalized aspirin use has long been considered off-limits for women during their pregnancy. But a 2014 recommendation from the United States Preventative Services Task Force (USPSTF) made an addendum to the long-held edict.
Women with a history of pre-eclampsia—a complication that affects approximately four percent of pregnancies—could be considered for a low dose aspirin regimen beginning in their first trimester.
Recently, the American Congress of Obstetrics and Gynecology (ACOG) affirmed the USPTF statement.
"Generally, we advise against taking aspirin during pregnancy unless a clear reason exists. After studying low-dose aspirin's use among women with a history of pre-eclampsia, it was determined that the benefit of recurrence risk reduction outweighed any theoretical risks in certain at-risk pregnant populations," says Antonette T. Dulay, MD, a Maternal-Fetal Medicine specialist at Lankenau Medical Center, part of Main Line Health.
But pre-eclampsia can be diagnosed as early as the second trimester of pregnancy. How can health care providers get in front of a diagnosis to help prevent potential complications? Consider the risk factors, says Dr. Dulay.
"Although pre-eclampsia is usually not diagnosed as early as until halfway through the pregnancy, there are certain high risk factors that we look for that can increase a woman's likelihood of being diagnosed," she explains.
These risk factors include:
A history of pre-eclampsia with a previous pregnancy
A current pregnancy with multiples
Type 1 or Type 2 diabetes
Chronic high blood pressure
Kidney disease
Certain autoimmune diseases, like lupus
In addition, there are other moderate risk factors where low-dose aspirin might be considered. If risk factors like these are present, your doctor may recommend low-dose aspirin as early as 12 weeks as a preventative measure.
"If your doctor recommends that you begin taking aspirin during pregnancy, it will be baby aspirin, not regular aspirin per day. ACOG recommends 81 mg daily beginning at 12–28 weeks' gestation and recommends using the high risk factors as noted above as a guide," says Dr. Dulay.
Before you begin taking aspirin, and if you have questions about what pain reliever is right for you during pregnancy, talk to your doctor. They can help determine the best medication for you based on your health history.
Main Line Health's maternal-fetal medicine specialists provide consultation services, genetic counseling, ultrasound and complete prenatal care for the high-risk pregnant woman.