You've probably heard it before, but we'll say it again—mental health is a part of overall health.
While this mantra is becoming more widely known and accepted, the deep connection between how you feel physically and emotionally cannot be overstated. This is true for many kinds of health conditions, including heart disease.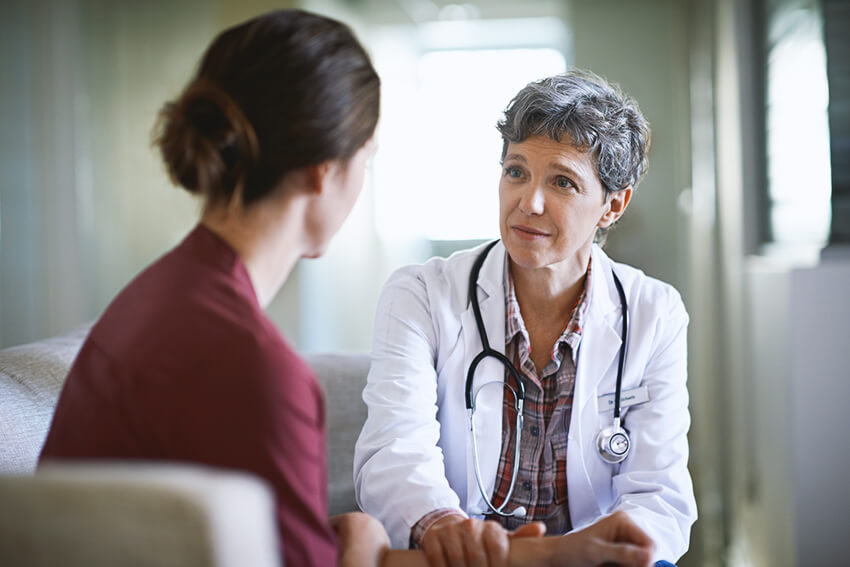 Heart disease is a term that is used for a wide range of heart conditions, the most common being coronary artery disease (when blood flow to the heart is impacted). Heart disease also includes heart failure (when the heart can't pump enough blood) and atherosclerosis (when a substance called plaque builds up in the arteries, causing them to become narrow).
In the U.S., 1 in every 5 deaths is a result of heart disease.
While there are a number of causes of heart disease, including high blood pressure, unhealthy cholesterol levels, and obesity, one often overlooked risk factor is your mental health.
According to Melanie N. Baldwin, MD, FACC, cardiologist at Riddle Hospital, part of Main Line Health, "Mental health conditions, including anxiety, can have a significant impact on your heart health by putting stress on your body. Anxiety and excess worrying has been shown to be associated with heart problems including high blood pressure and coronary heart disease. What's more, heart disease itself can lead to feelings of anxiety."
Here's what you should know about the connection between anxiety and heart disease—and how you can keep your heart healthy.
What is anxiety, and how is it connected to heart disease?
Anxiety is a normal reaction to stress. It involves emotional feelings (dread, fear, or uneasiness) and physical reactions (rapid heartbeat, restlessness, and sweating). From time to time, these reactions are not harmful. In fact, anxiety can help you cope with stress by giving you extra energy or helping you focus.
However, if your anxiety doesn't go away—or it becomes worse over time—it's called an anxiety disorder. This is a diagnosable health condition that can be related to a number of factors, including family history, childhood trauma, and some physical conditions, like thyroid problems.
Anxiety can lead to heart disease in two ways—physical changes and unhealthy lifestyle choices.
Physically, anxiety can send your heart into overdrive by:
Increasing your heart rate
Increasing your blood pressure
Limiting blood flow to your heart
Increasing levels of cortisol (a hormone involved in regulating stress)
Over time, such as with an anxiety disorder, these reactions can lead to calcium buildup in your arteries, and heart disease.
As for lifestyle choices, anxiety can make you more likely to engage in unhealthy behaviors, such as smoking, not exercising, and not taking prescribed medications. These harmful coping strategies can put you at a higher risk for heart disease down the road.
"Unfortunately, the connection between anxiety and heart disease goes the other way, too. If you experience a cardiac event, such as a heart attack or stroke, you can develop anxiety. This can be due to fear, pain, or financial problems caused by your heart condition," explains Dr. Baldwin.
If left unchecked, this relationship between heart disease and anxiety can create an unhealthy and dangerous cycle.
Mental health and heart disease in specific populations
Because of the relationship between mental health and heart disease, groups of people that are more likely to experience mental health conditions also have a higher risk of heart disease.
Populations that have higher rates of heart disease because of mental health conditions include:
Veterans, which may be due to post-traumatic stress disorder (a disorder that can develop after a scary, shocking, or dangerous event, such as combat)
Partners of those with post-traumatic stress disorder
Women, which may be overlooked and untreated due to the similarity in symptoms between anxiety and heart disease (like chest pain and shortness of breath)
Racial and ethnic minorities, which may be due to social determinants of health (such as access to healthcare, financial stability, and quality of education) and racism/discrimination
Keeping your mind, heart, and body healthy
The connection between anxiety and heart disease is clear—but it's not inevitable.
Taking care of your mental health can go a long way in keeping your heart healthy. You can do this by:
Recognizing signs of anxiety and talking to your healthcare provider if you experience any
Practicing coping strategies when you're anxious, such as taking deep breaths, counting to 10 slowly, and practicing mindfulness techniques 
Knowing your family history of mental health conditions and heart disease
Living a healthy lifestyle, including getting enough sleep, limiting alcohol and caffeine, and exercising regularly
Your body is a well-oiled and highly connected machine. By taking note of and managing anxiety, you can prevent the physical side effects of anxiety and promote a healthy lifestyle. As a result, you can enjoy a healthier heart, mind, and body.
Main Line Health serves patients at hospitals and health centers throughout the western suburbs of Philadelphia. To schedule an appointment with a Lankenau Heart Institute specialist, find a provider online or call 1.866.CALL.MLH (225.5654).