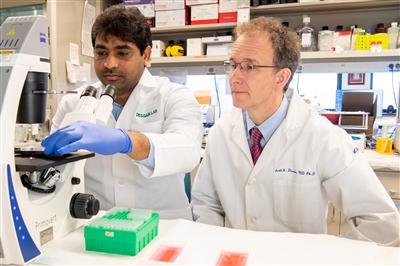 The path out of this pandemic surely runs through the laboratory—which may happen to be right here on the Main Line. Investigators at Lankenau Institute for Medical Research (LIMR), part of Main Line Health, are working rapidly to try to solve some of the challenges posed by the coronavirus in a quest for the COVID-19 cure.

COVID-19 cure research at LIMR includes:
A new antibody testing method
A brand-new way to develop vaccines to fight viruses
Promising therapeutic investigations
A research team at Main Line Health Center for Population Health Research at LIMR has also gathered the results of an important consumer survey about the virus. The survey of close to 5,600 people around the country is giving the research team significant insights into how people are handling the disruptions that the outbreak has wrought on their lives.
Cloning antibodies from COVID-19 patients
The researchers at Lankenau Institute for Medical Research are using a unique technology pioneered at LIMR that can quickly define and synthesize for study and mass production anti-SARS-CoV-2 antibodies from patients who have recovered from COVID-19 infection. This powerful technology is part of a clinical trial organized with physician colleagues at Lankenau Medical Center to recruit patients who give consent to donate blood for this important work. 

Many researchers and commercial interests are promoting their antibody to COVID-19 tests. But in truth, no one yet knows if having anti-viral antibodies in the blood is a definite sign of immunity to coronavirus. And even if the antibodies are there and could be protective, no one knows how long that immunity may last. Other kinds of coronaviruses like those that cause the common cold, for example, tend not to provide long-lasting immunity.  

Along with his team members, scientific collaborators and clinical colleagues at Lankenau, LIMR Professor Scott Dessain, MD, PhD, is applying his technology and know-how to clone antibodies from COVID-19 patients whose immune systems successfully defeated the infection. 

What does an efficient SARS-CoV-2-stopping antibody look like? The technology being used by Dr. Dessain's team offers a tool to sift through many antibodies that can recognize the virus and see whether there are any common or special characteristics.

"If we found similar antibody patterns in different patients, we may begin to define structural foundations for immunity," noted Dr. Dessain. "While such patterns would not be proof of immunity, it could put us on the pathway to discovery, and that's a step in the right direction."
Next step: Potential therapy for COVID-19
Team members have two basic goals. First, they seek to develop a blood test to identify anti-viral antibodies. At the moment there are no tests that can identify anti-viral antibodies that actually provide protection and such a test would be an ideal diagnostic for Main Line Health patients, clinicians and staff members to help minimize fears about the virus.
Beyond simply identifying anti-viral antibodies, the team also seeks to determine if the antibodies they discover could offer an effective route to actually treat COVID-19, based on the antibodies' natural development by the immune system in patients who have recovered. Since plasma transfer from recovered COVID-19 patients helps sick patients, it is clear that cloning the antibodies found in that plasma could offer an unlimited supply of therapy. This could potentially bypass the limited supply and complexities of plasma transfer itself. 

Dr. Dessain notes that while researchers elsewhere are also working in this area, LIMR's proprietary technology may provide a platform that can more quickly identify and mass produce the best antibodies needed for blood tests and immunotherapies. This technology uses a revolutionary antibody-discovery method invented at LIMR called On-Cell mAb Screening™ (OCMS) that has been applied in other disease settings to rapidly identify and isolate antibodies with the most desirable properties. OCMS has an impressive track record already, having been used at LIMR to isolate the best patient-derived antibodies ever obtained against polio virus. 
You can help Dr. Dessain and other LIMR researchers as they strive to eradicate the coronavirus. Please consider a donation to the COVID-19 Research Fund.